Boys basketball player of year
Crenshaw's freebies paid off for Kubasaki
by
Dave Ornauer
March 7, 2012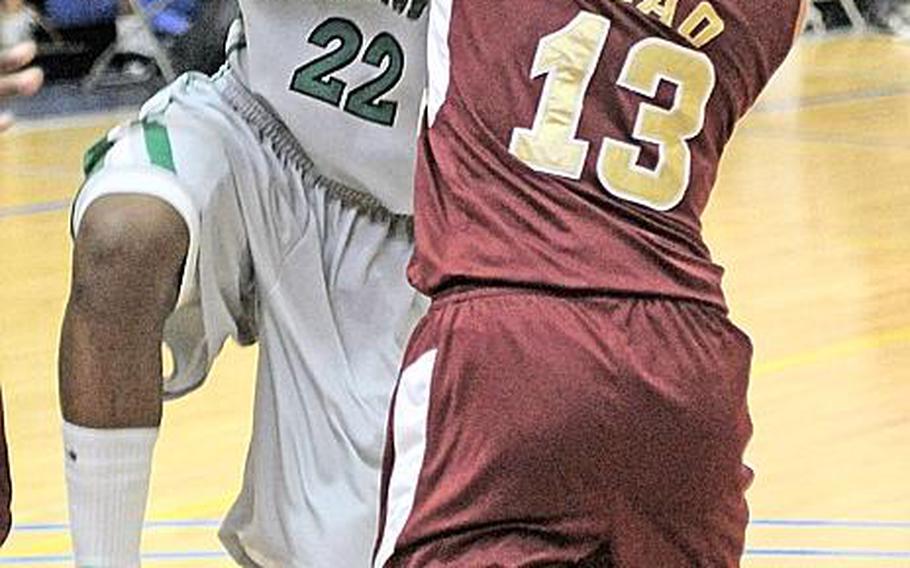 Almost forgotten, pretty much a lost art in this era of basketball in which slam dunks and three-point goals dominate the highlight reels, is one of the game's more basic and fundamental skills: the free throw.
Kubasaki's C.J. Crenshaw hasn't forgotten, if his foul-shooting average of the just-completed season is an indicator. And it was that skill that helped power the Dragons to the island championship and their second straight Far East High School Boys Division I Tournament title.
The senior guard earned tournament Most Valuable Player honors, shooting 10-for-15 from the line over the last 3 minutes, 43 seconds as the Dragons outlasted a determined Okkodo squad from Guam 55-47 in the title game at Naval Station Guam's King Fitness & Sports Center.
"He's been doing it all year," coach Jon Fick said of Crenshaw, who averaged 91 percent from the line after the Christmas break, in addition to scoring 21 points and pulling down 5.4 rebounds per game.
On a team hit hard by expected graduations and unexpected transfers, Crenshaw, Stars and Stripes' player of the year, became "the leader since the season got over last year," Fick said. "I'm going to miss him. Kubasaki is going to miss him. We were fortunate to have him for two years."
The title was Kubasaki's second straight, each won on Guam, the third in six seasons on Fick's watch and Kubasaki's Pacific-record 11th since the tournament's inception in 1949.
Crenshaw's free-throw shooting picked up when Kubasaki played two rigorous tournaments in back-to-back weekends, the Martin Luther King Invitational against men's teams and the Okinawa-American Shootout against Japanese teams.
Crenshaw's signature game came after those tournaments ended, on Jan. 27, when the Dragons visited Kadena and came away with an Okinawa Activities Council season series-clinching 86-70 victory. In that game, Crenshaw had 38 points, shooting 21-for-24 at the foul line.
That skill and concentration could have translated to any other sport, Fick said; Crenshaw was a track and field sprinter in his junior year.
"He'd have been good in anything he played," Fick said. "He is just that type of athlete."
2011-12 Stars and Stripes Pacific high school All-Star boys basketball team
Division I
C.J. Crenshaw, Kubasaki; Tomiwa Akinbayo, Seoul American; Maksever Kepwe, Okkodo; Warren Manegan, Yokota; Ken Yajima, American School In Japan.
Division II
Jordan Heading, Morrison Christian Academy; Morgan Aiken, St. Paul Christian; Darius Wyche, Daegu; Jacob Sterry, Robert D. Edgren; Jonathan Bai, Yongsan International-Seoul.
---
---
---