Carroll pins down Stripes' wrestling honors
by
Rusty Bryan
March 8, 2011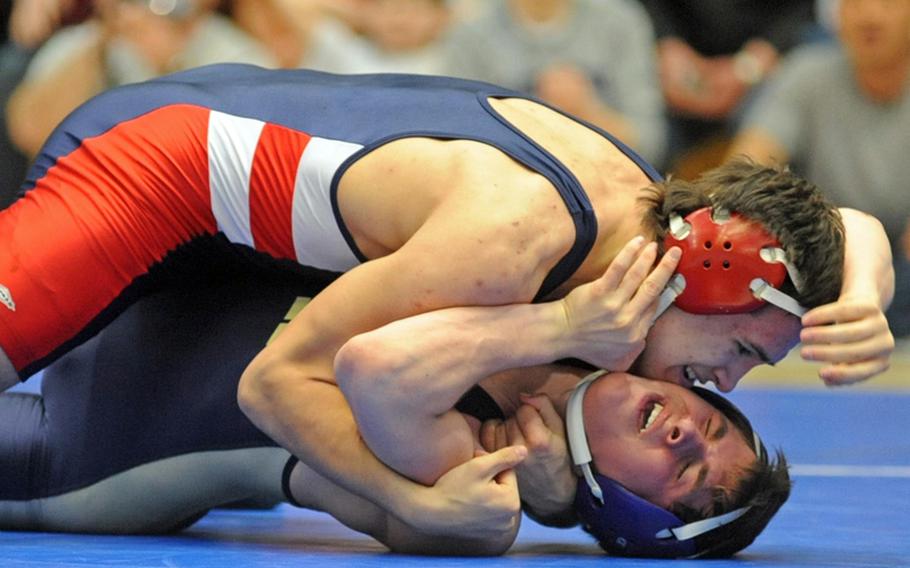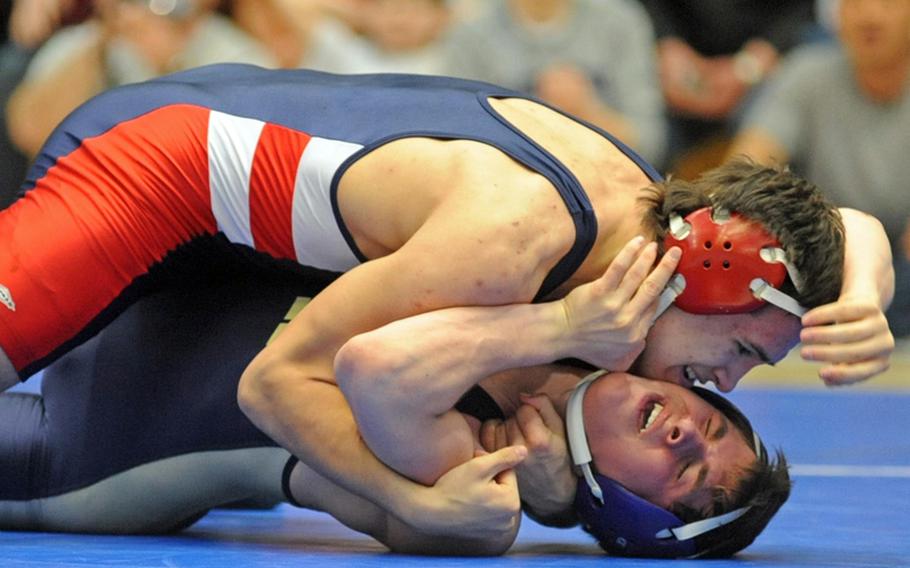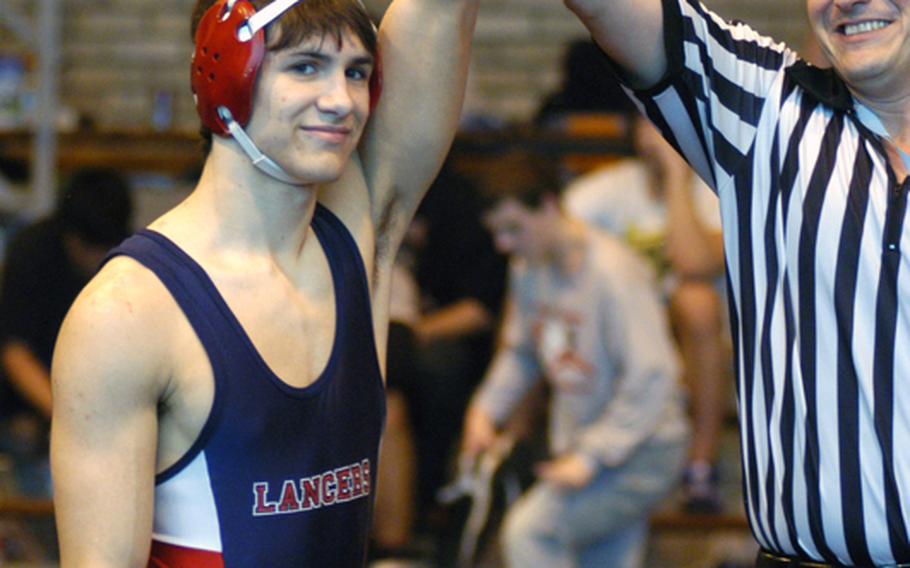 Technically, Adam Carroll of Lakenheath, Stars and Stripes' 2011 wrestler of the year, didn't really put in a full season en route to his second straight DODDS Europe championship. That's because none of the junior's 21 matches this past season went the full six minutes.
Twenty of the 145-pounder's bouts ended in falls; the other was a 15-0 technical fall he pinned on Dyllan Trautmann of Ramstein. Just three of his matches lasted as many as four minutes as Carroll completed his second straight unbeaten season and won the most-falls title, with seven, at last month's 2011 European championships.
Not bad for a guy who didn't take up wrestling until after his freshman football season.
"He came in as a ninth-grader," Lakenheath coach Darryl Brock said by telephone recently, "and lost a couple of times at 125 to his teammates. He then went up to 130, won a couple of matches, then dropped back to 125 and didn't lose again until the European final."
That loss, a 6-2 verdict to three-time European champ Chris Campos of Naples, was the last time Carroll didn't end up on top.
"He was crazy," Carroll said of Campos, who lost just one bout in three years at Naples. "He had pinned everybody he faced that year."
Now Carroll, the 130-pound champ as a sophomore, has gone Campos one better. Carroll capped his 2011 campaign by pinning Baumholder's Prince Owusu in 4 minutes, 52 seconds in the 145 semifinals and flattening Heidelberg's Daniel LeJeune, for the second time in the tournament, at the 3:39 mark of the title bout.
"I guess the match against Prince was my best match of the year, because I had been looking forward to it all year," Carroll said during Friday's phone call.
Another thing Carroll said he'd been looking forward to this season was a possible Lakenheath challenge to Patch for the European Division I team title.
"One of the reasons I go for pins is to stack up team points," Carroll said. "As I understand it, you get more team points for falls than for technical falls and wins."
Carroll chalked up as many points as it's possible to earn, but Lakenheath finished third as Patch won for the third straight year and Ramstein placed second.
With the high school season over, Carroll is working with a nearby Ukrainian club, trying his hand at Greco-Roman wrestling. He said he's hoping to learn some throws that will help him toward a third straight title next year. Greco also fits with his preferred style.
"I'm basically a defensive wrestler," Carroll said. "I like to let my opponent shoot and counter his move. In Greco, you don't have to shoot."
Greco, the upper-body-only style, also fits perfectly with what Brock said was Carroll's great advantage on the mats.
"He's a strong wrestler," Brock said. "He works out on weights a lot. He has strength and stamina. He could grind it out against opponents if they could hang with him and not get pinned."
For all his 2011 dominance, Carroll, who's planning on returning to a stateside summer camp this year, said decking every man he faces takes none of the nervousness out of his pre-match emotions.
"I still get butterflies before every match," he said. "My coach told me, 'If you don't get butterflies, then you don't care about wrestling.' "
Carroll does care — plenty.
"I enjoy wrestling," he said. "Football still remains my passion, but now wrestling has become one of my passions, too."
---
---
---
---