DODDS-Europe baseball
Bitburg, surprising Vicenza to play for crown
by
Rusty Bryan
May 27, 2011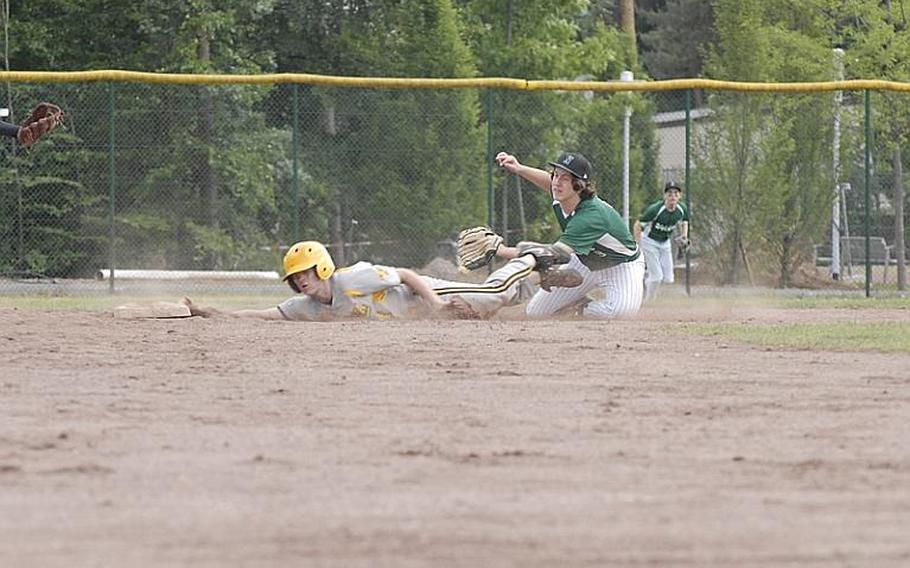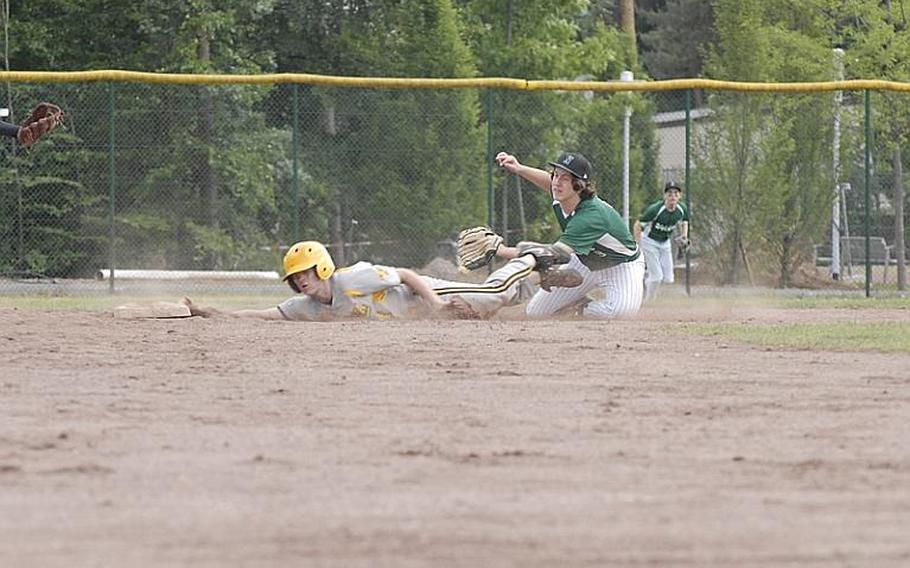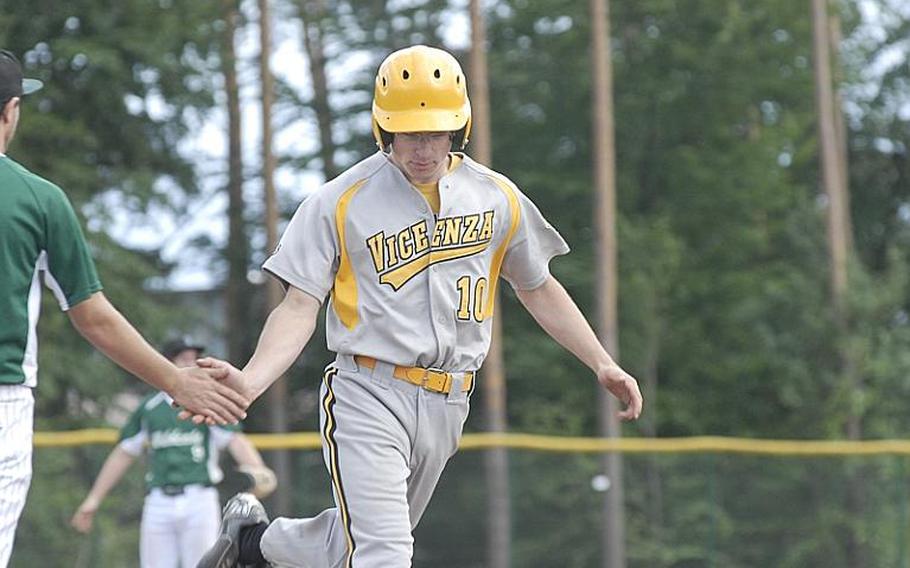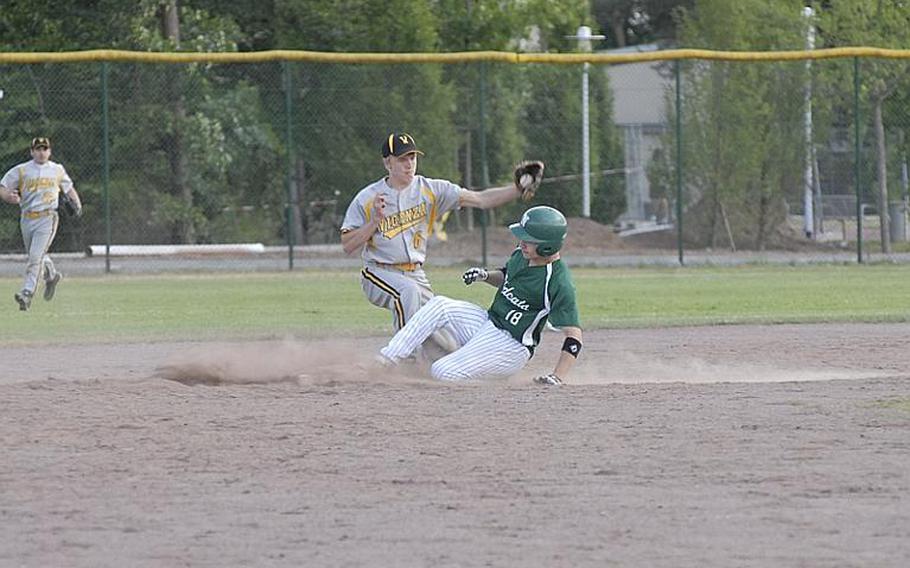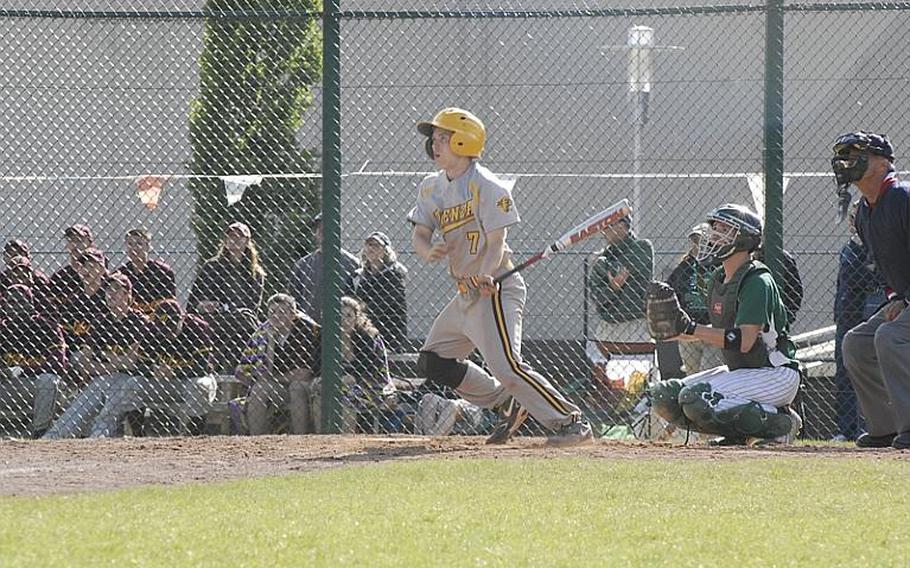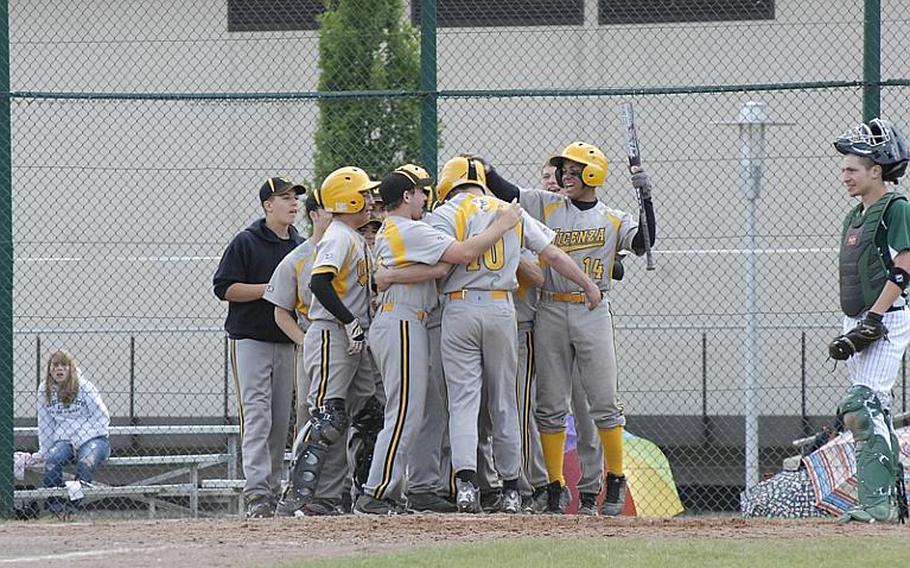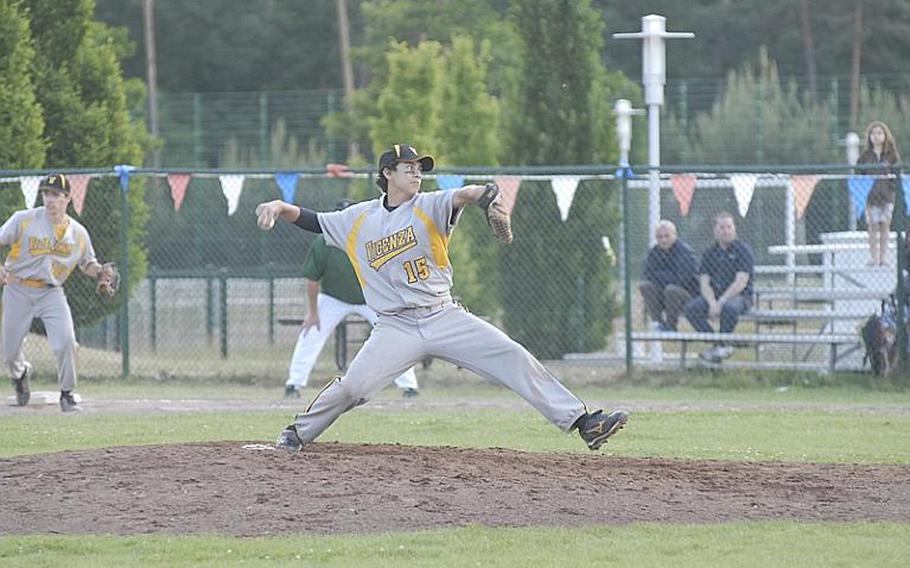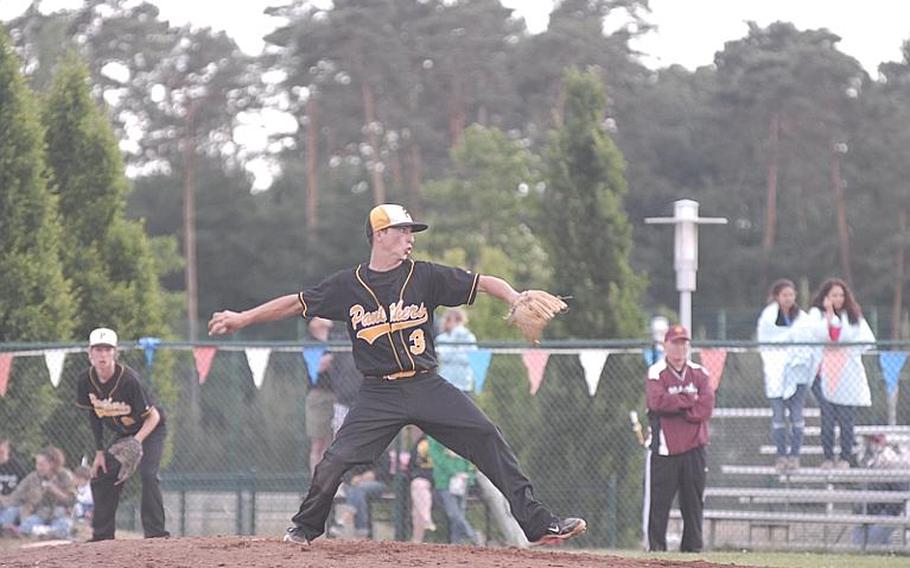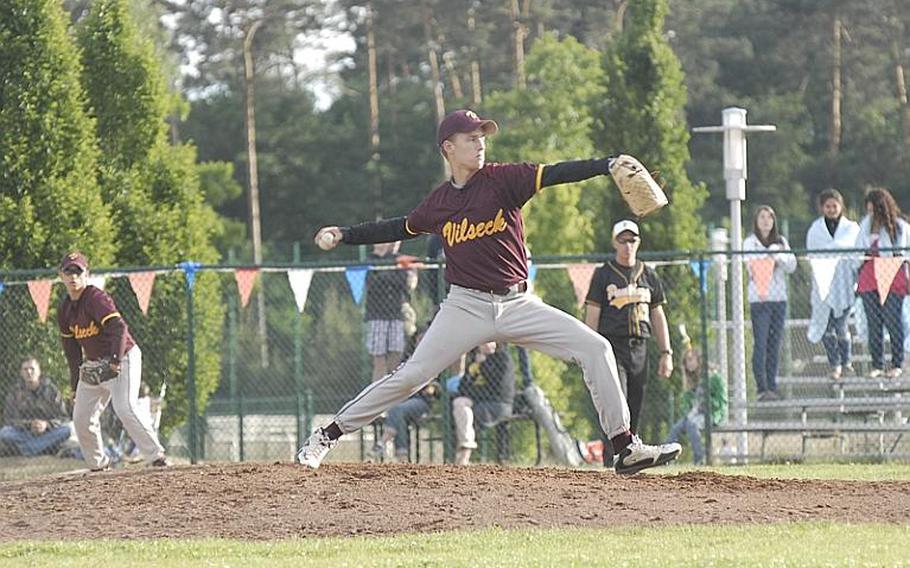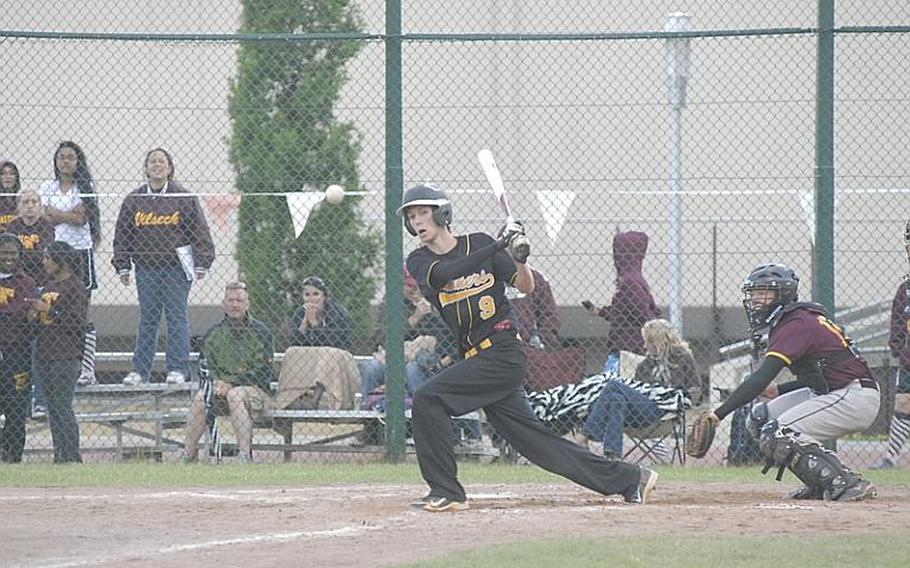 KAISERSLAUTERN, Germany — Bitburg ace Notley Reavis tamed Aviano's bats, and Bitburg's sticks shortened Friday's European Division II semifinal baseball game here to the minimum three innings in a 15-0 run-rule defeat of the Saints.
The win earned the Barons a spot in Saturday's championship game against Vicenza, a surprising 14-12 winner over top-seeded Naples in the other finals. The Cougars will be looking for revenge for a 2-1 defeat at the hands of Bitburg in pool play Thursday.
Reavis faced just 10 batters Friday, one over the minimum, and retired nine of them, five on strikeouts. The only batter to reach safely was Aviano shortstop Keyshawm Gatson, who stroked a one-out triple to right in the first inning, only to die at third when Reavis retired the next two batters on a liner to second and a pop-up to third.
Those outs were the first of the eight straight batters Reavis retired in order the rest of the way. For Bitburg's senior right-hander, Friday's domination was a matter of location, location, location.
"It wasn't so much my fastball," Reavis said of a heater that looked challenging from the stands, "as it was placement. I put the ball in different spots depending on where they stand in the batter's box."
No one from either team stood in the batter's box for very long Friday. Aviano's batters left quickly because Reavis put them away with minimum difficulty, and Bitburg's were in a hurry to take off and run the bases. Bitburg banged out 13 hits and benefited from three walks and a hit batsman by Aviano starter Logan Marling along with three two-base errors by the Saints' defense.
"We've played a lot better the last two games," said Reavis, whose Barons will go into Saturday's title game at Ramstein Southside having downed Hohenfels 15-0 earlier Friday and No. 3-seeded Bamberg 16-1 on Thursday.
"Our bats have really come alive."
They were plenty lively on Friday. Lead-off batter Matt Flood, who two-hit Hohenfels in Friday's first Baron victory, took Marling to the right-field fence to open the game with a ringing out, and Bitburg never stopped putting the ball authoritatively into play thereafter.
First baseman Austin Schmidt singled and doubled and was hit by a pitch in three aat-bats. He drove in two runs, as did Reavis and Evan Less.
The RBI leader against Aviano, however, was the No. 8 batter, Isaac Ramon, who drove in three with an infield single and a double to right.
Vicenza has won as many games in Germany (three) as it did during the regular season in Italy. The Cougars scored 10 runs in the sixth to beat Naples for the first time this season. The Wildcats scored once in their final at bat, but couldn't come up with any more.
Hot hitters for Vicenza included juniors Cooper Armstrong, who belted a two-run homer in the fifth, and Chris Vallone, who hit a crucial double in the sixth inning that drove in two. Sophomore Grant Trochesset picked up the win.
Division IIf "momentum" is all it's said to be, Saturday's 3:30 p.m. Division I championship game will a collision of juggernauts.
Patch, the top-seeded defending champion, earned its berth in the final by scoring 12 first-inning runs en route to 16-0 semifinal victory over Vilseck, and second-seeded Ramstein, the 2009 champs, advanced by riding a 15-run second to a 19-1 victory over surprising Lakenheath.
No further details were available on the Patch-Vilseck game, which was played across town at another location.
Lakenheath, seeded No. 8, again unleashed the heady small-ball game it used all tournament to defy the seeding committee's expectations. The Lancers took a quick 1-0 lead in the top of the first on consecutive bunt singles and a throwing error by pitcher Rylee Moore.
"They want you to throw the ball around," Ramstein coach Glenn Porter said of the tactic which added to the already substantial reputation of Lakenheath boss John Gilmore as the leading tactician of DODDS-Europe diamond sports. "It puts a lot of pressure on you."
Moore and his teammates quickly removed the pressure from the game, however.
After Lakenheath had pushed across its run, Moore fanned three of the next four batters he'd face. Tyler Hughes relieved Moore in the third and final inning and struck out two.
In between, Ramstein stuck for four first-inning runs, two of them scampering home on Dustin Labit's triple to right, and then sent 21 batters to the plate in the bottom of the second. Ramstein amassed 11 hits in the 15-run frame despite substituting freely.
Staff writer Mark Patton contributed to this report.
---
---
---