Home Team
Bitburg, Schmidt trying to go 3 for 3
---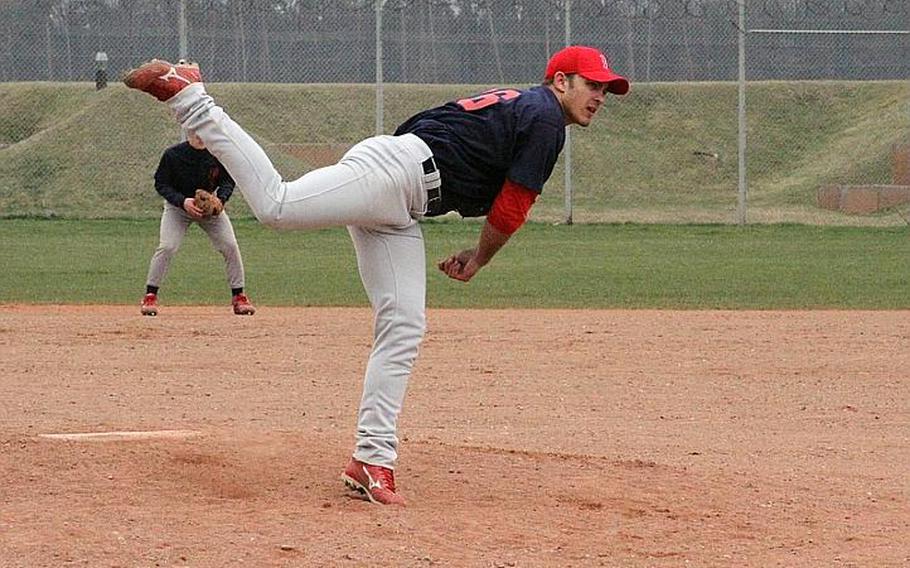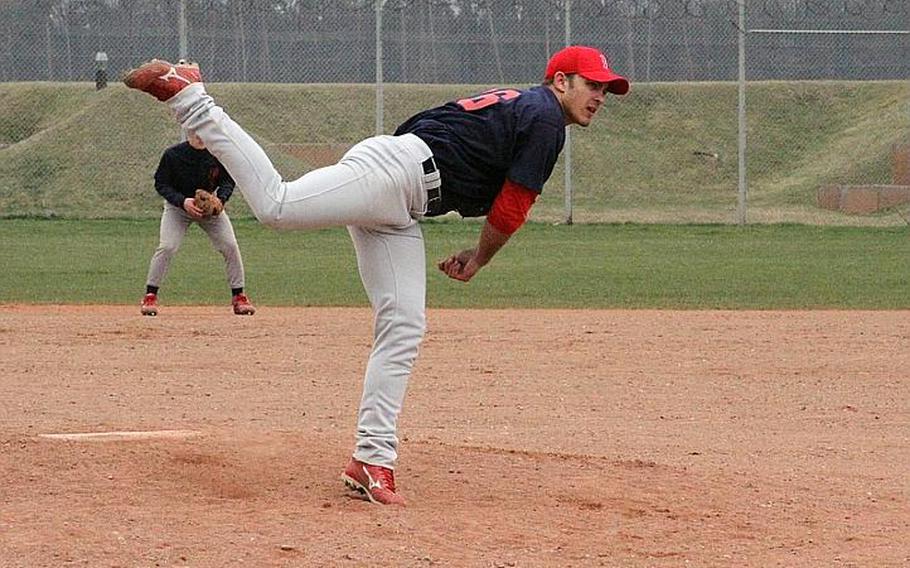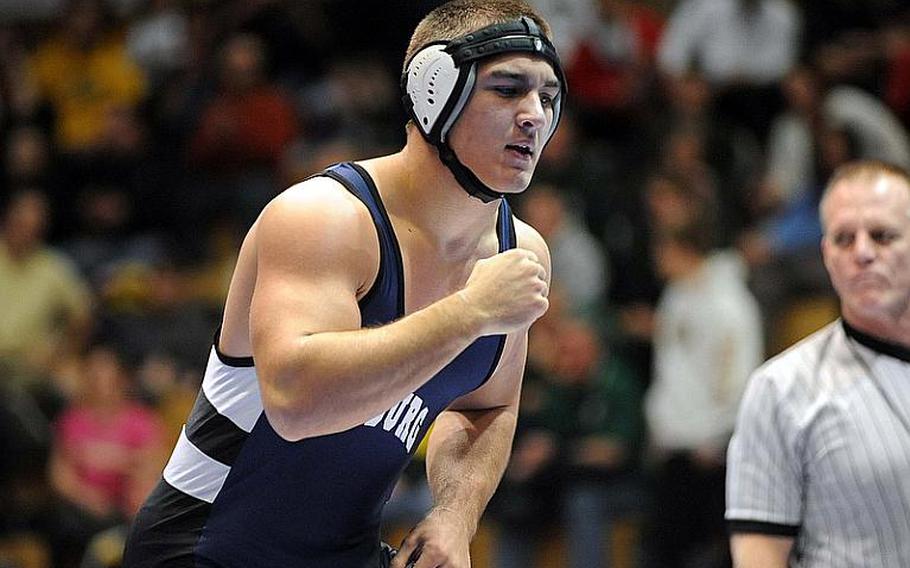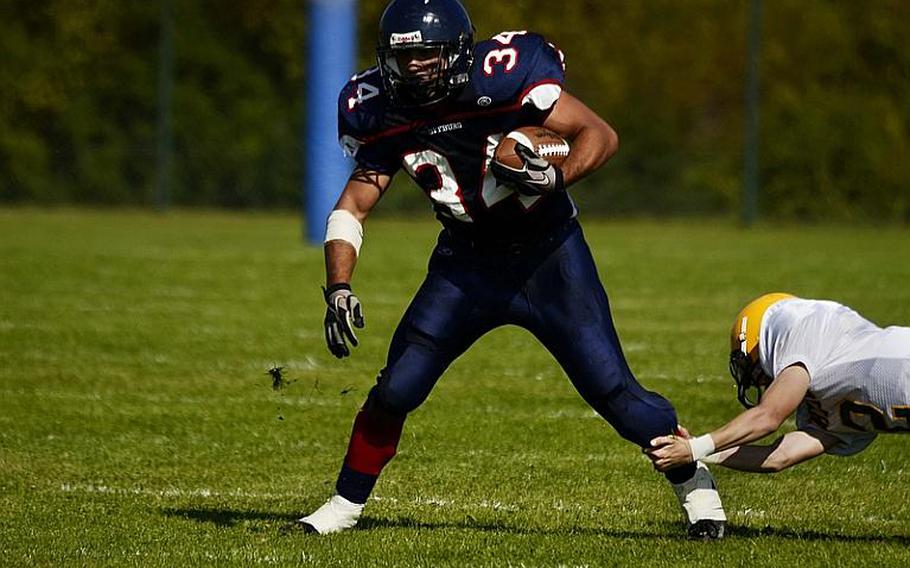 Fans of Bitburg's three-time defending European football champions and 2012 D-II wrestling champions have baseball to thank for the contributions made to those titles by two-time All-Europe defensive end and 2012 220-pound mat king Austin Schmidt.
"If they hadn't started playing baseball," the 17-year-old senior said of the school system's official adoption of the sport just four years ago, "I would have left."
Schmidt, a 2011 All-Europe pitcher and first baseman, probably didn't have a lot of options. The Air Force, in which his father Paul serves as a senior master sergeant, has most of the say about when and where the Schmidts go – but the sentiment is right. When you're as talented as Schmidt is, the desire to play baseball for your school is strong enough to at least consider living away from your parents and playing in the States.
How talented is he?
Schmidt, who came on in relief to gain a save in Bitburg's 5-3 2011 Division II title-game victory over Vicenza by striking out the side in the bottom of the final inning, fanned 45 batters in 36 innings-pitched last year while batting .436 with 16 runs batted in.
Rain-outs and forfeits have cost Bitburg (6-0) four on-field games so far this season, and rain's in the forecast again for this weekend's scheduled games at Lakenheath. Worse yet, illness deprived Schmidt of playing time in one of the four games the Barons have been able to play. Still, he's five-for-seven at the plate with three RBIs and has fanned nine of the 13 batters he's faced this season.
Schmidt hopes to get a chance to add to those totals in the next three weeks to facilitate his task of fulfilling this spring's Priority No. 2.
"I'm trying to find a place to play college ball," Schmidt said his plans for next season.
For now, though, Priority No. I is winning a second straight baseball crown for the Barons.
"I'm getting really eager," Schmidt said about the upcoming European tournaments, scheduled again this year for the Kaiserslautern Military Community May 24-26. The title games are ticketed for Ramstein on May 26. "We're looking really good. We have a whole bunch of solid players."
If Schmidt and the Barons are successful at the end of the month, it'll be the third team championship to which Schmidt's contributed this year. As a punishing fullback and defensive end, the 6-foot, 205-pound Schmidt has been a part of Bitburg's ongoing 22-game winning streak that stretches back to 2009. Schmidt, who last season registered 36 tackles – 10 of them for a loss and four sacks – manned his end of the line so effectively that coach Mike Laue observed, "He made it impossible for teams to run outside on us."
In February, Schmidt finally broke through to win a European wrestling championship after runner-up seasons as a 189-pounder his junior year and as a 160-pound sophomore.
"I was making sure it didn't happen a third time," Schmidt recalled about his mindset last February. "It would have been a bad story for me to come in second again."
Instead, Schmidt made his final high school bout the highlight of the championship round, a 59-second flattening of Wiesbaden's William Hedges that capped Schmidt's 25-0 season on the mats. His gold medal also helped Bitburg break Baumholder's two-year run atop D-II and get the Barons two-thirds of the way to a three-sport sweep.
Nothing would make Schmidt happier.
"For me," Schmidt said, "sports is a main priority."
Although he's ready to take his skills to the next level, Schmidt said he has no complaints about his stay at Bitburg.
"If I had played in the States, my skill levels might be higher and I'd have been looked at more (by college and pro scouts)," Schmidt said. "But I like the way things have worked out."
So have all those Bitburg fans.
---
---
---
---