D-II football championship
Bitburg rolls past Ansbach for third straight title
by
Rusty Bryan
November 5, 2011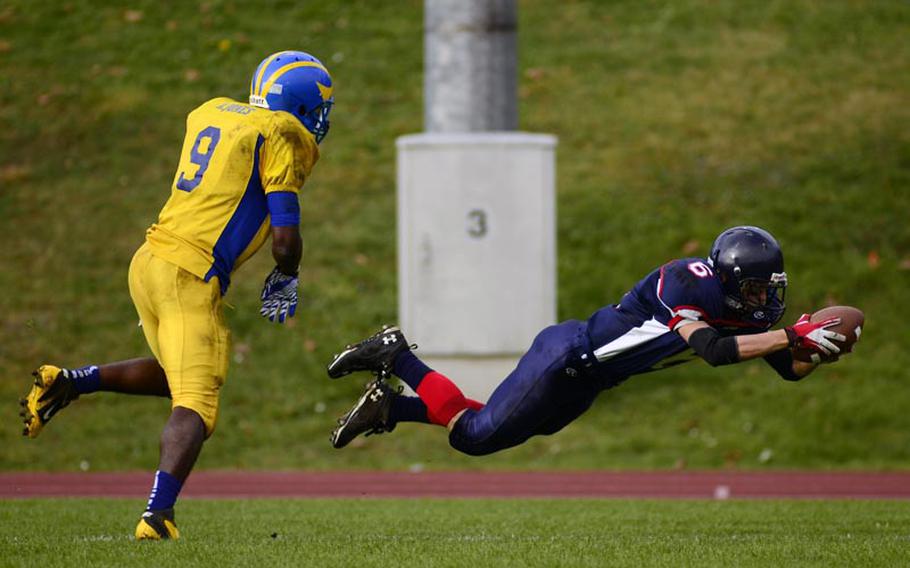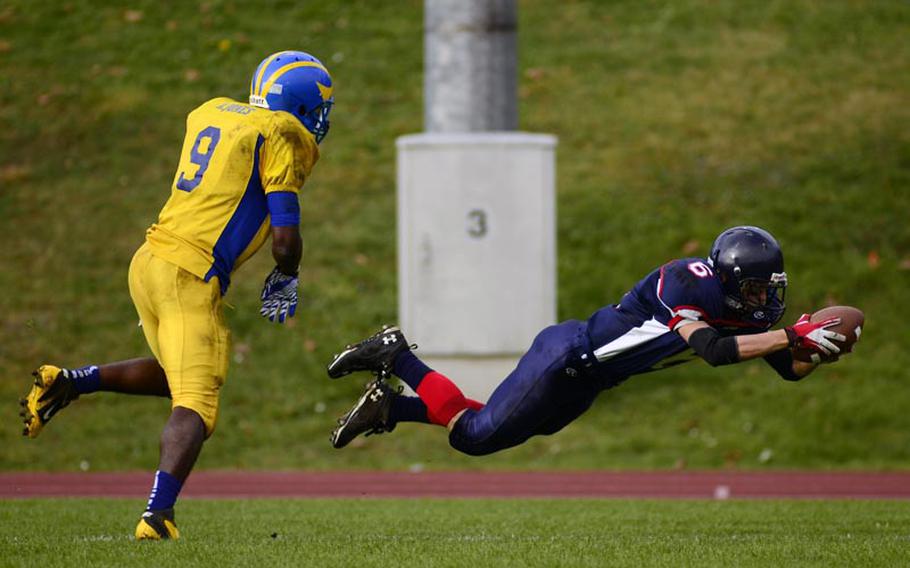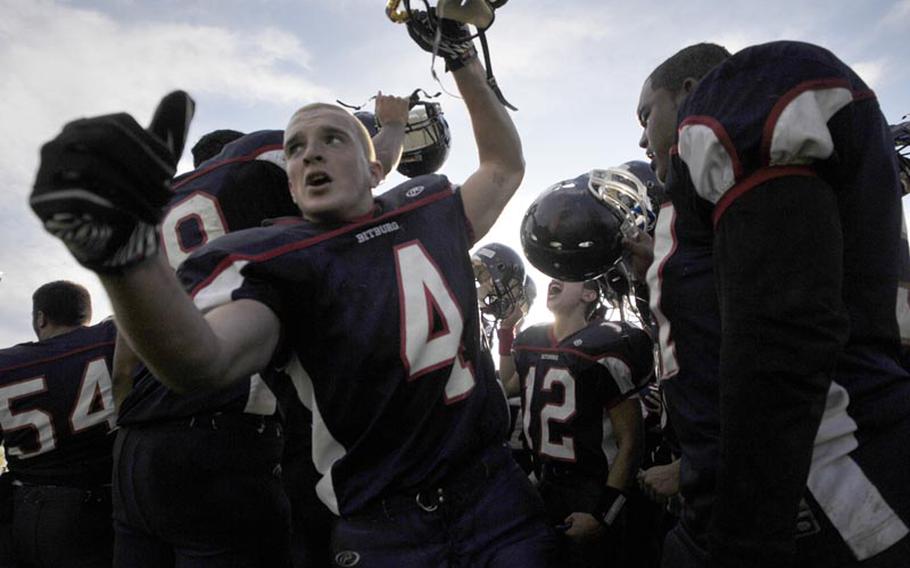 BAUMHOLDER, Germany – Playing winning "Bitburg football" for the 22nd straight time Saturday, the Bitburg Barons swept aside the Ansbach Cougars 39-18 in the European Division II championship game.
"They're a great team," Bitburg's two-time All-Europe tackle Darian Billups said about Saturday's opposition after his Barons won their third straight D-II title by defusing nearly everything the creative Cougars threw at them. "But we came off the ball fast and played our reads. We played Bitburg football."
The Barons, who rushed for 340 yards and 49.8 points-per-game this season, gave Ansbach a crash course in their style of football, rushing for 201 yards en route to a 33-12 halftime lead. In contrast, the Ansbach ground game, led by Xavier Jones, who had run for 1,692 yards going into the finale, gained a mere 53 yards over the same span.
Even worse, from Ansbach's perspective, all of those Bitburg yards came on the short field they ceded to the champs all afternoon. Knowing they had to pull out all the stops to stay in the game with massive Bitburg, the Cougars opened with an onside-kick attempt, one of four they'd try unsuccessfully during the afternoon.
The result was a field-position dream for Bitburg, which began seven of its 11 possessions in Ansbach territory, thanks to the onside-kick tries and three Ansbach turnovers. Three of the other possessions started between the Bitburg 47 and midfield. Only one Bitburg drive, in the waning moments of the game, began deep in Baron territory. It started on the 5 after the Bitburg defense stopped Ansbach's last-gasp drive on downs.
Bitburg quarterback Corey Bashon scored two touchdowns, on 1-yard plunges, and fullback Shaquille Williams and All-Europe back Austin Schmidt also crashed in from in close. Bashon completed the lone pass he threw, a 39-yarder to Rashaun Wimberly.
All-Europe running back Kyle Edgar ran 10 yards for a Bitburg TD and do-everything sparkplug Matt Flood ran for a 54-yard touchdown on a fake punt that gave the Barons some second-quarter breathing room at 20-12.
"He's a great little player," Bitburg coach Mike Laue said of Flood, who also recovered a fumble and whose job on defense chiefly dealt with run support, especially when the speedy and powerful Jones reached the second level of the Bitburg defense. Flood, listed at 5-8, 145 pounds, in one memorable play took the 205-pound Jones on one-on-one at the left sideline and ended the Ansbach runner's 22-yard gain.
"You've got to throw your body in there," said Flood, perhaps describing yet another aspect of "Bitburg football."
Jones scored all three Ansbach touchdowns, on runs of 21, 1 and 30 yards, each memorable for his determination and the first for dragging two Bitburg tacklers into the end zone with him. Jones, a senior, added 155 yards on 22 carries and finished his season with 1,847 rushing yards and 24 touchdowns.
Ansbach clamped down on defense after halftime, holding the Barons to 108 rushing yards, but a one-handed interception by Edgar thwarted a drive that would have tightened things considerably.
The pick was a rare mistake by Ansbach quarterback Jake Voorhees, who completed 8-of-14 passes for 224 yards. But two other mistakes: lost second-quarter fumbles, all but finished Ansbach's chances.
The championship was the eighth in Bitburg history, and it came just as Edgar expected it to.
"We knew they'd come out and do a lot of things," he said. "But we knew if we played Barons' football, we come out all right."
---
---
---