Bikers conquer course as season ends
by
Rusty Bryan
September 3, 2011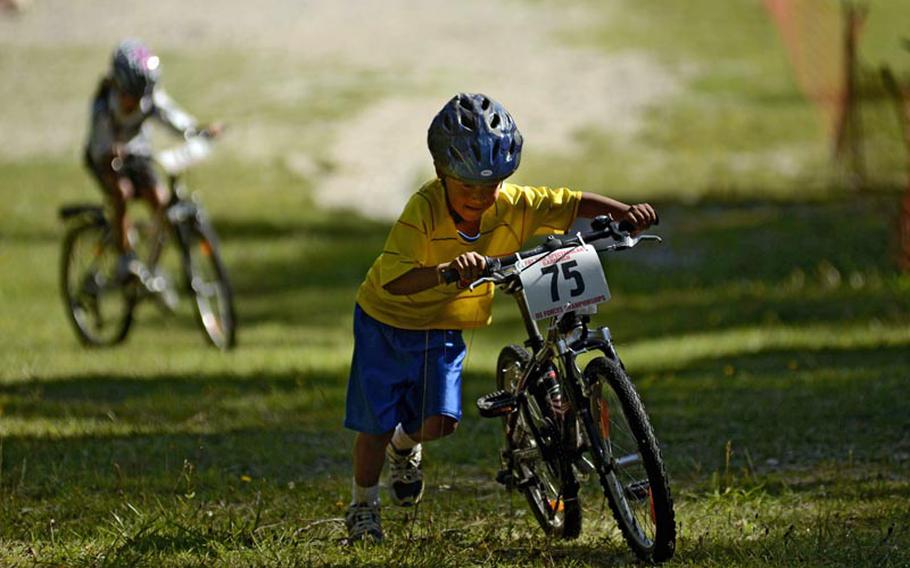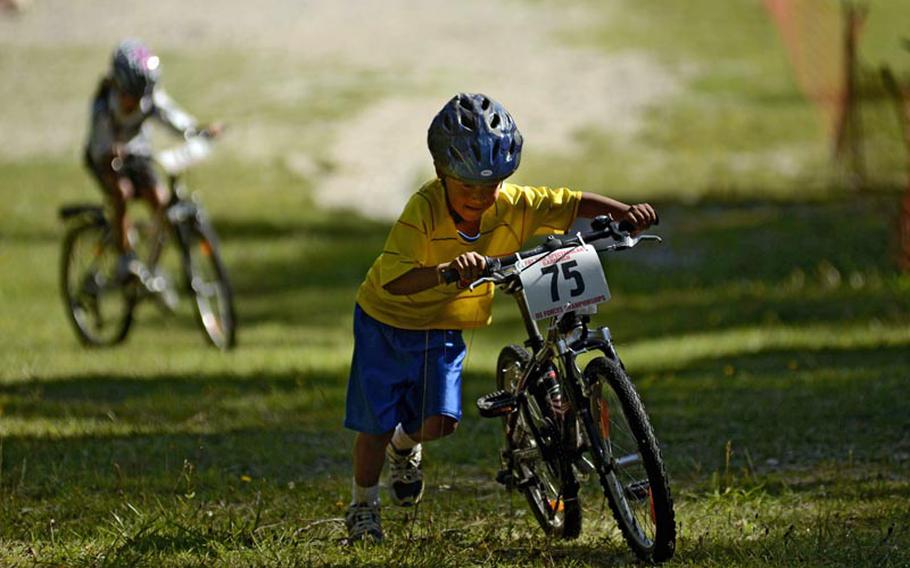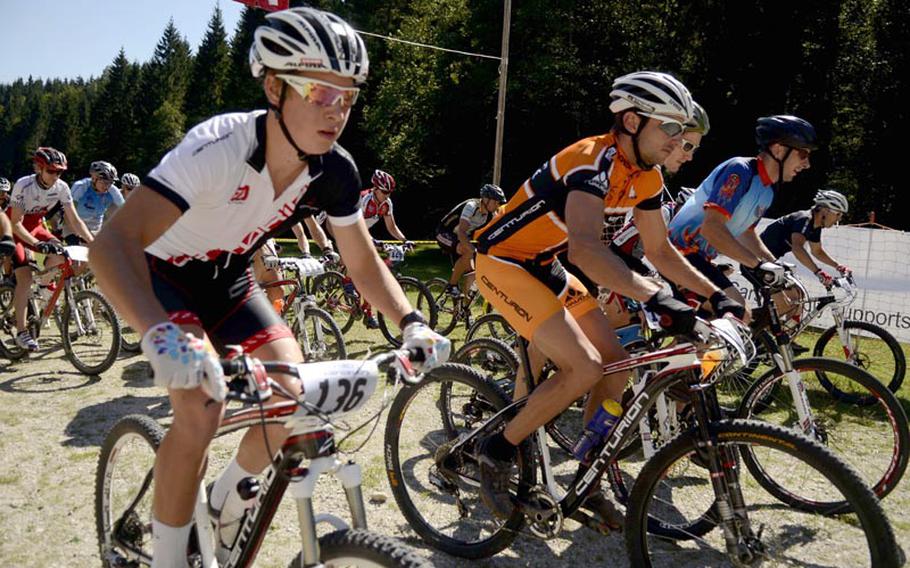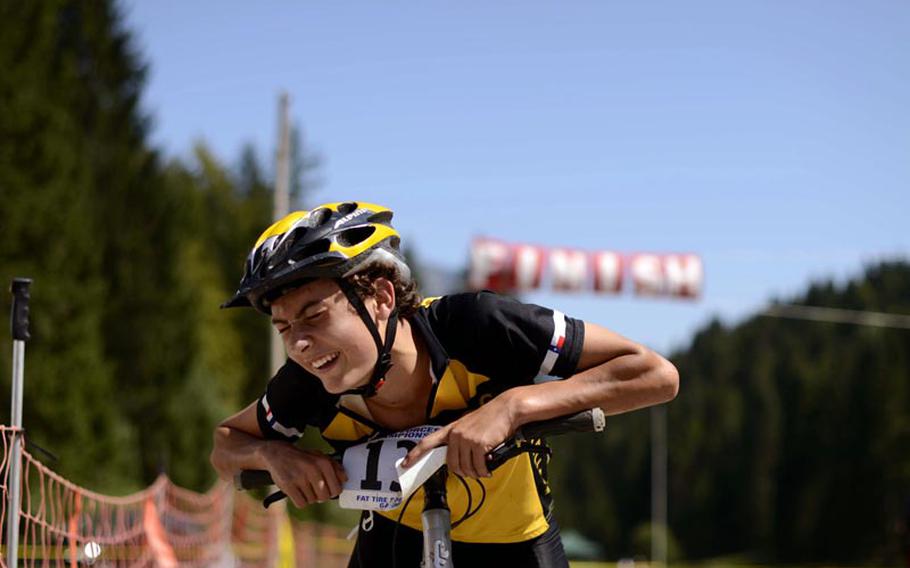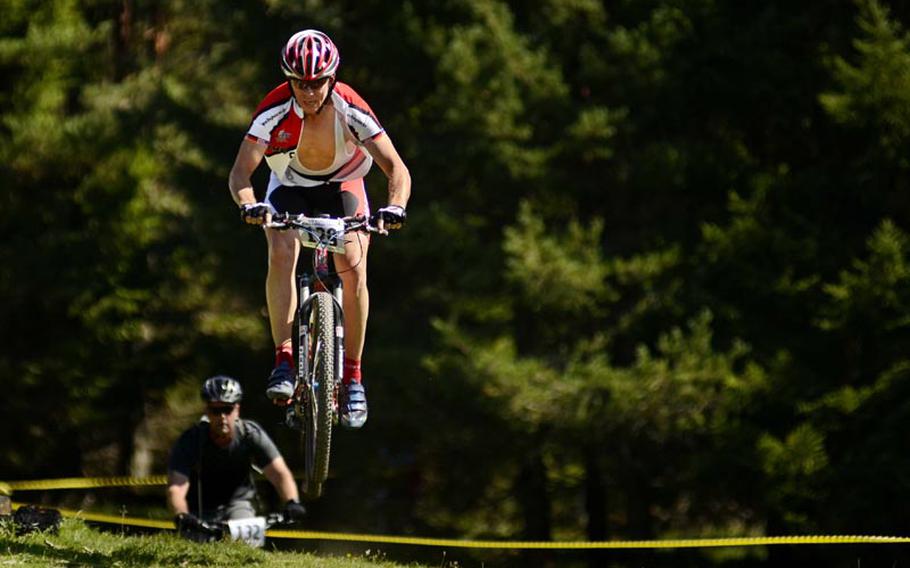 GARMISCH, Germany – This community's 26th annual Fat Tire Spectacular, the eighth and concluding event of the 2011 U.S. Forces-Europe Mountain Bike Challenge Series, was short on suspense but long on effort Saturday.
When 35 entrants took to the starting line on a warm, sunny day, series titles in all but one of the age-sex categories already had been decided.
Open rider Mike Schmidt of Ansbach clinched his title several events ago. He took a 96-28 lead over fellow Ansbach-based racer Aaron Sullivan into the finale and added to his dominating season by becoming the fastest military community rider on Saturday with a time of 54 minutes, 8.3 seconds over the five-lap, approximately 25-kilometer course.
Women's champion Angelika Rodriguez of Ansbach, who completed her race in a women's-best time of 1:06:50.5 also enjoyed a big edge over her nearest rival going in, and men's seniors leader Jeremy Vaughan of Stuttgart, who clocked 57:46.4 — fastest by any American in his category on Saturday – was capable of being caught until his closest pursuers did not turn up to race.
Only in the men's masters category for riders aged 45 and older was there any drama at the starting line.
Veteran triathlete Leigh Plowman of Garmisch took the age-group lead from Jeff Pannaman of Stuttgart two weeks ago and needed to beat Pannaman here to wrap up his crown. Plowman did, clocking 56:25.8 to first-year racer Pannaman's 1:07:07.0.
"I've ridden about every one of these," Plowman said Saturday about his home-course race, which began its second quarter-century on Saturday. "Today, it was dry and the course was rideable. It was awesome – lots of fast riders. In the past, we've had days when we sold more hot chocolate than beer. Any rain at all and the course softens right away."
Plowman, who raced in five of the eight races in the series, held off Pannaman on Saturday, but trailed another masters-age American, James Sharpe of Kaiserslautern, across the finish line.
Sharpe, a longtime star of military cycling in Europe who was racing for just the second time this season, clocked 54:42.4. Luckily for him, that wasn't fast enough to wrest the masters crown from Plowman.
"Every time I win a title," said Sharpe, whose racing career has been derailed more than once by trips to the desert, "I seem to get deployed."
Men's open champ Schmidt, a lifetime mountain biker who became competitive in the sport in 2008 while stationed at Fort Carson, Colo., took part in seven of the eight races. He missed only on the opener in Aviano in April.
"I enjoyed the race in Hohenfels the most," he said. "There was a variety of terrain and it was wet. I was holding on for dear life."
Women's champ Rodriguez, the only champ to complete all eight events, also enjoyed the Hohenfels stop.
"Hohenfels and Garmisch are amazing," she said. "They're both very technical, well-groomed courses."
Although the series ended Saturday, at least two of the champs were looking ahead. Rodriguez said she is racing today with her German club, and Plowman, who has completed the Ironman Kona event in Hawaii, is itching to get back into Ironman.
"Last year, I was just a baby, a novice, but this guy here," Rodriguez said as she greeted Plowman, "showed me everything."
Smiled Plowman as he nursed a gash he received trying to disentangle his chain from his rear spokes, "Last year, she was a beginner. This year she's telling me how to tune my bike."
Has Plowman any future plans in his sports?
"I retire in five-and-a-half years," said the recreation director for AFRC. "Then I can start training full-time."