Home Team
Aviano's Weiser gearing up for run at second title
by
Rusty Bryan
December 7, 2011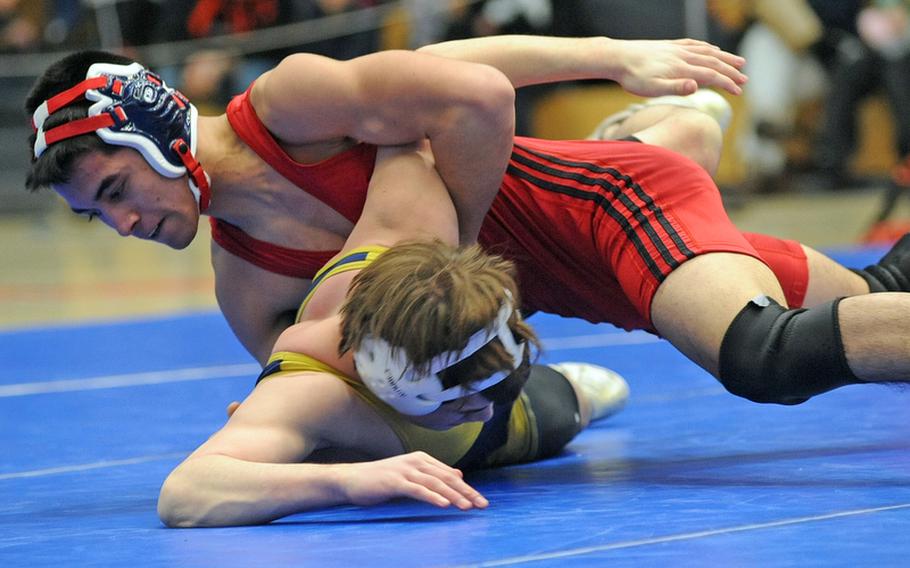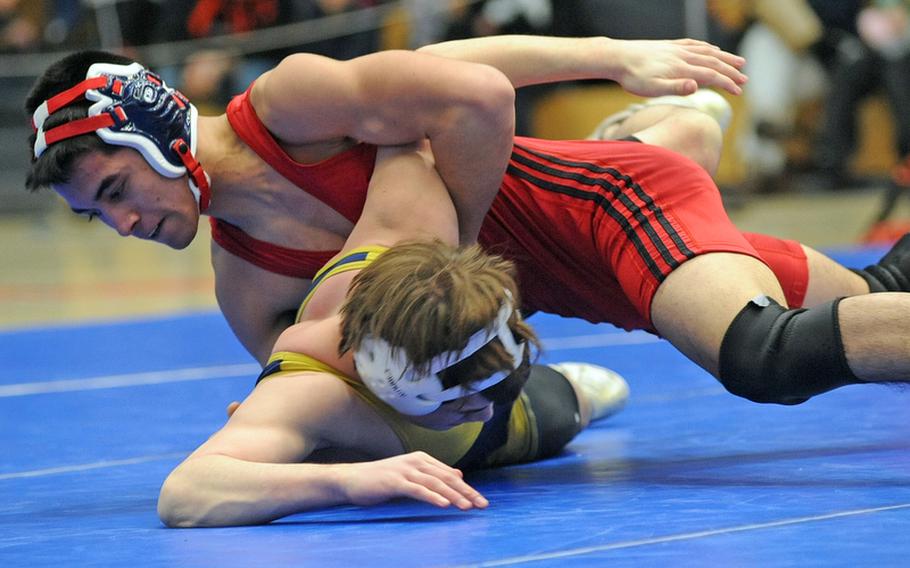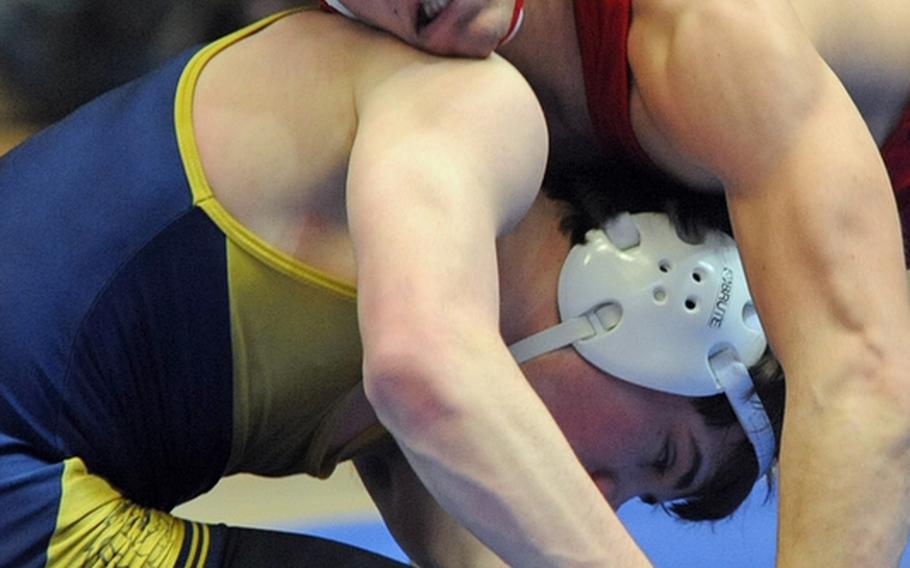 Evaluating the skills of Aviano senior 138-pounder Nikolas Weiser is simplicity itself for coach Robin Clement.
"By far," Clement said by telephone on Monday, "he's technically the best wrestler I've ever had."
That's no small praise from Clement, who's been at the helm of the Saints' wrestling program for 17 years. But Weiser's record more than justifies his coach's opinion.
Weiser, the reigning 130-pound European champion, is riding a 33-match winning streak. He last lost to Brett Gilbert of Sigonella 7-2 in the 2010 European semifinals. He rebounded from that defeat to pin Ramstein's Marshall Smith in 3 minutes, 41 seconds for the 130-pound bronze medal and went 31-0 en route to the 2011 championship.
Weiser's achievement becomes even more remarkable in light of the paucity of outside avenues to excellence most wrestlers take. Weiser was introduced to the sport by his father, a former high school wrestler in Iowa, and began wrestling as a five-year-old at Patch Barracks in Stuttgart. He doesn't work with local freestyle clubs and has never attended a Stateside summer camp. The only outside wrestling activity is the occasional bout with base-team grapplers and a trip to Coach Duane Werner's camp in Vilseck one summer.
Weiser doesn't even devote his entire year to training for wrestling.
"I play football," he said about his fall sport; in the spring, it's baseball for the pitcher-catcher-shortstop.
Compounding Weiser's lack of exposure to the wider world of wrestling is his location. High school wrestlers in Germany enjoy a rich diversity of opposition when they pit themselves against foes from 15 of so schools. Until tournament time, Weiser faces the same opponents from AOSR, Naples, Sigonella and Vicenza week after week.
"It does get kind of stale," he said about wrestling the same people every week, "but you've always got to keep your focus."
Focus isn't a problem for Weiser, an honor student who moved from Germany to Florida, where there was no wrestling, and then to Norman, Okla., as a seventh-grader, where interest in the sport is as ubiquitous as the prairie winds.
"I motivated me to work harder," he said about resuming his wrestling career at such a high level.
The outcome?
"He's a 100 percent dedicated competitor," Clement said. "He's one of those kids who come along that you don't have to motivate. He's a no-quit wrestler."
Clement also cited Weiser's team feeling.
"He's not just there for himself," the coach said. "He works with anyone and everyone."
Weiser says working with the team helps him concentrate on what he needs to do.
"When you have to explain something," he said, "you have to remind yourself about some of the little things you might have forgotten."
Weiser said he prefers wrestling on his feet, and his takedown prowess proved decisive in last season's title bout against Heidelberg's Jaron Henninger.
Weiser led 2-1 and was in the advantage position going into the final period, but stunned Henninger when he conceded the escape to tie the match 2-2.
"We noticed that the Heidelberg wrestlers would be content to let you beat yourself to death trying for the pin," Clement said, "and then at the end they'd go for a reversal to win the match. So we told Nik to let him up."
Weiser did, and it was he who hit the late move, a takedown, to win 4-2.
Weiser, who plans to major in engineering or architecture in college, wants to wrestle at that level, but is facing the usual exposure problem to Stateside programs most Europe-based athletes encounter.
That wouldn't have been a problem in Oklahoma, but Weiser's not sorry he became a DODDS-Europe wrestler.
"Being here gave me a boost in confidence," he said.
Now there's just the matter of a second European gold medal.
"I've been waiting for this season since last summer," he said. "It's hard waiting until February."