Army edges Navy in flag football friendly
by
Alfredo Jiminez
December 4, 2010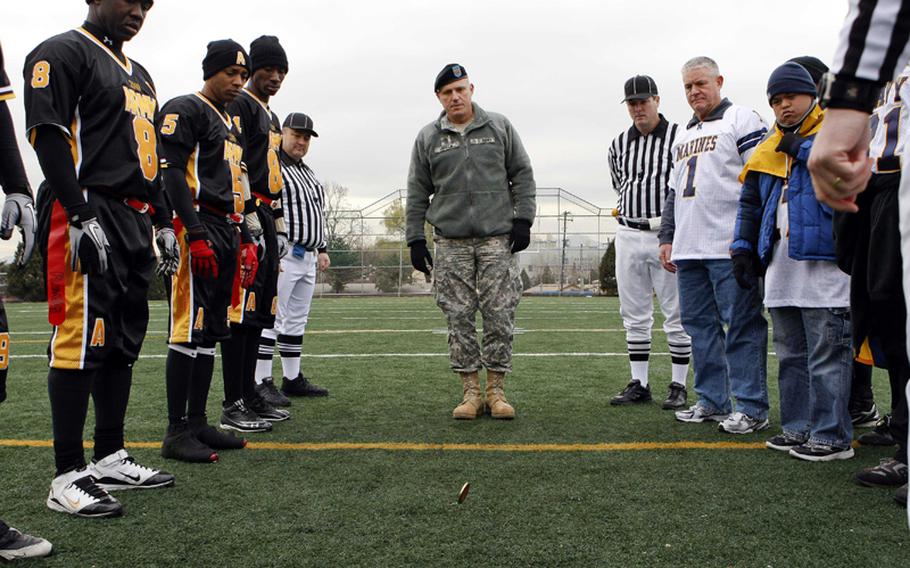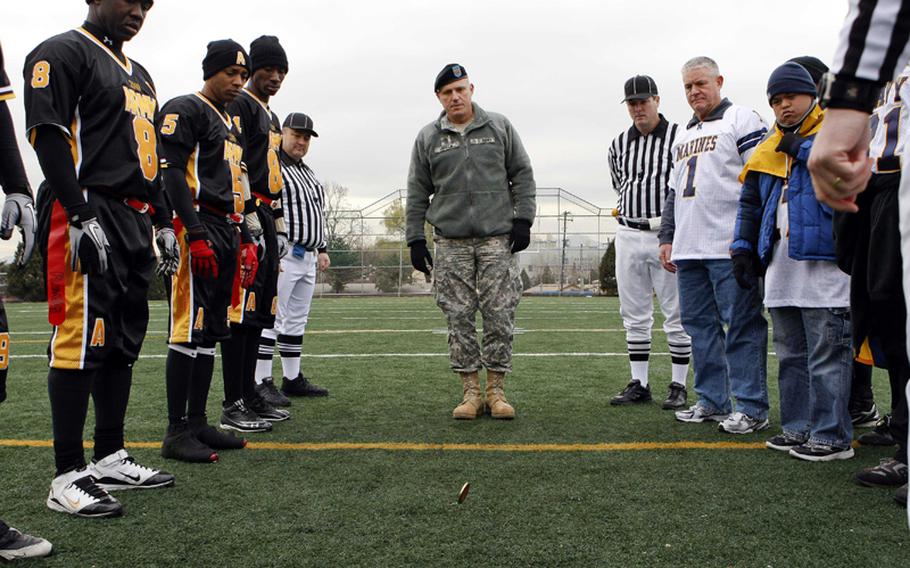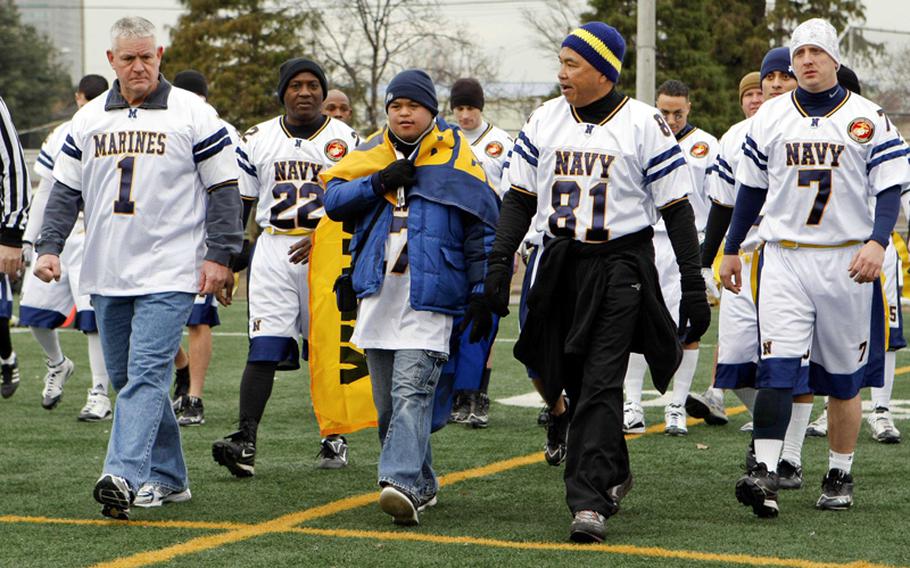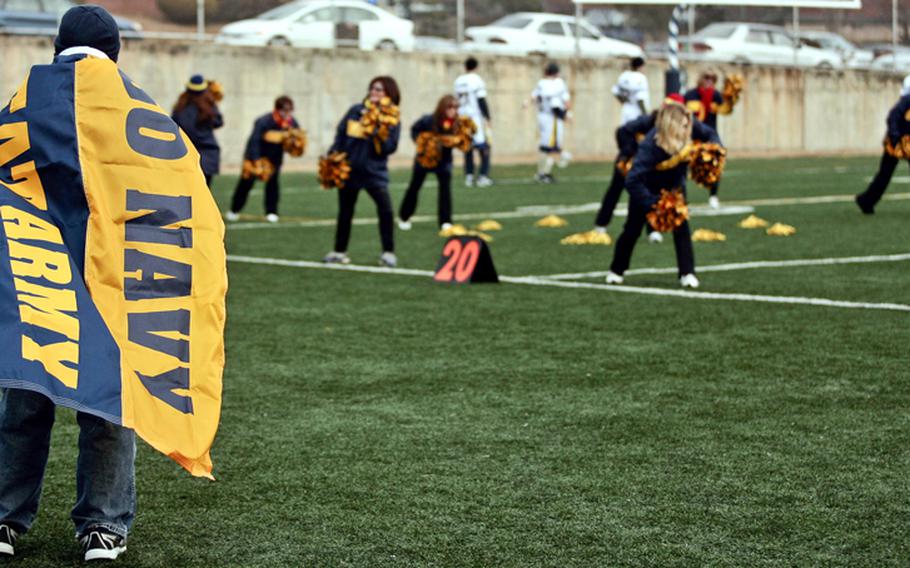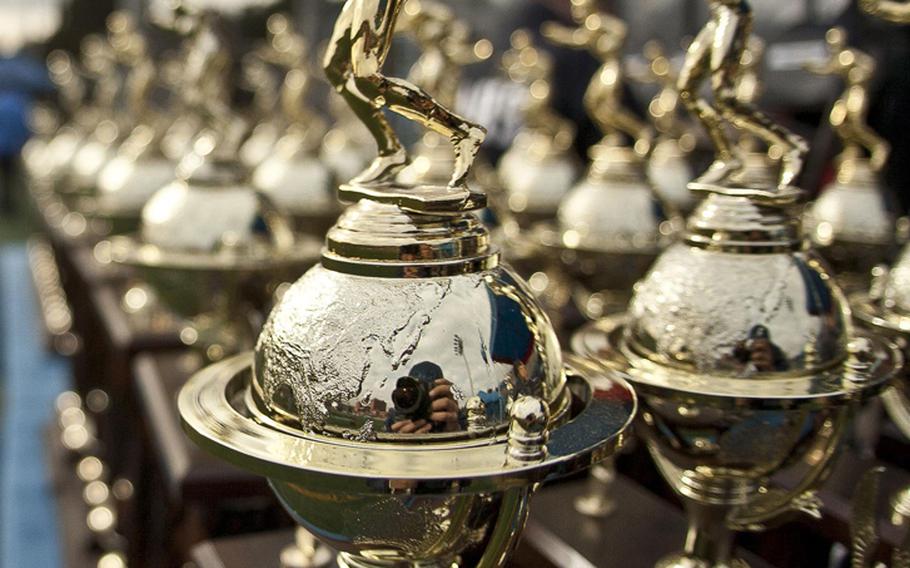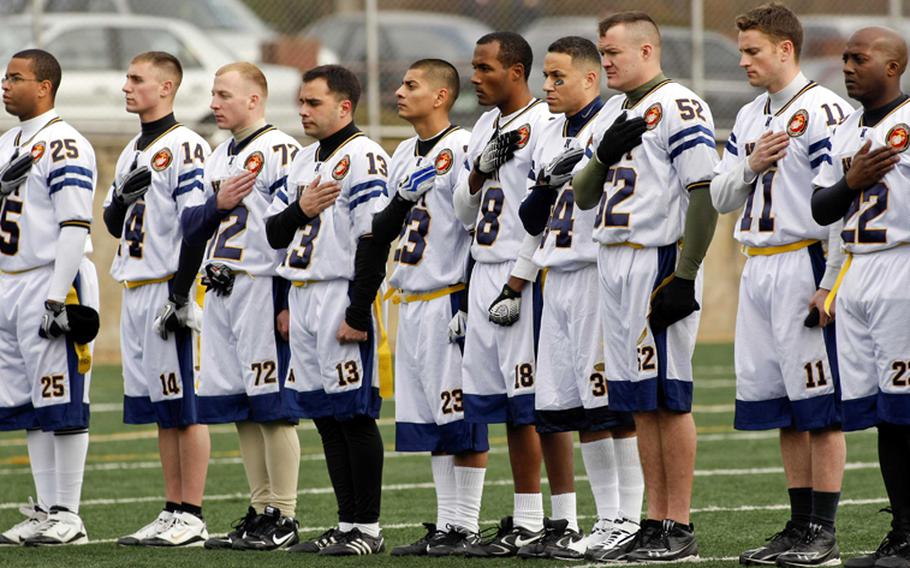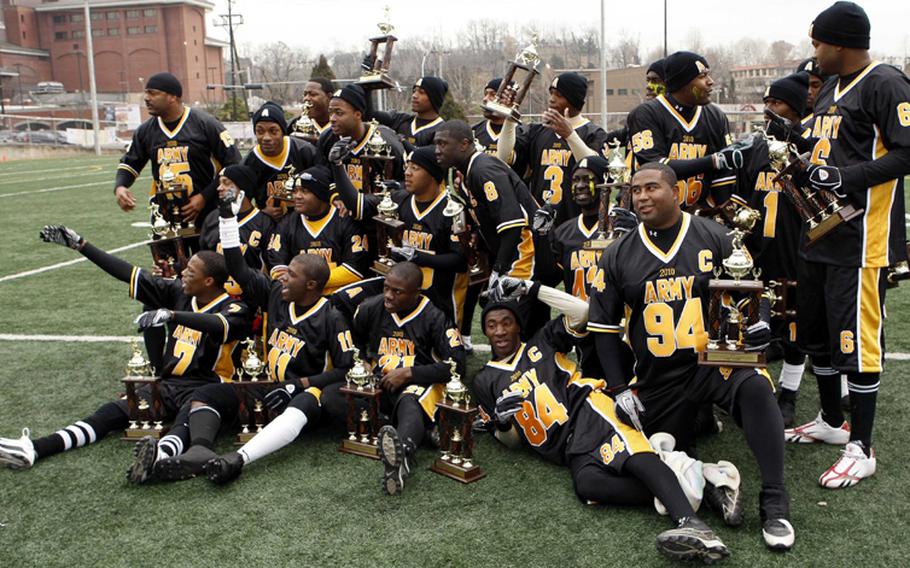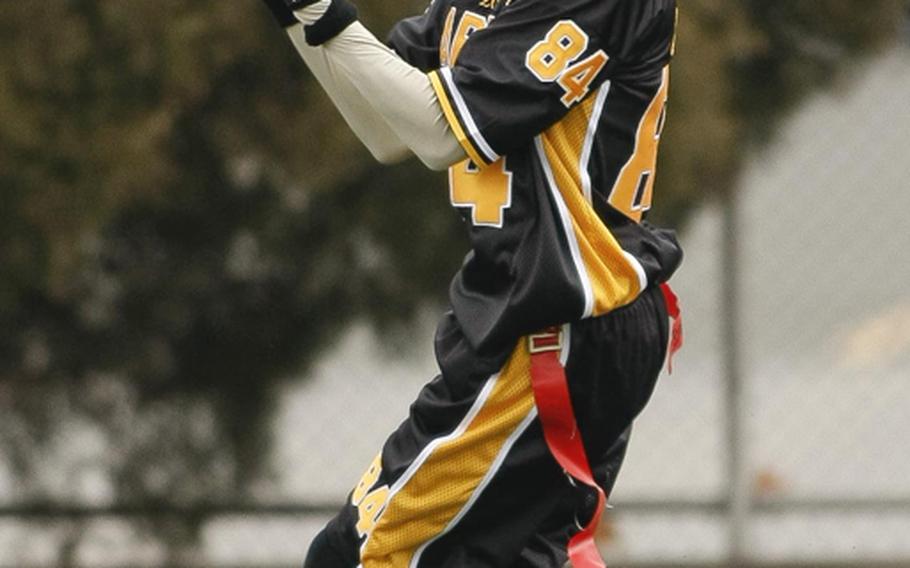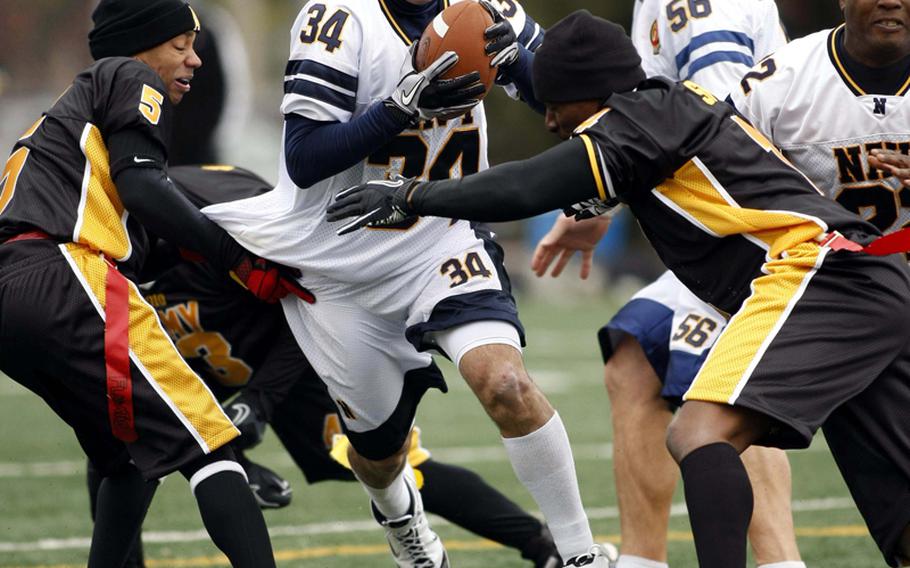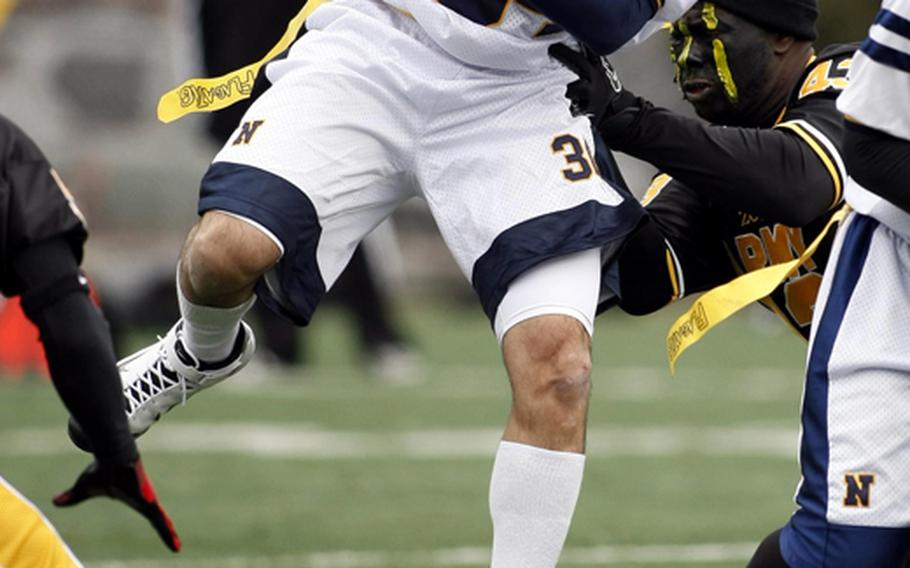 YONGSAN GARRISON, South Korea – The clock read :00 in overtime Saturday as Army quarterback Adrian Williams heaved a pass down field. It was caught by a streaking Gerard Oxendine for an 80-yard touchdown to cap a miracle finish.
The 12-6 victory certainly wasn't what the soldiers had envisioned when they began preparing for the annual Army-Navy flag football game. Last year, Army crushed Navy, 46-12, for its 11th win in the previous 14 games.
But on Saturday, the soldiers and sailors were locked in a classic defensive duel in front of a capacity crowd in frigid weather at Seoul American High School's Sims Field.
"It was an intense physical game," said Jimmy Wrisper, a master sergeant and linebacker for Army. "I played in an Army-Navy rivalry game 10 years ago here in Korea and loved every minute of that experience."
"This was a fun game to be involved in," said Phillip Lamb, a Marine gunnery sergeant and Navy running back. "It means a lot to me to try to beat our rivals in friendly competition."
From the bonfire lit at Camp Coiner the night before to the coin toss before the game, this contest had all the makings of a familial contest.
With high-ranking officials such as Maj. Gen. John MacDonald, Army Chief of Staff, U.S. Forces Korea; Maj. Gen. Mark Gurganus, U.S. Marine Corps Forces Korea commander; Sgt. Maj. Ralph Rusch, U.S. Army Garrison-Yongsan command sergeant major; and Rear Adm. Peter Gumataotao, Naval Forces Korea commander, cheering on the sidelines, both teams reached deep in their steep history and went-toe-to-toe.
The first half saw the soldiers and sailors struggle to pick up first downs. Penalties nullified many exciting plays.
"They were competitive throughout the first half," said Rodney Lamberson, a major and Army's right guard. "I'm sure our young (players) learned a lot out there."
The first half ended scoreless, but the halftime show highlighted by the Navy cheerleaders was a big hit if the rousing applause and whistles coming from the stands was an indicator.
"It was great to show our support to the military," said Kathy Capuano, a Navy cheerleader. "It's fun to get the spouses together and build a bond over a long period of time."
It took little time in the second half for the Army to get on track. Wide receiver Oxendine took the kickoff 90 yards to give the soldiers a 6-0 lead.
"I knew we could beat them," Oxendine said. "We're faster, younger and better."
Navy answered a few minutes later to tie the game.
"We're really motivated when we face Army," said Larry Courdle, a Marine gunnery sergeant and Navy cornerback. "We fight side-by-side during combat, but we give it our all when we compete on the football field."
Courdle played a familiar role during the game: hero, albeit a temporary one. He stopped Williams from connecting in the end zone with a minute left in regulation to help Navy force the overtime period.
But there wouldn't be any more heroics left for the sailors after Oxendine scored the game-winner.
"We like to see friendly strife between our services," said MacDonald, who wore a 35-year-old West Point uniform to the game. "It shows we can play hard and work hard."
The annual flag game is normally played the same week as the Army-Navy service academy game in the States, but it was pushed up a week because of cold weather during last year's game. Army has won 31 of the last 43 such contests throughout the Pacific.