DII football semifinal
Ansbach back in title game after win over ISB
---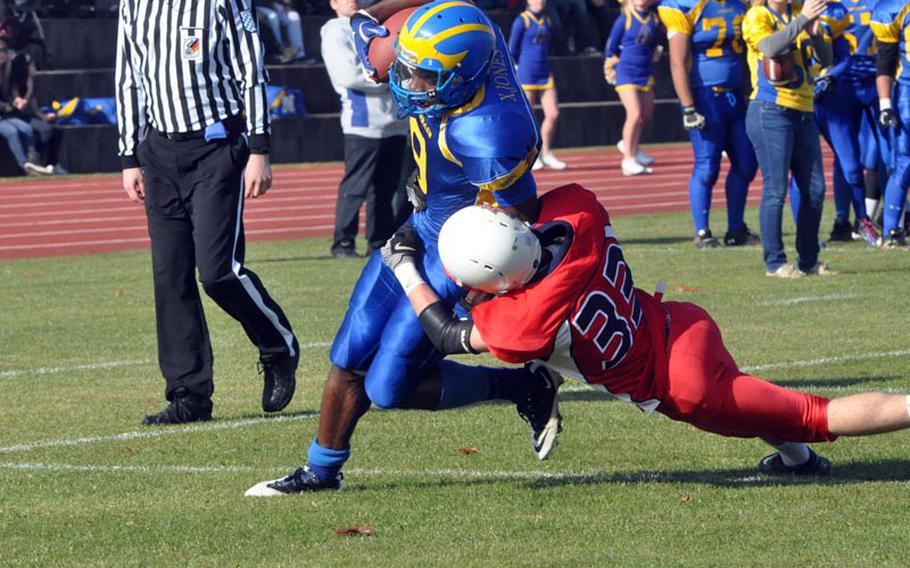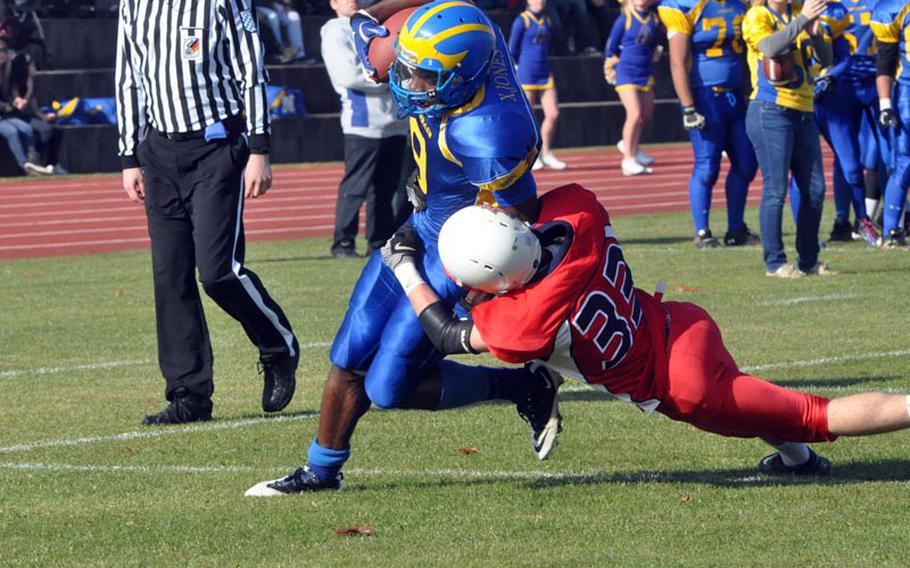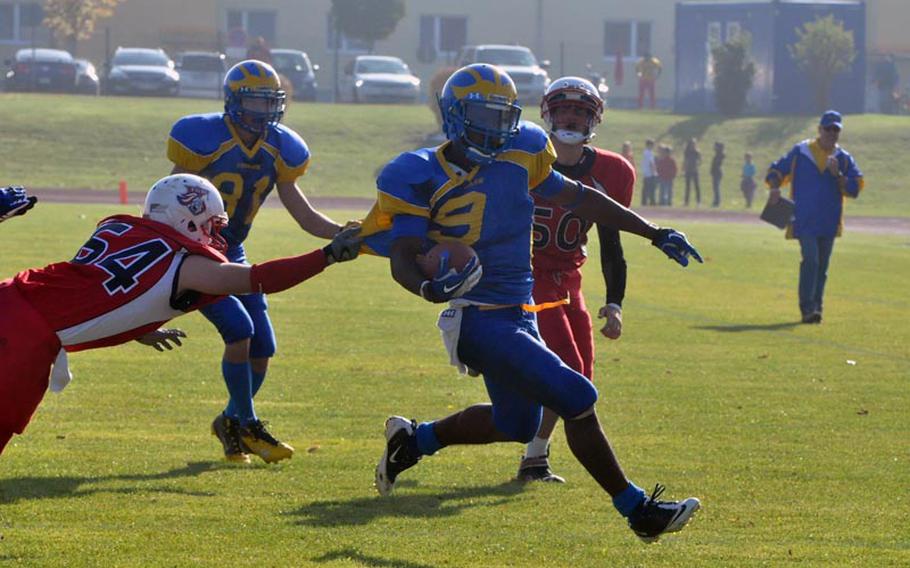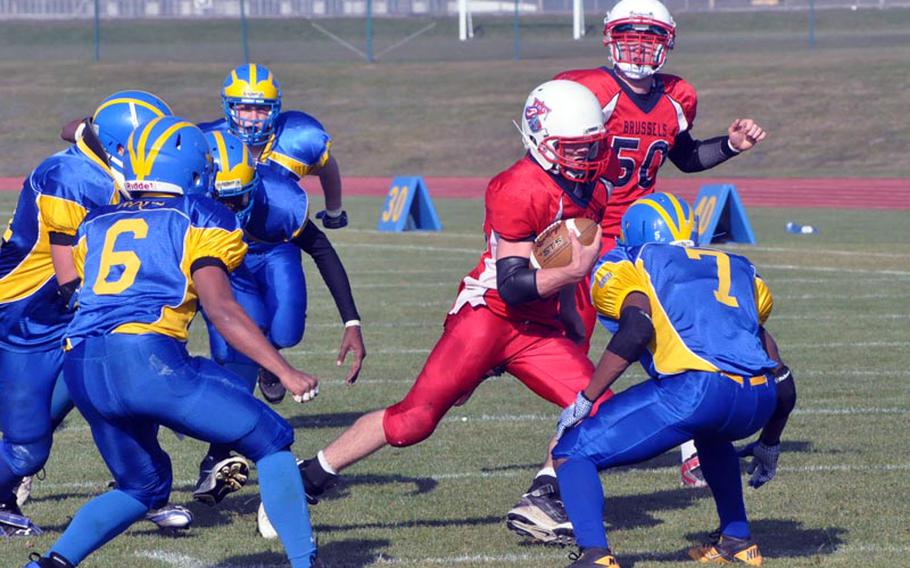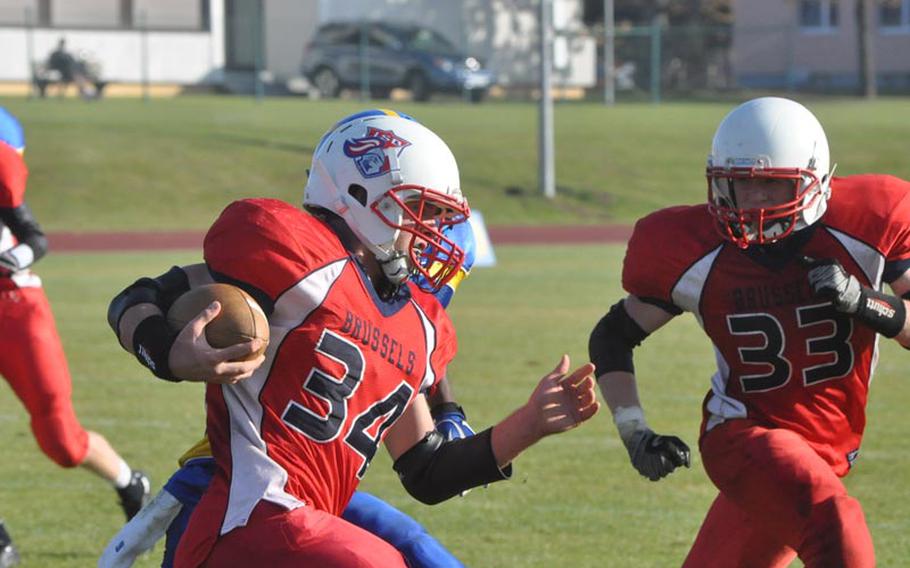 ANSBACH, Germany – Ansbach's T.J. Propp got his revenge Saturday as the Cougars pulled off a hard-fought 26-12 win against visiting International School of Brussels.
Propp and the Cougars fell to the Raiders in last year's quarterfinal, 22-12. The senior led the Ansbach defense with 11 tackles Saturday, but he was not alone. Six players had five or more tackles and the Cougars forced two key fumbles and made seven tackles for losses.
"Our linebackers were all playing down hill and our defensive tackles were ripping across blowing up their traps," Propp said. "We came in here fired up."
Both teams were solid on defense, but in the end Ansbach managed to catch more breaks offensively, thanks to some costly turnovers.
"I thought it was anyone's game… I was very impressed with their d-line – they caused some trouble for us and I think that is why they were victorious today," ISB coach Will Vreugdenhill said. "It was a tough, gutsy performance by both teams. They came out on top – hats off to them."
The first break didn't come until just over 6 minutes left in the first half after Ansbach junior DeMar Flake ran in a 25-yard touchdown to give the Cougars a six-point lead.
ISB took the ensuing drive down the field to the Cougars 4-yard-line, only to fumble the ball on a mistimed handoff. Xavier Jones recovered for the Cougars.
The biggest play of the game came right afterwards when junior quarterback Jake Voorhees threw up a pass to receiver Matt Phipps. Phipps grabbed the pass on the 32 and ran it all the way in for a 96-yard score and a 12-point Ansbach lead going into halftime.
"Me and Matt have thrown a lot together so somehow I just know where he will be," said Voorhees of the touchdown pass. Voorhees finished the game completing 7 of 12 passes for 206 yards and a touchdown. He also completed four passes to Derrick Flake for 88 yards.
ISB's first score did not come until the final play of the third quarter when senior Matias Bifani ran in a score from 45 yards out as time expired.
Ansbach went up by two scores again midway through the fourth quarter when Jones roared through the ISB defense for a 14-yard score. Jones, who has three 300-yard-plus games to his credit this season, rushed 27 times for a hard-fought 175 yards.
Down 18-6, ISB decided to run a hurry-up offense. The plan was successful as Bifani rushed in his second score from 6 yards out with just over 2 minutes left.
After a blocked extra point, ISB attempted an onside kick that went directly into the hands of Flake at midfield. Flake ran in the final score from 31 yards out and converted a 2 point conversion to seal the deal for the Cougars.
"We had our kids in the right places today and we just executed," Ansbach coach Marcus George said.
Next up the Cougars will face off against Bitburg in a rematch of the 2009 final in which Bitburg ended Ansbach's 31-game winning streak with a 19-6 win.
"Right now I'm thinking about Bitburg – I have had some bad blood with them since sophomore year," Propp said.
"I know we are not finished yet, we have a tough team to play, but we will be ready," Vorhees said.
blottenbergerd@estripes.osd.mil
Scoring summaryAnsbach 26, ISB 12Saturday at AnsbachISB 0 0 6 6 —12Ansbach 0 12 0 14—26Ansbach — DeMar Flake 25 run (run failed)Ansbach — Voorhees 96 pass to Matt Phipps (run failed)ISB — Matias Bifani 45 run (kick blocked)Ansbach — Xavier Jones 14 run (run failed)ISB — Bifani 6 run (kick blocked)Ansbach — Flake 31 run (Flake run)
---
---
---
---