Alconbury breaks out and doesn't stop
by
David Hodge
September 24, 2011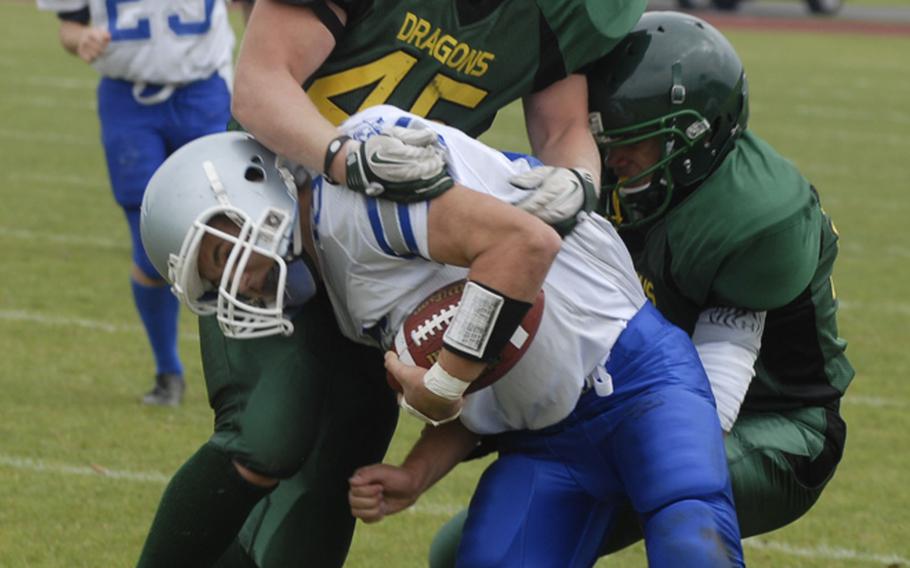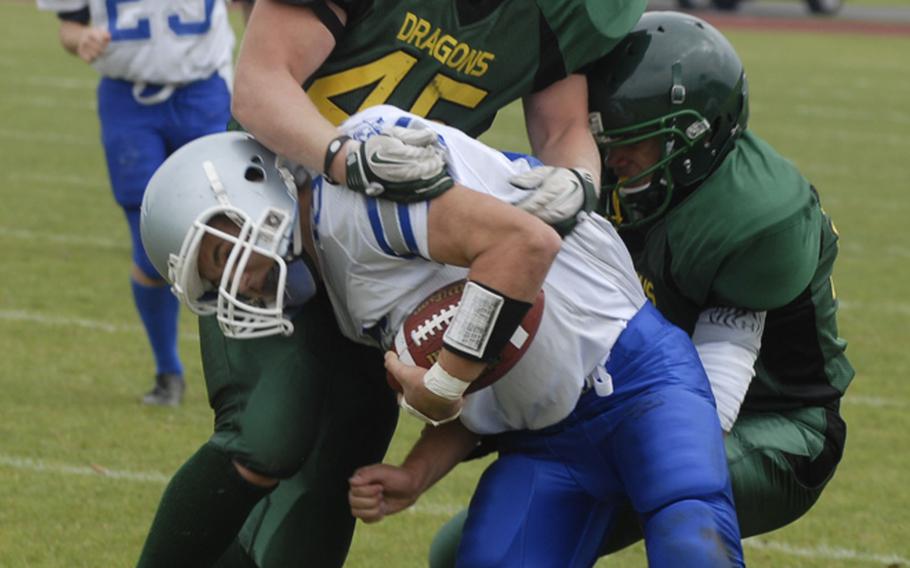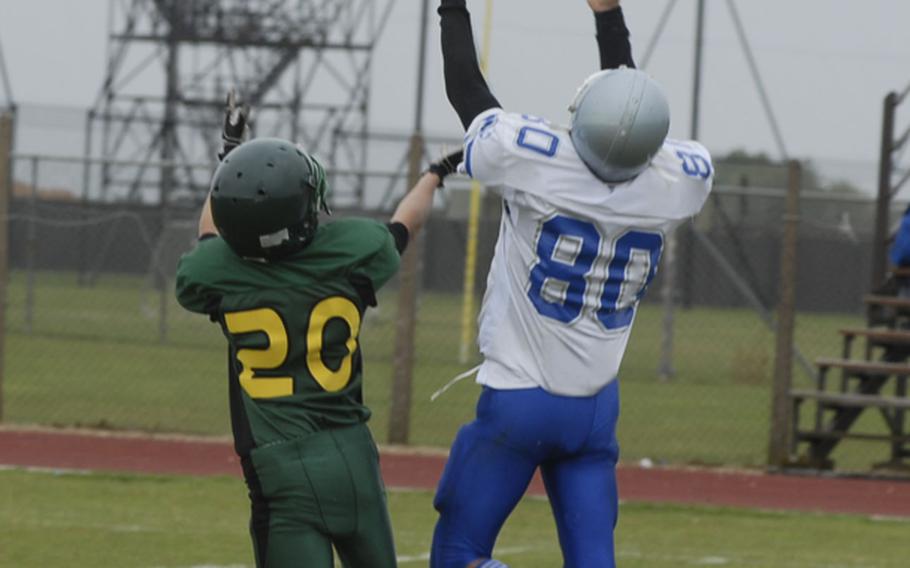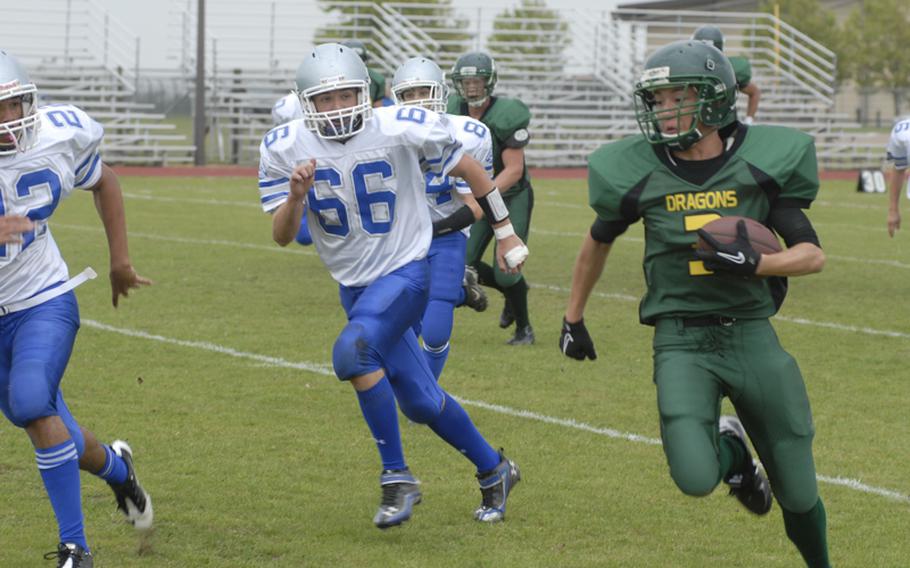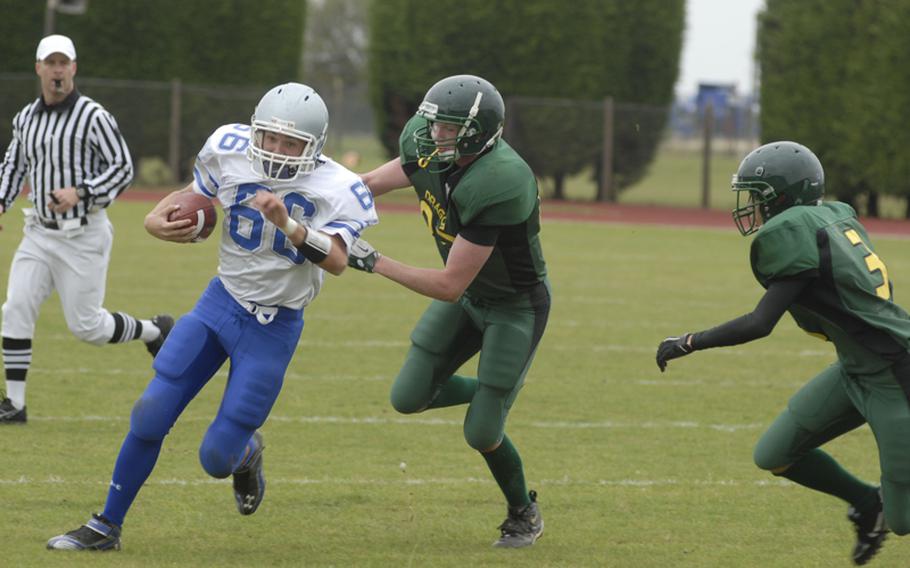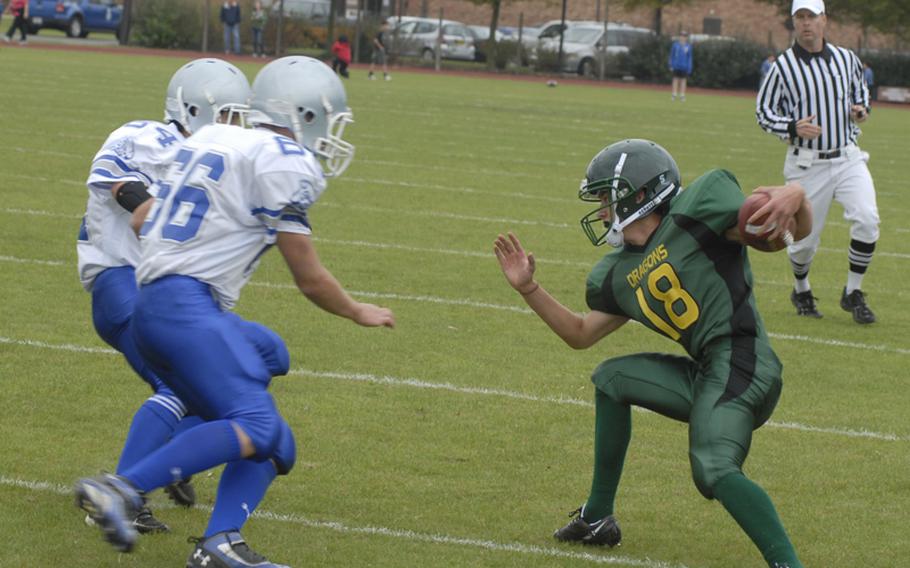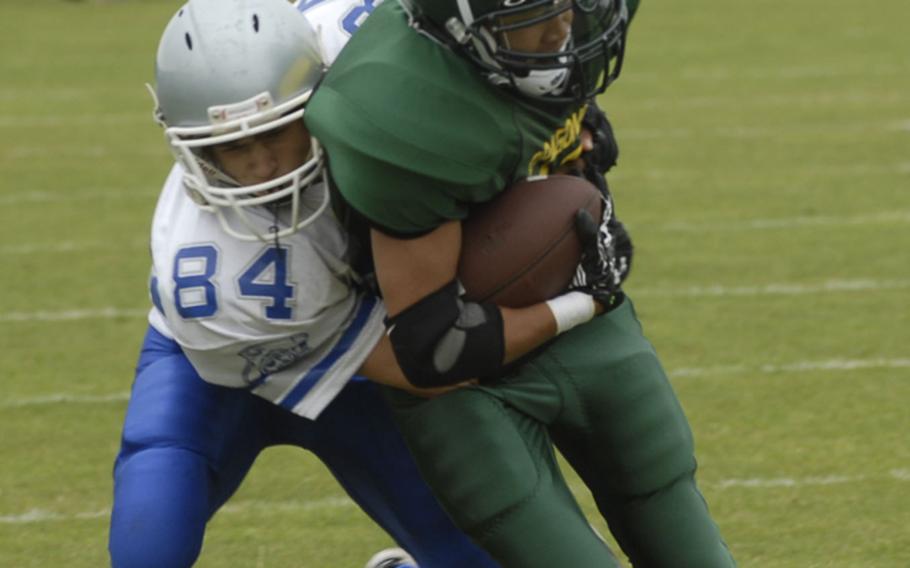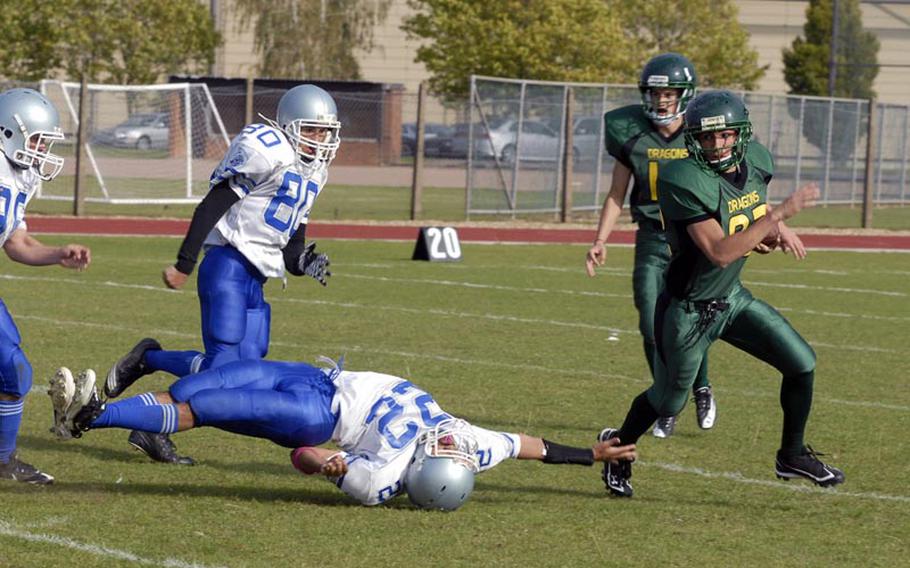 RAF MILDENHALL, England — The Alconbury Dragons and the Brussels Brigands headed into Saturday's game after failing to score in their first games of the season.
That trend was broken by both schools. And broken in a big way by Alconbury, which came away with a 44-6 victory.
Although there were numerous penalties and errors by both teams, each squad displayed some big-play ability as well.
The first quarter was constant battle of possession and field position. A second-quarter interception by senior Dakota Brown gave the Dragons the ball in Brigand territory and running back Brendon Johnson quickly sprinted 32 yards for the game's first score.
Later in the quarter, penalties and tough defense by the Dragons backed the Brigands up to within inches of their own goal line and Brussels sophomore quarterback Ryan MacRae was hit from behind and fumbled the ball. It was recovered by junior defensive lineman John Kirchner for a Dragon touchdown.
Not a team to retreat, Brussels immediately fought back with tough running from seniors Dakota Deverill and Zack Jackson. The Dragons committed two costly 15-yard penalties on the drive and left the Brigands with 1st down at the 19-yard line. Deverill and Jackson again trudged forward for yardage before MacRae scored from three yards out to make it 13-6 just seconds before halftime.
Turnovers and penalties continued for both teams in the second half, but the Dragons began to capitalize on Brussels' mistakes and break big plays — setting up scoring runs by junior Vincent Lanphear and two more from Johnson. Johnson finished the day with 169 yards rushing and three TDs.
After a Brussels punt, senior Dragon quarterback Justin Thibodeau launched a 55-yard TD pass to senior Tim Weber and on a following possession backup tailback Keith Marasigan, a junior, broke a 58-yard TD run down the sideline for the final score of the game.
After the game, Thibodeau, from Kennebunk, Maine, attributed the team's offensive assault in the second half to working on execution during the week's preparations. "And for defense, we stepped it up and made plays when it mattered."
Defensive standouts for the Dragons were senior linebacker Kahlil Williams with eight tackles and senior Chris Lanphear with five tackles, three sacks and a fumble recovery.
For the Brigands, Jackson rushed 18 times for 37 yards and Deverill recorded 36 yards on 15 rushes and was credited with 14 tackles from the linebacker position.