Charlie Company, 1967: an unlikely friendship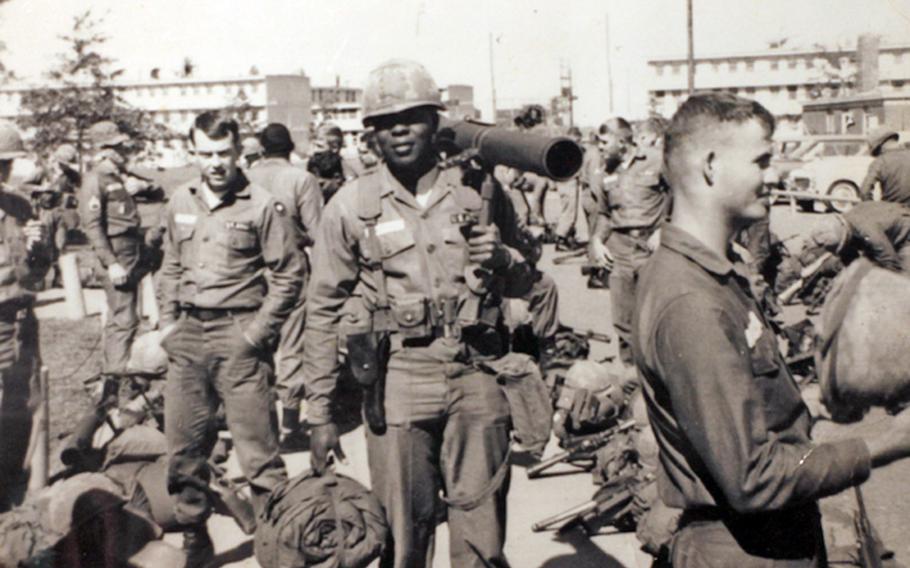 From the Delta to the DMZ, 1967 is best remembered in the Vietnam War as the year of "search and destroy." It was a year in which nearly 500,000 U.S. troops put Gen. William Westmoreland's strategy for war to the violent, tactical test.
From massive moments of traditional warfare like Operation Junction City, to battles in defense of exposed and vulnerable Marine bases along the Demilitarized Zone like Con Thien, to stealthy long-range reconnaissance patrols – American forces across the length and breadth of South Vietnam sought to bring overwhelming firepower to bear on their North Vietnamese and Viet Cong foes.
Although outgunned, the Communist enemy doggedly fought on, resulting in 11,363 U.S. dead and over 30,000 wounded. South Vietnamese forces suffered over 12,000 dead and 30,000 wounded. Estimates of Communist dead ran as high as 80,000.
The carnage and destruction of war was clear in 1967, testing the collective wills of the war's protagonists and pushing each toward the denouement of the Tet Offensive of 1968.
There is no doubt that the events of 1967 on the battlefield and in world capitals were critical in driving the Vietnam War to its complex and unfulfilling conclusion. The end of the war left the American consensus in tatters and sparked and endless string of controversies over the soul of the war that rages to this very day.
From movies to documentaries to local meeting halls for Veterans of Foreign Wars, debate over the war's motivations, prosecution and conclusion have focused attention on the macro – presidential decisions, military strategy, the role of the media, the culture wars.
In all of the raucous debate, the humanity of war often slips between the historical cracks. For every arrow drawn on a field map, young Americans and Vietnamese were left to pay the price. To best understand the true gut-level nature of conflict, the mosaic that was the Vietnam War needs to be viewed more closely, teasing out the individual stories that shine like shards of glass.
Charlie Company in the U.S. Army's 4th Battalion, 47th Infantry, 9th Division was one of the last combat infantry companies to be drafted, trained and sent to war together, first deployed in the Mekong Delta in 1967. Here is one of their stories.
Black-white divideWillie McTear was born in tiny Newellton, La., not too far from the famous Civil War battlefield in nearby Vicksburg, Miss. His father worked as a swamp logger, while his mom did her best to help out by working as a seamstress and a hairdresser. Life for a young African-American lad in the segregated South during the height of the civil rights movement was difficult.
As a teen, Willie was falsely accused of making harassing phone calls to the wife of the local sheriff, who was white. A mob of Ku Klux Klansmen arrived to take justice into their own hands. Alerted to the potential tragedy, Willie's family and many members of the African-American community rushed to the scene, with the sheriff glumly forced to restore order and exonerate Willie before his town could erupt into a full-blown race riot.
After that horrible night, Willie was not sure whether he could ever trust white people again. Determined to better himself and to depart the South, Willie did well in school and then took college classes part time in Las Vegas while working multiple jobs to pay his mounting bills.
Ronald P. Schworer was from Lancaster, Calif., a suburb of Los Angeles. In part to shield himself from the tumultuous relationship of his parents, he threw himself into his schoolwork and quickly became known for his academic prowess.
By the time he was in high school, he won the California High School Math League Championship two consecutive years and achieved a perfect score on the mathematics section of the SAT. With a boundless future, he graduated early and took a job at the Nevada Test Site, home of much of the U.S. nuclear weapons program.
Although challenging, the job didn't strike his passion. He really wanted to work with computers. In 1965 he quit his job and formed a startup with a friend called Comptex, designed to write software to bring computers into the mainstream for business and personal uses.
Willie McTear – big with a body honed by the hard work of the rural South; mistrustful of whites and determined to blaze his own trail. Ron Schworer – white, middle class, his nose squarely in a computer book. There hardly could have been two more different young men in 1966. But they were both in Las Vegas, and they were both swept up in the massive draft call of the spring of that year.
Uncle Sam had decided to reactivate the 9th Infantry Division from scratch, filling it with draftees. It was needed for the coming push of 1967. Willie McTear and Ron Schworer were needed as part of Charlie Company.
Fast friendsMcTear could hardly get comfortable in the airplane seat for the flight that would take him to Fort Riley, Kan., for his military training. He was happy to see seated next to him a small guy who didn't take much of the precious space. McTear started the conversation.
After all, he was about to be in his first fully integrated social setting at Fort Riley, so he figured that he had better start getting used to it all by talking to the white guy who was going to be his seatmate for the next few hours. Their conversation rambled freely across their lives, with McTear loving to hear about computers and Schworer expressing his admiration for McTear's drive and determination. By the time the plane had landed the two had become fast friends.
The rigors of training transformed Schworer and McTear into brothers. The rough-and-tumble McTear had no problem with the physical side of the regimen, but Schworer met his own personal demon in the monkey bars. He couldn't get across them and would dangle limply, his body spent.
Some of the other guys hooted and jeered at Schworer, but McTear ran to the front of the crowd yelling, "Get off him! If you want him, you are going to have to come through me, and I guarantee I will put you on your asses, boys!" With that, McTear began to cheer Schworer on, with many of the once-hostile crowd joining in support.
Just a few days later, Schworer was called into the platoon sergeant's office and notified of his mother's death. McTear and everyone else in the unit knew what that meant – Schworer could go home on a hardship discharge. No Vietnam for him.
But as McTear sat with his hand on Schworer's shoulder, part comforting, part joy that Schworer would be able to go home – he looked at his friend. Schworer looked back and told McTear that he was going to complete his training and do his service. McTear and the rest of Charlie Company were his family now. Touched by Schworer's toughness and dedication, McTear shockingly realized that his best friend in the world was a white guy – something he had never imagined.
In Vietnam, Schworer instantly became 2nd Platoon's RTO, in part because of his legendary ability with numbers, while McTear became one of the platoon's most effective riflemen. On operations McTear would often walk point and could hear when Platoon Leader Jack Benedick would ask Schworer how far they had marched that day. It would only take a split second before Schworer would reply, "2,397 steps, sir." Benedick would then ask, "And how many meters is that, son?"
For which Schworer always had a ready and exact answer. McTear would just shake his head, smile and move on. Charlie Company had arrived in Vietnam in late January 1967 and had run search-and-destroy operations in the dry country north of Saigon before moving to work in the muddy desolation of the Rung Sat mangrove swamp that guarded river access to Saigon.
There had been a few fleeting contacts with enemy soldiers, and a number of men wounded by mines and booby traps – a leg blown to bits here and shrapnel taken there. But as Schworer and McTear became ever closer in the rigors of war, sharing everything from foxholes to cookies, death had yet to strike.
A senseless deathOn April 8, 1967, 2nd Platoon made ready to cross a small stream – an operation repeated multiple times every day. As non-swimmers, McTear and Schworer shared a joke and a smoke as they blew up their air mattresses; they were going to float across the stream in relative comfort.
McTear went in first and Schworer splashed in behind. It was then that they saw the helicopter; it had mistaken them for the Viet Cong and was leveling off for an attack run. In it came, with machine guns blazing as the red-hot bullets cut through the water. McTear paddled like mad to make the other bank.
There was a frantic burst of activity as Lt. Benedick got on the horn to alert the chopper of its nearly fatal mistake. They had been lucky. Nobody had been shot. McTear turned to commiserate with Schworer about their miraculous brush with death, but he wasn't there. It was then that everyone noticed his air mattress floating in the water, but Schworer wasn't there.
The stronger swimmers joined Benedick in the effort to find Schworer – but there was nothing to find. The tide was on its way out, and the strong current must have dragged his body away. As Benedick dove into the water again and again, McTear couldn't believe what he was seeing. Schworer, his buddy, had been right behind him. How did he lose him? Where was he?
He couldn't have drowned – not like that. Not such a senseless death so far from home. Not Schworer; he was the genius who was going to get rich by putting a computer into every home. Not him. McTear knew that soldiers weren't supposed to cry, but as the unit sat there for hours while Benedick searched under every submerged log and in every deep underwater hole, he couldn't help it. McTear sat there and wept. His best friend was gone.
Everything changedThere would be many more friends lost in Charlie Company's year in combat – 25 men were killed and 105 wounded. But none of those deaths or maimings hurt McTear as much as the loss of Schworer. April 8, 1967, had changed McTear forever. Sure, his best friend was gone.
But there was more to it.
Something inside McTear died that day; perhaps he buried his innocence alongside his friend. After April 8, McTear saw the world in a different way; he became something that he didn't always like. It took him years to shed the demons that were born April 8 – demons that he couldn't fully understand and didn't want to discuss.
In the great histories of 1967, Charlie Company's operations in the Rung Sat warrant nary a mention. Schworer is not a name that is famous; it is just another name treasured by a family and etched on a black granite wall. But for McTear, that anonymous day, in that anonymous place, and that anonymous name on the wall means everything.
Epilogue
Willie McTear returned home from Vietnam in 1968 and lived the American dream. He graduated from community college, got married, fathered two children and had a good job as a corrections officer. But all the while his life was spiraling out of control.
He had never shaken the pain of Vietnam; he simply covered it up with alcohol and drugs. In 1985 he walked out of his life, left his job, bought a pistol and went to live on the streets. The next years were difficult, with him winding up in jail near death from heroin use.
A visit from a friend saved him.
Richard Vincent, whom he once worked with in the juvenile justice system, offered him a job in a treatment hospital and a place to live in California.
McTear moved with his friend and enrolled in college to study the treatment of chemical addiction and alcohol abuse. In 1998 he graduated at the top of his class.
After reconnecting with his religious faith, McTear was diagnosed with and began counseling for something that sounded new – post-traumatic stress disorder. The terrifying dreams of losing so many friends – especially Ron Schworer -- never went away, but they would never dominate his waking life again. He didn't want to forget Vietnam; the treatment helped him live with it.
After a career of working in hospitals to help those with chemical dependencies, McTear retired in 2004. He moved back to Las Vegas to work with homeless veterans – like those he knew so well from his time on the streets.
For the ones more thoroughly lost, McTear bought a small house to provide them with what shelter he could. With the sun having risen on his life, McTear was determined to walk as boldly in the light as he had once strode through the darkness.
Ron Schworer would have wanted it that way.