FEATURE REPORT
Gulf War's effects still being felt 25 years later
---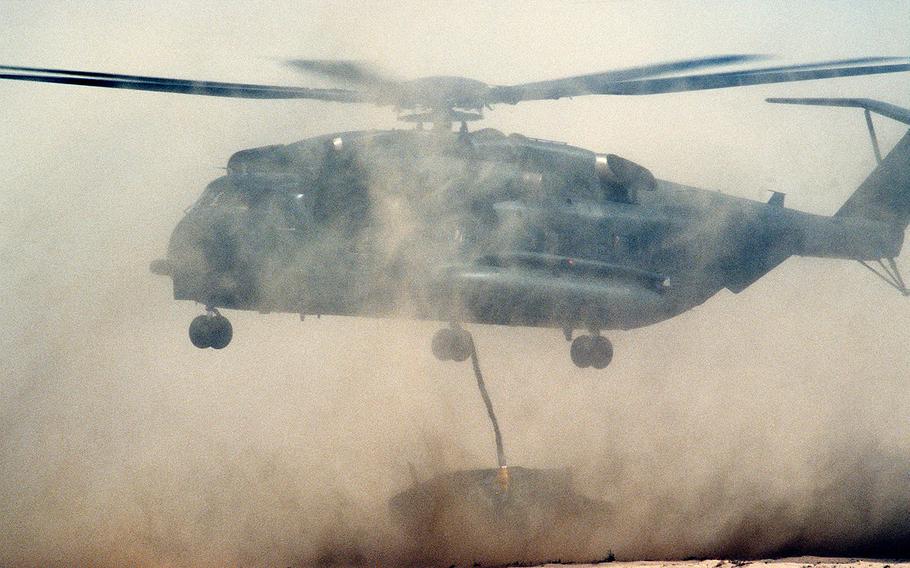 Six weeks of relentless bombing. A ground war lasting all of 100 hours. Victory declared.
The blitzkrieg-style Persian Gulf War in 1991 liberated Kuwait from Iraqi occupation with fewer than 300 coalition combat deaths against the world's fourth largest army. It also banished the ghosts of the Vietnam War and restored the reputation of America's military.
American troops, hailed as heroes, were showered in confetti in a ticker-tape parade in New York City in front of 4.5 million cheering spectators, led by three grand marshals — Gen. Norman Schwarzkopf, Defense Secretary Dick Cheney, and Gen. Colin Powell.
"It was a watershed also in the way the country looked at the armed forces," retired Gen. Barry McCaffrey said. "It was an astonishing display by the country."
Operation Desert Storm — America's first armed conflict after the Cold War — was a clear demonstration of the battlefield prowess of the U.S. armed forces, said McCaffrey, who commanded the 24th Infantry Division (Mechanized) that famously executed the "left hook" attack 230 miles into Iraq during Desert Storm.
It showcased new technology such as smart bombs and the Army's "Big Five" — the Abrams main battle tank, the Bradley Fighting Vehicle, the Apache attack helicopter, the Black Hawk utility helicopter, and the Patriot air defense missile system — modernizations that provided the U.S. with pre-eminent ground combat capability.
It was a force of more than a half million Americans, at war with the United Nation's blessing, a broad coalition of 34 allies including Arabs and Europeans, and minimal allied losses, with just 146 battle-related U.S. deaths.
"Desert Storm was probably the single most successful military campaign in the history of warfare," McCaffrey said.
Yet, the way the aftermath was managed as well as the decisions to limit the objectives and leave Iraqi President Saddam Hussein in power would put in motion a chain of events, whose effects are still being felt 25 years later.
"We had this total military victory," McCaffrey said. "But it was the most politically disastrous outcome."
The Gulf War was different from both its predecessor in Vietnam and its successors in Afghanistan and Iraq.
"Short and sharp, with a clear start and finish; focused on resisting external aggression, not nation-building; and fought on battlefields with combined arms, not in cities by special forces and irregulars," wrote Richard Haass, president of the Council on Foreign Relations, in the Wall Street Journal.
"Most unusual of all in light of what would follow, the war was multilateral, inexpensive and successful. Even the principle for which the Gulf War was fought — the inadmissibility of acquiring territory by military means — has been drawn into question recently by the international community's passivity in the face of Russia's aggression in Ukraine," wrote Haass, who was top Middle East specialist on the National Security Council during the war.
Saddam invades Kuwait
The drama unfolded after Saddam invaded Kuwait on Aug. 2, 1990 and incorporated the U.S.–backed kingdom as Iraq's 19th province.
Saddam's move stunned the West, especially since it came less than two years after the end of Iraq's eight-year, devastating war against Iran that left his country exhausted, politically divided and deeply in debt.
However, Saddam had different priorities. After the war with Iran, that Saddam himself had started, ended in a stalemate, he needed to demonstrate strength to his opponents, both domestic and foreign.
Moreover, Saddam had accused Kuwaiti of pumping too much oil and dampening oil prices that he needed to keep high to finance his recovery. The Iraqis also accused Kuwait of slant-drilling which drew oil from pools across the border in Iraq.
Months of sanctions, threats and diplomacy failed to convince Saddam to leave Kuwait. With only Yemen, Jordan and the Palestine Liberation Organization standing by Saddam, the U.S. won United Nations blessing for military action to free Kuwait. Undeterred, Saddam threatened to resist with "the Mother of All Battles."
Air attacks on Baghdad and other targets began on Jan. 17, 1991. Coalition ground attacks kicked off on Feb. 24 and President George Bush declared a cease-fire on Feb. 28. Two weeks later, victorious coalition troops began leaving the region.
But the glow of victory soon faded.
Despite losing Kuwait, crippling blows to its infrastructure and up to 400,000 of its troops killed, wounded or captured, Saddam's regime remained in power. President George H. W. Bush stuck by the U.N. mandate to liberate Kuwait — not force regime change or occupy Iraq — measures none of his major coalition partners would have accepted.
The U.S. even refused to intervene in support of Iraqi Shiites, who rose up against a weakened Saddam and were slaughtered in the tens of thousands.
"We sat there and right in front of our eyes saw him regaining control," McCaffrey said.
Iraqi Kurds fared better, rising up in the north and carving out a self-ruled region in three northern provinces, protected by a U.S.-managed no fly zone.
Not a turning point
With Saddam entrenched in Baghdad, the U.S. and its allies needed to make sure he didn't again threaten his neighbors — especially Kuwait and Saudi Arabia — and that he complied with terms of the 1991 cease-fire. Those dismantling his nuclear, chemical and biological weapons programs which the U.S. and U.N. discovered were much more advanced than believed before the war.
Under the cease-fire agreement, Iraq pledged to dismantle the program and allow U.N. inspections of its weapons facilities.
As leverage, the U.S. established another no fly zone in the south and kept about 5,000 troops in Saudi Arabia. Also, the U.N. agreed to maintain economic sanctions until U.N. inspectors could verify full compliance with the weapons demands.
The U.N. inspectors were never able to verify compliance. That failure was cited by the administration of President George W. Bush to justify the 2003 invasion of Iraq. The invasion triggered an eight-year war that killed 4,491 U.S. troops and hundreds of thousands of Iraqis and paved the way for the rise of the Islamic State.
Even before the invasion, the U.S. decision to keep thousands of troops in the Gulf area as leverage and insurance troops were conducting no-fly zone sorties likely fueled resentment against the U.S. from hardline Muslim groups — inspiring more terror attacks against U.S. interests.
Significant numbers of Muslims — both Sunnis and Shiites — opposed the continued U.S. presence in Saudi Arabia, home to Islam's holiest places Mecca and Medina. Among them was Osama bin Laden, a Sunni who issued a "Declaration of War against the Americans Occupying the Land of the Two Holy Places," in 1996.
Among Shiites, Saddam's archenemy Iran feared deeper U.S. involvement in the Gulf would threaten its own interests in the region and could undermine Iranian influence in the Middle East which Tehran had promoted since the 1979 revolution toppled the Shah and brought a hardline theocratic regime to power.
In 1996, suspected Iranian agents bombed the U.S. Khobar Towers barracks in Saudi Arabia, killing 19 U.S. airmen and wounding 547 people. Bin Laden's Sunni followers launched a series of terrorist attacks including the 1998 blasts at U.S. embassies in Kenya and Tanzania and the Oct. 12, 2000 bombing of the USS Cole, culminating in the 9/11 assaults in the U.S. which changed the world.
As a result, many commentators now see the Gulf War not so much as a model for maintaining global security in the post-Cold War era but as evidence that U.S. military intervention did not stabilize the Middle East.
"It's worth recalling that U.S. intervention in the region simply hasn't worked," said historian Andrew Bacevich, a retired colonel and West Point graduate whose son was killed in action in Iraq in 2007.
"Those who remember the war as a great victory — that's not quite accurate," he said. "It leaves out everything that happened afterward. That was the moment when a large-scale introduction of (Western) troops into Saudi Arabia occurred, and when the war ended left all kinds of loose ends, and as a result, kept troops there," he added. "The war actually continued throughout the decade."
The Gulf War may not have given birth to terrorism and instability in the Middle East — the region had known turmoil and terror long before Saddam's tanks rolled into Kuwait.
Nonetheless, the fallout from the war undermined the lofty goals of 1990 when President Bush and Secretary of State James Baker put together a huge international coalition to battle Saddam and restore a sovereign Kuwait.
"It could neither usher in a 'new world order,' as President Bush hoped, nor save the Middle East from itself," Haass of the Council on Foreign Relations said during a discussion in September marking the war's 25th anniversary. "The war just didn't turn out to be the turning point that many of us hoped or thought it would be at the time."
Thomas Pickering, a veteran American ambassador and former undersecretary of state, said the relatively easy victory led to "hubris about unipolarity and too much confidence about unalloyed, totally positive, always accepting U.S. world leadership."
"And so we did things ... without thinking about where we were going to go and put forces in the field that were inadequate, but marched merrily along the path without the kind of time and attention that was required to look at the end game."
---
---
---
---