Pro-pot group draws criticism over use of VFW name, POW flag
---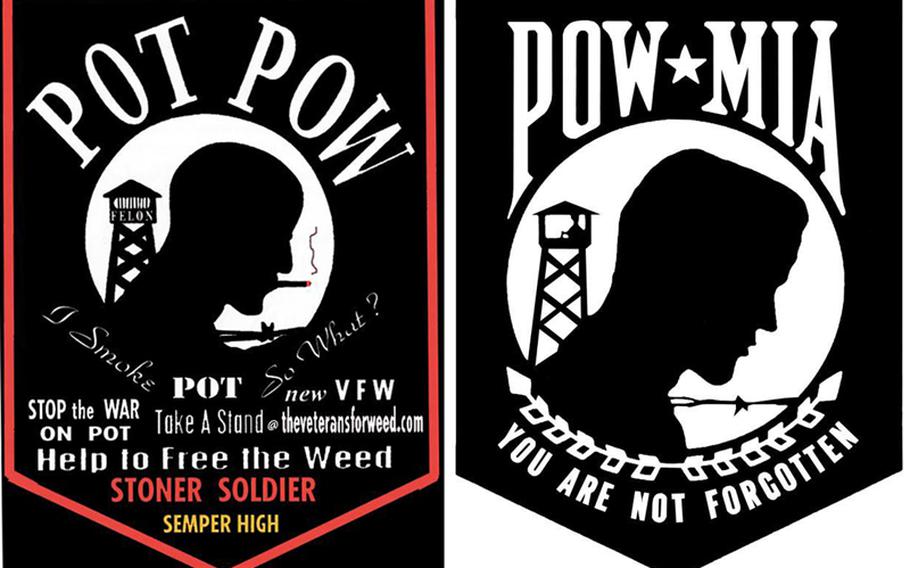 WASHINGTON – The Veterans of Foreign Wars does not support and is in no way connected with Veterans For Weed, even though both are using the VFW acronym. Now, officials from the traditional VFW are warning leaders of the stoner VFW they'll sue if they don't stop riding their coattails.
On Monday, the real VFW (they've held the copyright on the acronym for more than six decades) sent the Milwaukee-based pro-marijuana group a cease-and-desist letter, calling their use of the acronym misleading and illegal. Officials said they'll move ahead with more serious legal action if the other guys don't drop the three-letter-name on all communications, web sites and other products.
Veterans for Weed has also drawn criticism in recent days for posting a doctored version of the POW/MIA logo, this time with the words "POT POW" and "Semper High" and a silhouette of a servicemember smoking. The logo, created for the National League of POW/MIA Families, is not copyrighted, but is revered by many in the veterans and military community.
Officials from that group have also requested the picture be taken down, calling on the pro-pot group to do "what is right and responsible."
On their web site, organizers behind Veterans For Weed said they have been flooded with angry emails in recent days, most dealing with the "Prisoner of Weed Flag."
The group described itself as "a means of supporting and helping people who face trouble because the fact they smoke weed occasionally" and an advocate for "the fight to legalize weed and its use."
In a statement on the site, the group's leaders also said they have no plans to take down the logo or stop using the altered POW/MIA logo. "The fact that you are here, angry by the message it displays, is the very reason we created this flag in the first place. The POW flag is not copyrighted and is open property. It is a gift for all Americans, to do with as they see fit.
"As regards to the POW flag, it stays. Speaking against a politician, burning a flag, or using it to make a message is one of the most American things you can do, and we believe it is the best way to honor our veterans, who have made so many sacrifices for us."
shanel@stripes.osd.milTwitter: @LeoShane
---
---
---
---