U.S. Army team takes silver in Culinary World Cup competition
---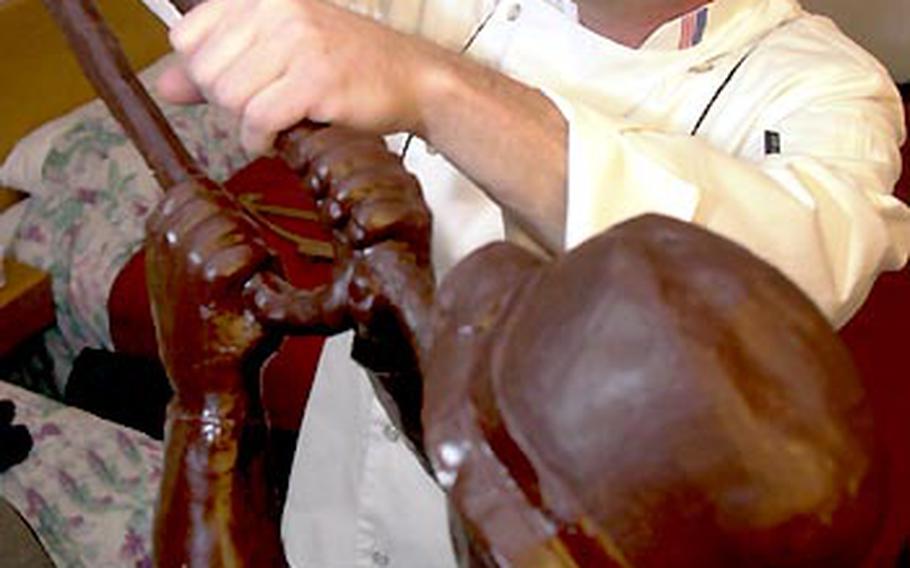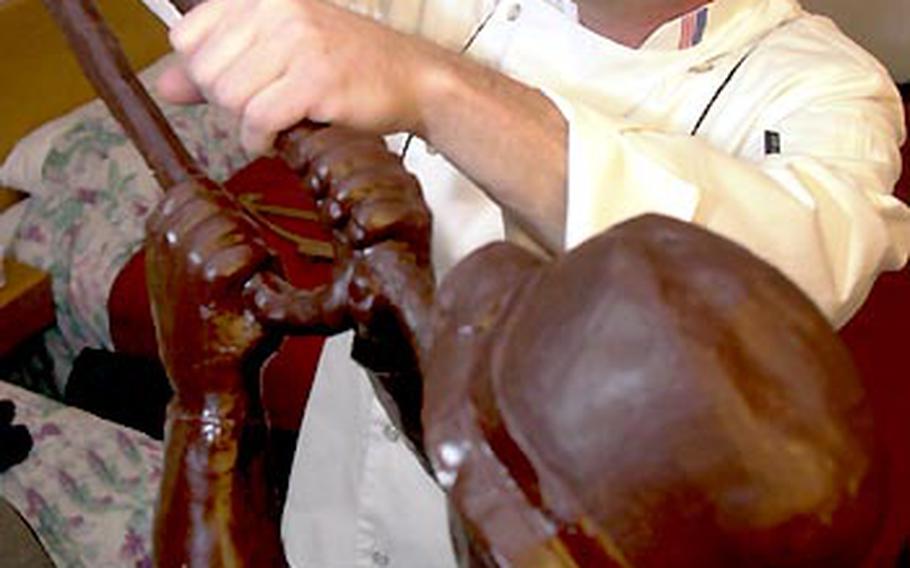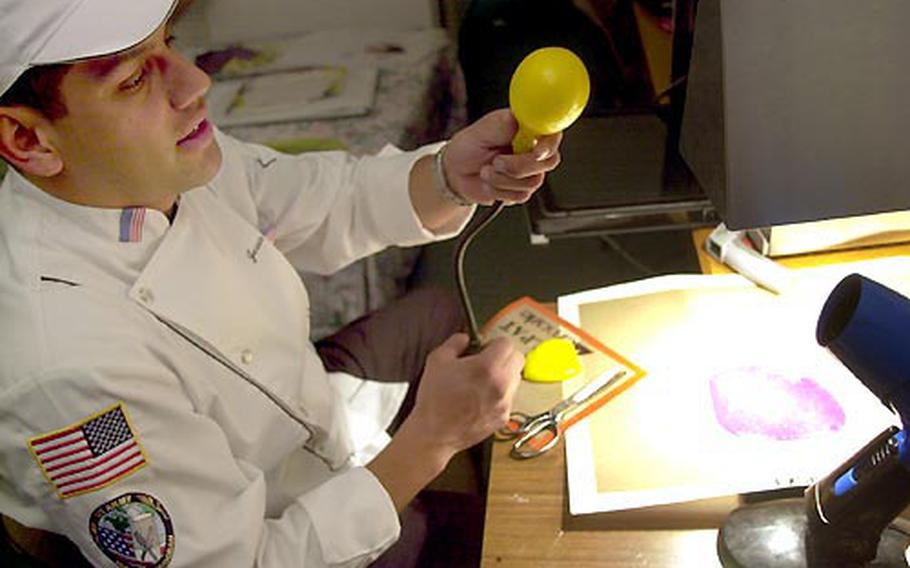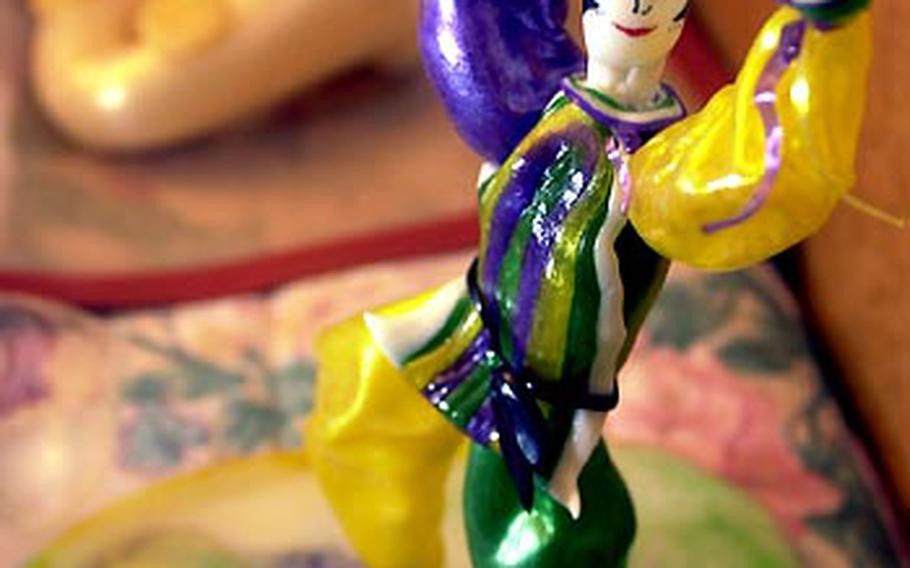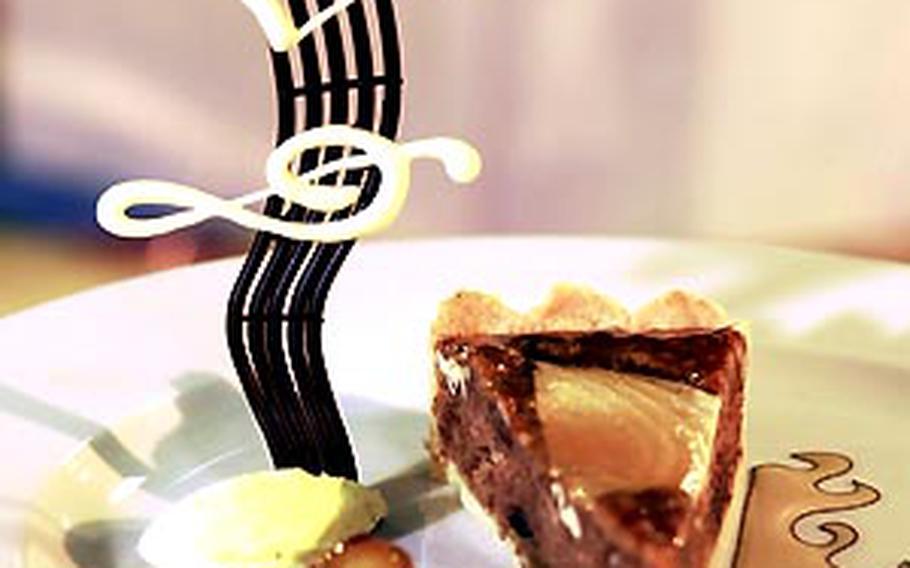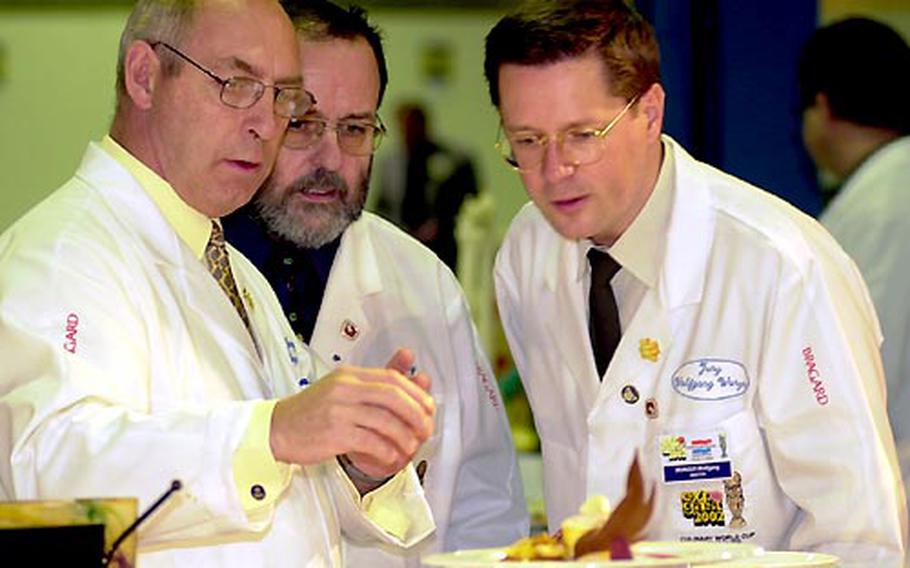 ¶ For some recipes from the U.S. team, click here.
LUXEMBOURG — By the time the U.S. Army Culinary Arts Team had crafted a cold plate presentation for the Culinary World Cup, the soldier chefs had mastered seven Mardi Gras menus.
They literally had been cooking for days, and had not slept for 30 hours. Their hot plate, a flank steak with bayou bourbon sauce, had been too powerful for the mostly European panel of judges, and both the German and Swiss military teams were ahead in the world-class cooking competition conducted during Expogast 2002, an international gastronomy show held last month in Luxembourg City.
Outside the town of Diekirch, the U.S. Army team hunkered down in a kitchen at Grand Duc-Jean Casern, home to Luxembourg's 850-man Army.
As it prepared for the "cold plate" competition, a static display of their seven menus, the pressure was on. Unlike the "hot plate" competition, where judges taste cooked portions of a selected three-course meal, the cold plate must be preserved to look good a day after it's prepared.
"Here, we take the time to make sure it looks perfect," said Spc. Adam Lang, 29, of Cleveland.
The chefs added gelatin to their normal recipes to coat the food, which keeps it looking good for about 48 hours, Lang said.
"It's all about trying to win, meeting the standard and hoping another team doesn't," said Staff Sgt. Rene Marquis, 30, of Lewis
ton, Maine, as he poured hominy into boiling water.
Sgt. 1st Class Willie Meeks, team leader and the Army's chef of the year for 2001, kept the team moving on schedule. Chief Warrant Officer Travis Smith, the team manager, arrived with last-minute produce bought at local markets.
Meanwhile, Master Sgt. Mark Warren, assigned to Heidelberg, Germany, and Sgt. 1st Class Ben Tesoro, 37, of Honolulu, detailed desserts. Nearby, Spc. Scott Graves, 28, of Redding, Calif., added gloss to a stuffed rabbit leg, one of the seven menus inspired by New Orleans cuisine that the team said they could prepare blindfolded. Photographs of practice plates, covered in scribbled corrections, hung on the kitchen walls. The team trained for two weeks in Germany before the November competition.
"We look at our pictures and we know what to do," said Graves, spinning around to the gas stovetop with a handful of greens. "We practiced this four times."
During the team's last evening in the kitchen, Lt. Col. Don Vtipil, director of the Army Center for Excellence, Subsistence, flew in from Fort Lee, Va., to support the soldiers.
"Being able to work and make decisions under pressure, those are leadership skills that apply to all Army business," Vtipil said.
But not all the action was going on in the kitchen. Several miles away, in room 306 of the Alvisse Parc Hotel, Staff Sgt. Jesse Camacho, 30, of Laferia, Texas, was busy molding colored sugar into saxophones, menu frames and Mardi Gras jesters.
Around Camacho were the tools of his trade, a microwave, a heat lamp, a can of Sterno fuel and a hair dryer. Rock music blared from his laptop computer.
"It's almost like a glass-blowing technique, except it's edible," Camacho said.
A sugar substitute boiled with food coloring creates a hard colored ball, which Camacho reheats to form shapes for his fragile designs. His hands are used to holding the heat-softened lumps of sugar putty, which can reach temperatures more than 200 degrees Fahrenheit.
"This gives me something else to look at, rather than burgers, chili-mac and eggs-to-order," said Camacho, a cook from the 10th Mountain Division at Fort Drum, N.Y.
The Army does not teach sugar sculpting, Camacho said. He learned during long winters in the five years he spent stationed at Fort Wainwright, Alaska.
Down the hallway from Camacho, Sgt. 1st Class Dave Russ, 43, a cook from the 82nd Airborne Division, and Sgt. Joshua Rine, 27, from U.S. Army Europe headquarters, put the finishing touches on three jazz musicians made of chocolate tallow. The idea for the 3-foot cocoa-fat jazz trio came from a food court sculpture in Chicago's O'Hare Airport, Russ said. The centerpiece statue took about two weeks to create, he said.
"We wanted something that had a New Orleans feeling to it," Russ said. "And that was perfect."
Back at the Luxembourg Army kitchen, it's midnight and the chefs head back to their hotel for a shower and a change of clothes. Before the sun rose, they shuffled their operation to Luxembourg's exhibition hall, where they created a presentation of New Orleans food, sculpture and music.
Coffee and cigarettes fueled the exhausted group through the end of a 36-hour day. With all their work behind them, the soldiers returned again to their hotel — this time to sleep.
The soldiers were under pressure as they set up the cold plate display on the final day of competition. The hot meal had not gone over as well as they expected.
During hot food competition, each military team uses a German field stove to cook a gourmet three-course meal, served to judges spread among the general public in the competition's main restaurant.
Both hot and cold trials are judged on a 40 point scale: 28 to 32 for bronze, 32 to 36 for silver, and 36 to 40 for gold.
For their hot food served earlier in the week, the U.S. team prepared flank steak with bayou bourbon sauce — at the judges' request. They also served a crispy potato cake, a vegetable medley and Jackson Square bread pudding for dessert.
After sampling the U.S. Army team's hot meal, German Air Force Sgt. Sven Keller, 23, said he liked the show of culture, but the Louisiana style was unfamiliar and overpowering for his taste.
"It was very good," Keller said. "But the barbecue sauce was too strong."
Judge Stephen Miller, 48, of Chicago, coached the U.S. Army team for nearly two decades, he said. During judging, the former British soldier from London explained the regional American dishes to his fellow panel members.
"It wasn't the best of choices," Miller said of the U.S. hot menu. "The European taste is not used to American spices and sauces."
With a silver medal in the hot plate, the U.S. team would need a high-scoring gold in the cold plate judging to beat Germany and Switzerland — each with their own gold medals in both hot and cold categories.
As the expert jury panel descended on the Army's colorful Mardi Gras display, the chocolate musicians glistened above the decorated plates of food and Camacho's sugar sculptures. The judges circled the table, squinting at each dish. One danced an impromptu jig to the soft jazz tunes playing from a CD player under the table. They pointed with their pencils and counted slivers of carrot.
"Maybe they should have one piece more here," one judge said.
Judges look for a meal balanced with taste, shape and nutrition, Miller said. The meals must be enough for diners to feel full but not bloated, he said.
"Overall, the military category is improving throughout the competition," Miller said. "For me, the table that set the standard was the U.S.A. It was bright and colorful."
Later that evening, the team learned they earned the gold for the display. The U.S. national team, made up of the country's top civilian chefs, also won gold in cold plate, silver in hot.
During a formal awards ceremony, the team received their medals — then sat on the edge of their seats awaiting the final overall scores.
With two gold medals, Switzerland was the overall champion, while Germany came in third. To its surprise, the U.S. Army team took second.
In addition to the honors, the U.S. team took away valuable knowledge. The international exposure helps the younger military chefs develop cooking skills, said Warren, the Heidelberg cook and a veteran of several competitions. Those skills will make them better in their daily jobs, and the experience may make them want to work even harder.
Said Warren of the other medal winners: "It's an honor to work with our Army cooks."
Some recipes from the U.S. team ...
Grilled flank steak
¼ cup Worcestershire sauce
¼ cup soy sauce
¼ cup brown sugar
¼ cup mustard
¼ cup garlic, minced
¼ cup onions, minced
1 tablespoon white vinegar
1 teaspoon olive oil
1 teaspoon lemon juice
½ teaspoon paprika
¼ teaspoon liquid smoke
¼ teaspoon salt
¼ teaspoon black pepper
3 pounds flank steak
Combine all ingredients except steak. Marinate steak in mixture for 36 hours. Heat a skillet or broiler to medium heat. Grill steak to an internal temperature of 130 degrees. Allow steak to rest for five minutes before slicing. Serve with Bayou Bourbon Barbecue Sauce.
Makes eight servings.
———
Bayou bourbon barbecue sauce
½ cup ketchup
½ cup cider vinegar
½ cup sugar
¾ cup tomato paste
¼ cup orange juice concentrate
¼ cup apple juice concentrate
¼ cup bourbon
¼ cup garlic, minced
¼ cup onions, minced
1 tablespoon creole seasoning
½ tablespoon Emeril Essence seasoning
1 tablespoon hot sauce
½ cup beef stock
1 teaspoon salt
½ teaspoon black pepper
¼ cup demi glace
2 ounces butter
Combine all ingredients except butter and simmer for two hours. Finish sauce by stirring in butter and checking seasoning.
Makes 2½ cups.
———
Crispy potato cakes
1½ pounds white potatoes
¼ pound bacon, minced
½ teaspoon salt
½ teaspoon white pepper
½ teaspoon Mrs. Dash seasoning
¼ teaspoon nutmeg
Peel potatoes. Cut into julienne, or matchstick strips, on a mandoline or cutting machine. Cook bacon and reserve fat. Combine bacon, bacon fat, potatoes and seasoning. Heat a skillet to medium heat. Place 3-inch ring molds on skillet. Spray skillet and ring molds with vegetable spray. Place approximately 1/3 cup of potatoes into each ring mold and brown on both sides until golden in color. Place potatoes in a 350-degree oven for 20 minutes or until completely finished cooking in the center.
Makes eight servings.
———
Jackson Square bread pudding with banana apple walnut flambé
For the chocolate tuile leaves:
5 tablespoons unsalted butter
½ cup powdered sugar
½ cup egg whites
1 teaspoon vanilla extract
½ cup flour
1/8 cup cocoa powder
Sift together cocoa powder and flower. Melt butter on low heat. Add powdered sugar, vanilla, egg whites and flour to butter. Store covered in refrigerator. Remove from refrigerator and spread a thin layer on pan using a leaf stencil — leaves should be approximately 3 by 4 inches. Bake at 350 degrees until lightly done. Remove from pan and bend over a round shape to form. Store in airtight container until serving.
For the banana apple and walnut flambé:
10 mini bananas or 4 regular bananas, sliced
2 cups Granny Smith apples, sliced
1 cup light brown sugar
2 tablespoons dark rum
½ cup apricot jam
½ cup walnuts
¾ teaspoon cinnamon
½ teaspoon nutmeg
Peel and cut bananas.
Heat a large skillet to medium high heat. Add butter, sugar, jam, walnuts, apples and spices. Cook until the sugar is melted, add bananas and rum. Serve immediately.
For the raspberry compote:
½ pound fresh raspberries
¼ cup sugar, granulated
2 tablespoons flour
3 fluid ounces water
Combine raspberries, sugar and water. Place on burner. Add flour. Cook until thickened. Place in a pastry bag and pipe into bread puddings.
For the rum butter:
½ pound butter, unsalted
1 tablespoon dark rum
½ vanilla bean
½ cup powdered sugar
1/5 teaspoon cinnamon
1/5 teaspoon nutmeg
Cream butter. Add sugar and spices. Mix on medium low until thoroughly blended. Heat rum in a skillet, add vanilla and reduce by half. Add the butter mixture. Form into quenelles by taking 1 tablespoon of rum butter and shaping it like a football. Refrigerate until serving.
For the white chocolate bread pudding:
2½ cups bread cubes
2¼ cups milk, scalded
3 eggs
½ cup sugar
¼ teaspoon salt
1/3 teaspoon cinnamon
¼ teaspoon nutmeg
6 ounces white chocolate, chopped
½ tablespoon butter
1/3 tablespoon flour
1 teaspoon vanilla extract
Coat molds with butter and dust with flour. Set aside. Combine milk, eggs, sugar, salt, cinnamon, vanilla and nutmeg. Combine egg mixture with bread and chocolate. Pour into prepared molds. Carefully pipe 1 tablespoon of prepared raspberry compote into the center of each bread pudding prior to baking. Place molds in a hot water bath, cover and bake at 350 degrees for 45 to 50 minutes or until set.
Guidelines for plating dessert
1. Dust each plate using a prepared stencil and raspberry dust. (Raspberry dust is made by dehydrating raspberries and puréeing them in a food processor.)
2. Pipe a two-inch line of marzipan in front of pudding and toast with a torch. (Thin the marzipan to the consistency of buttercream frosting with water. It takes about 2 tablespoons of water for ¼ cup of marzipan.)
3. Place one pudding on each plate.
4. Dip bottom of a fresh raspberry in melted chocolate and place at 12 o'clock on each plate.
5. Place two banana halves, 3 apple balls, walnut halves and sauce next to pudding.
6. Stand chocolate tuile leaf up against the chocolate dipped raspberry behind the pudding.
7. Stand rum butter quenelle on top of each pudding.
— Recipes courtesy of USACAT.
---
---
---
---