After Hours: Zum Alten Schuster in Weiden, Germany
---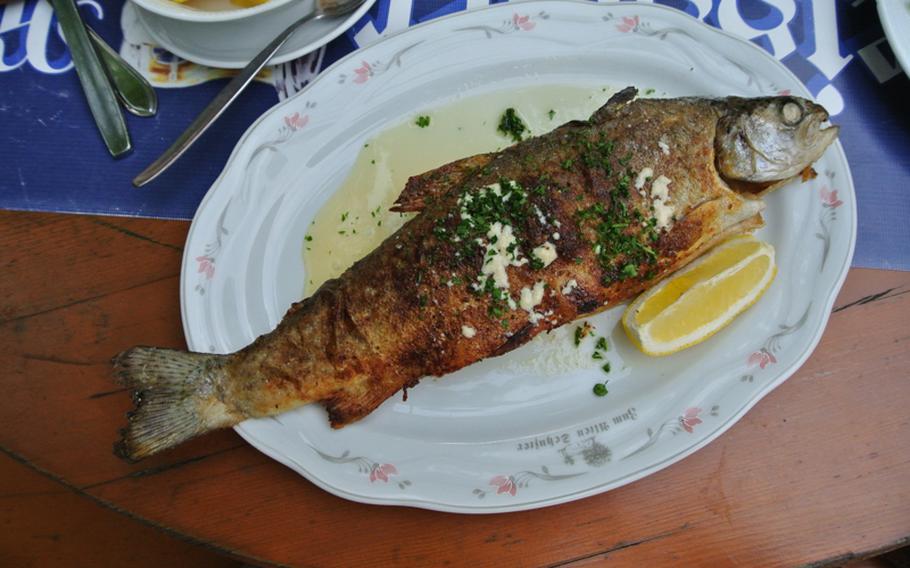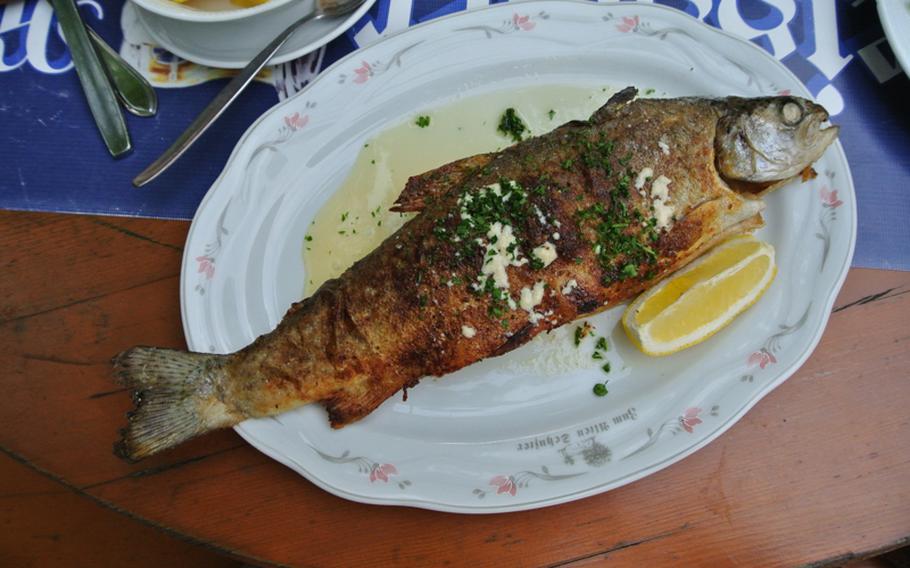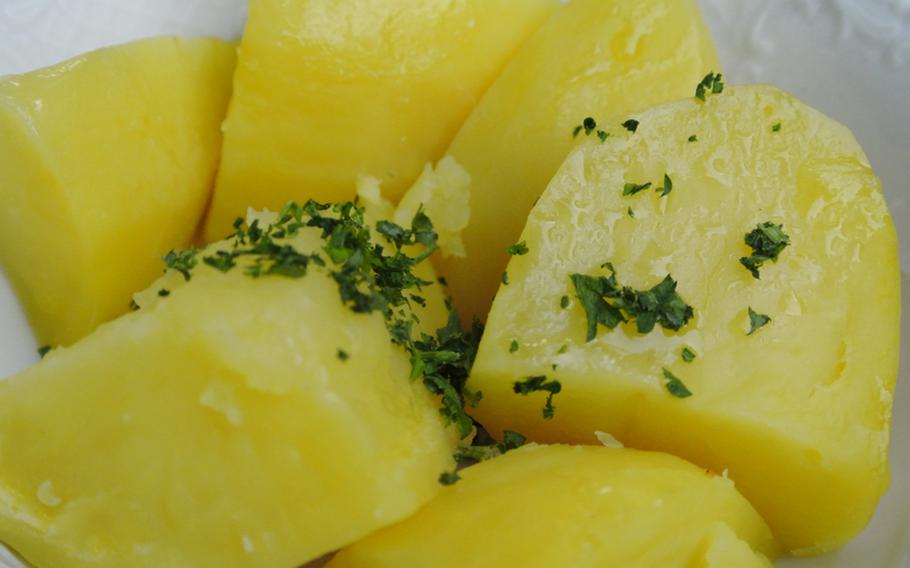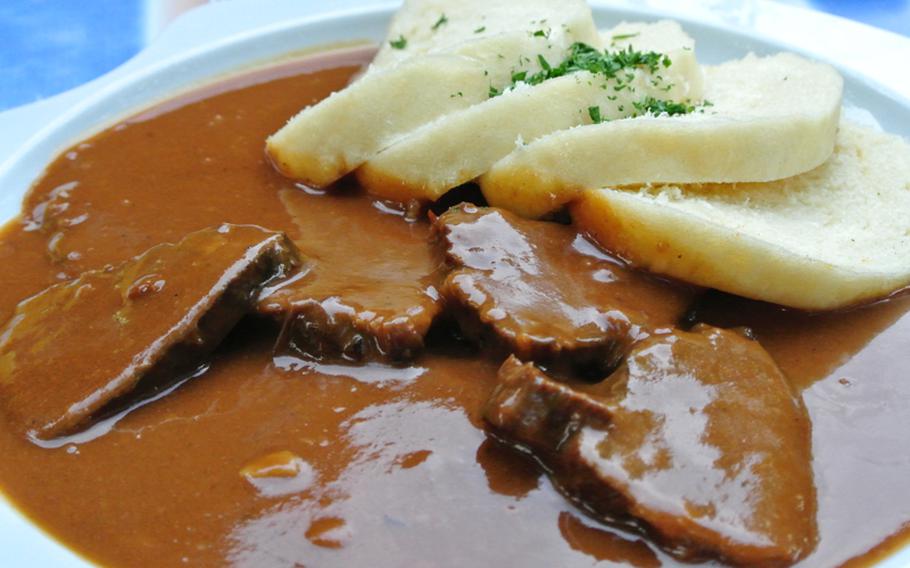 Monotony is a maddening trait of Bavarian cuisine, where dishes rarely go beyond a slab of meat smothered in gravy and paired with potato dumplings.
At Zum Alten Schuster, a traditional Bavarian restaurant in Weiden, near the Grafenwöhr Training Area, such fare mixes with a few new ideas. Fresh local trout, American-style barbecued ribs and seasonal menus make this restaurant stand out from the crowd.
Owner and chef Robert Drechsel, 54, is the fourth generation of his family to run Zum Alten Schuster. Trained in Munich's largest kitchens in the 1970s and '80s, Drechsel returned to run the family business in 1988, when his parents expanded the former tavern, opened in 1919, into a full-service restaurant.
His recent focus has been providing more fresh, local ingredients in his recipes, he said.
Drechsel says he's developed relationships with local hunters and small "ecological" farmers. He gets his trout from Etzenricht, some 30 minutes from Grafenwöhr, and he recently began raising sheep. He's also experimenting with his own wood-oven baked bread.
Meanwhile, he's trying to focus on seasonal ingredients. He released a special menu for white asparagus season, and he wants to expand his salads in the summer.
Local ingredients are increasingly important to his business, Drechsel said.
"To me, it's the future. I like the fish from here; the cows, the beef, the pork," he said.
He's also a fan of Americans and their cuisine. In 1997, Drechsel participated in a program that brought 10 American chefs in training to restaurants across the region. He taught students how to cook Bavarian food, and they hosted a barbecue cookout at his restaurant.
Drechsel later was invited to visit the school, the former Johnson & Wales in Charleston, S.C. (since closed), as a distinguished visiting chef. After getting a feel for the South and visiting New York City, he returned home with a barbecued rib recipe that remains on the menu. The sauce comes from Charleston, he said.
My friends and I haven't tried the ribs yet, but we like most everything else we've had at Zum Alten Schuster. A personal favorite is the Bohemian knödel, a side to some of the dishes. Unlike the round potato knödel, these are bready and sliced, perfect for soaking up sauce.
The baked lamb with rosemary, roasted potatoes and market vegetables is a favorite entrée. My wife prefers the trout (Forelle in German), which arrives whole on the plate. The meat is flaky and tastes fresh.
Also popular are the turkey medallions, which arrive on a bed of spinach, something that strikes me as rather un-Bavarian.
Make no mistake, Zum Alten Schuster isn't a modern take on Bavarian cuisine, something likely found only in the region's bigger cities. Yet it might be the closest option here, with better ingredients, fresher flavors and a chef who's eager to explore.
ZUM ALTEN SCHUSTER
Location: Schustermooslohe 60, Weiden in der Oberpfalz
Directions: From Grafenwöhr, drive to Weiden via Highway B470 east from nearby Eschenbach. Drive past the ramps for Autobahn 93 and take a left at the first traffic light, onto Joseph-Haas-Strasse. Follow this road, even after it becomes Tulpenstrasse, until the intersection with Parksteiner Strasse. Turn left. Signs at the intersection will point to the Tierheim.Drive over the autobahn, continue several hundred meters more and look to the right for Zum Alten Schuster.
Hours: Open 9 a.m. to 12 a.m. daily except Thursdays.
Prices: Typical for Bavarian restaurants. Entrees from 8 euros to 12 euros, beer about 2.50 euros, soups at 3.50 euros.
Phone: 0961–24-926
Menu: German
Dress: Casual
Find it on the Internet at: zumaltenschuster.de
---
---
---
---