After Hours: Tati in Heidelberg, Germany
by
Nancy Montgomery
April 6, 2011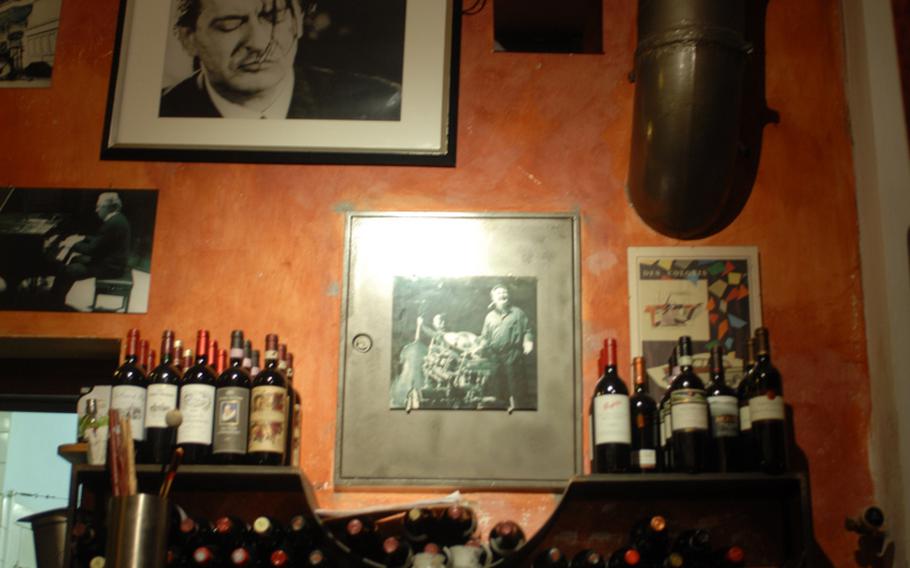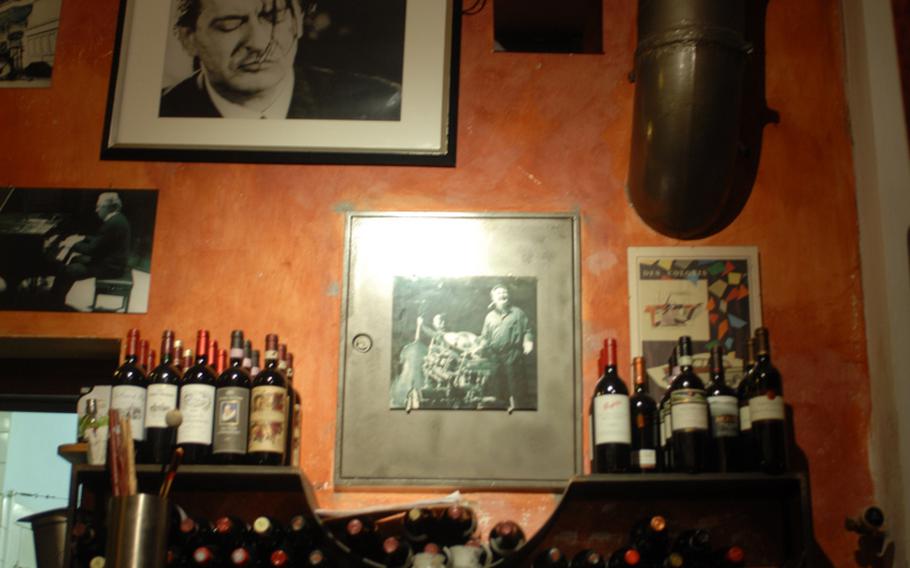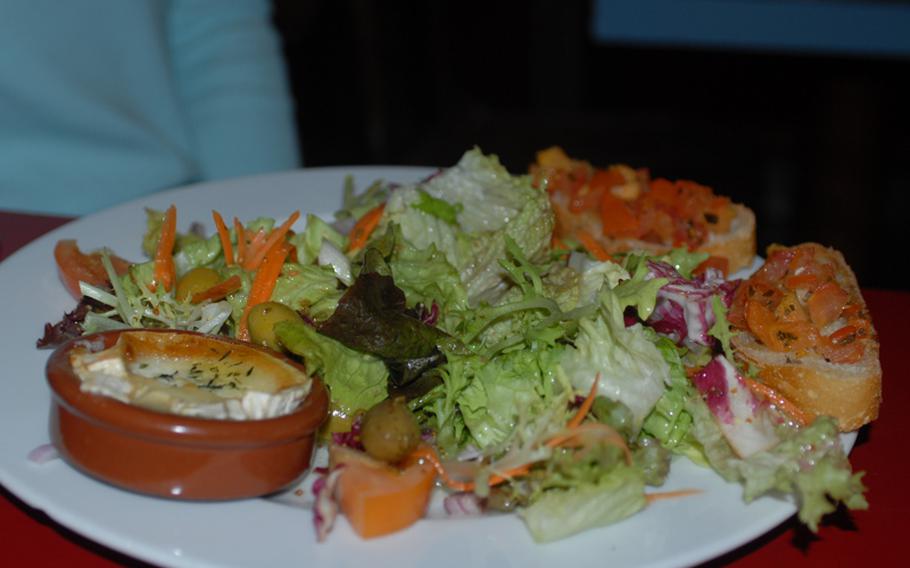 Neither of us considered getting item No. 5 on Tati's menu: chestnut-stuffed pig's stomach with red cabbage and mashed potatoes. Even when we were reading the German menu in the Heidelberg, Germany, restaurant and didn't know what Saumagen was. Turns out it's a Palatinate regional dish. The stomach is used like a sausage wrapping and baked or simmered. They apparently eat it in Pennsylvania, too, where it's called "stuffed hog's maw."
Yum.
But why order a German provincial specialty when you're cozily ensconced in a tucked-away bistro named for a French film director? Why not get the boeuf bourguignon or one of the two entrecotes — rib steaks — on offer? Or the pot-au-feu de la mer, a shellfish soup, or one of the numerous specials?
There are many things to like on the menu — and about the restaurant itself, in a square behind Bergheimer Strasse in the center of town. It's in a half-timbered building jazzed up with a blue neon sign. Inside, little two-tops and four-tops — about a dozen tables in all — share the small downstairs space with an old upright piano and photos and modern art on the distressed plaster walls. Upstairs is another dozen or so tables, and, the night I was there, an obviously thirsty collie to whom a waitress brought a big pail of water.
The lighting is golden, the music, soothing French pop. And the wine is fantastic. The restaurant is next to a Jacques' Wein-Depot, and the wait staff pour all sorts of reds and whites by the glass, letting you sample suggestions before you choose. By 7:30 on a Saturday night there wasn't an empty table in the place.
We started with a salad that hit all the bases: greens, tomatoes, olives, red onion, bruschetta and, best of all, baked goat cheese. It was 9.50 euros, big enough for two and terrific.
For her entree, my friend got the boeuf bourguignon, basically beef stew with wine. I looked at the chalkboard of 10 or so specials and considered the swordfish with eggplant (17.80 euros), the gnocchi with asparagus (8.90 euros), the linguine with clams (12.80 euros) and the crepe with chicken, Calvados and mushrooms (12.80 euros).
But then I saw a steak on the regular menu — an entrecote with herb butter for 18.50 euros — that in the menu description for some reason referred to Glenn Gould and Beethoven's "Moonlight Sonata." I'm a sucker for the obscure reference. And also for steak.
When we got the English menu, the mystery became only slightly clearer. Gould, the eccentric and brilliant Canadian pianist who recorded variations of "Moonlight Sonata," had once said, according to the menu, "We'll see if I cannot get away if I use that again!"
But weird translations are one of the fun parts of European restaurants. The one for the crème brûlée made me laugh out loud. All it said was, "How usually it is tormented with a flame thrower."
Location: Bergheimer Strasse 151, Heidelberg, Germany 69115.
Directions: Tucked inside a square behind Bergheimer Strasse, near where it intersects with Mittermaler Strasse.
Hours: 6 p.m. to midnight Tuesday through Saturday.
Food and drink: French bistro standards, with some Italian and German dishes. Nice selection of wines by the glass.
Prices: Prices are moderate. Starters cost 5 euros to 7 euros and entrees run between 10 euros and 18.50 euros. The restaurant also has "snacks" — light plates like herbed cheese with potatoes and salad or Sardinian sausage for between 8 euros and 11.30 euros.
Clientele: Mostly Germans.
Dress: Casual
English menu: Yes.
Website: restaurant-tati.de includes a menu and wine list in German.
Phone: 06221-182704
Know a restaurant or entertainment spot you'd like to see reviewed in After Hours? E-mail John Taylor at taylorj@estripes.osd.mil.