After Hours: Ristorante Poseidone in Naples, Italy
by
Sandra Jontz
March 23, 2011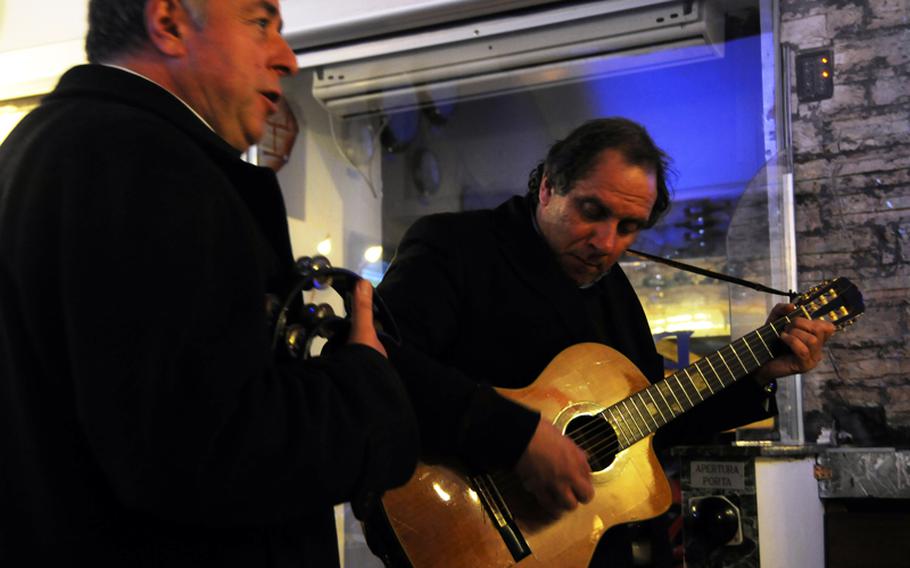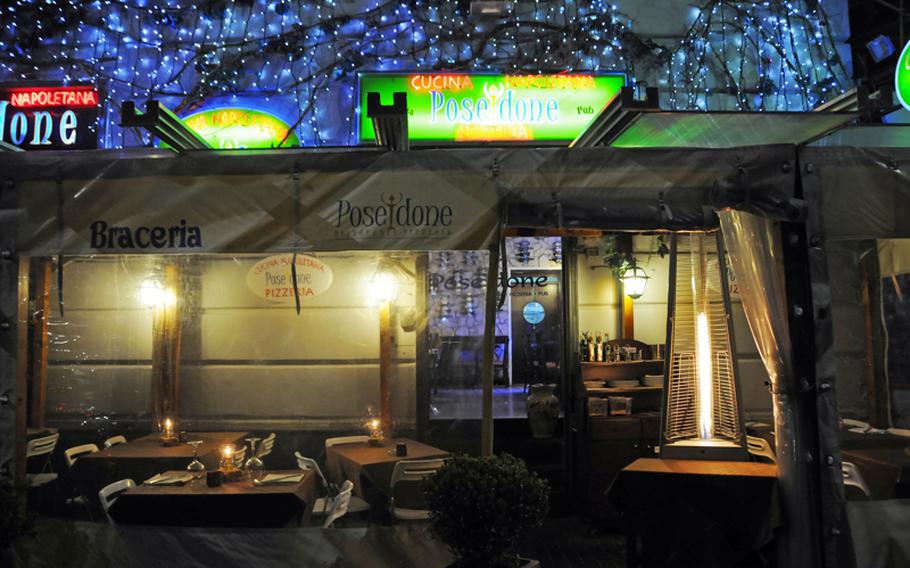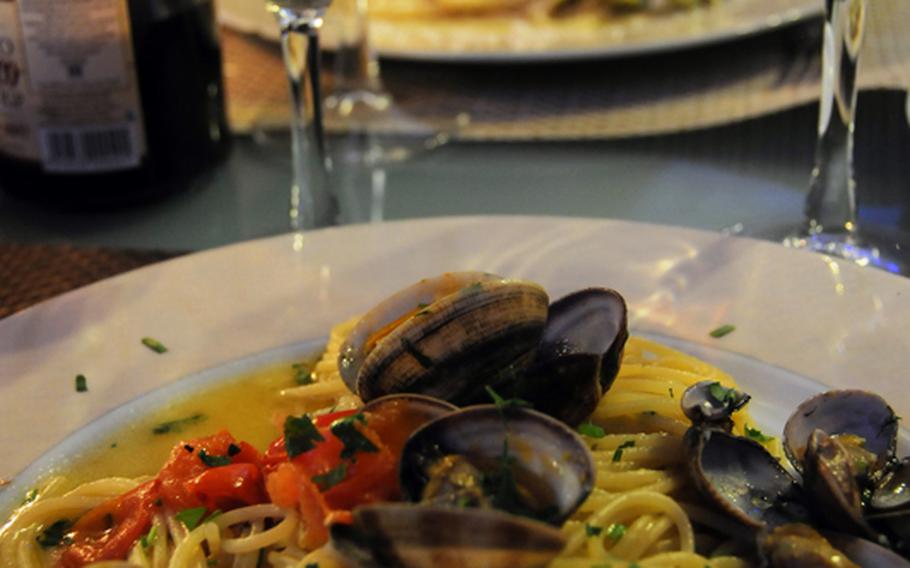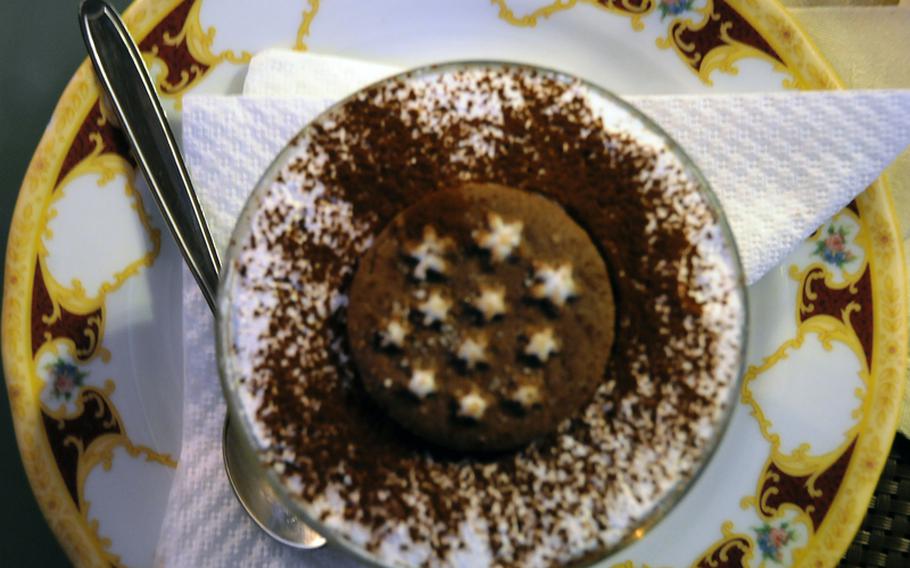 NAPLES, Italy -- Go ahead; wow the strolling singers strumming the mandolin. Belt out the first refrain of the popular Neapolitan love song, " 'O surdato 'Nnammurato" ("The Soldier in Love") with a guttural emphasis, and you just might be mistaken temporarily for a Neapolitan:
Staje luntana da stu core,
a te volo cu 'o penziero
niente voglio e niente spero
ca tenerte sempe a fianco a me
Si' sicura 'e chist'ammore
comm'i' so' sicuro 'e te...
At many an Italian restaurant, diners often are graced (though some complain they're annoyed) by roving posteggiatori, singers who make their living popping in and out of restaurants to serenade diners with Neapolitan songs. Two posteggiatori (a takeoff of the word for parking attendants in that the singers would park themselves close to diners until they received a tip) recently graced diners at Ristorante Poseidone in the posh riverfront area of downtown Naples.
The singers fit in with the traditional Neapolitan cuisine of the restaurant, which is juxtaposed against its ultramodern decor — such as the restaurant's wine collection prominently splayed and displayed across the back wall of the main dining room. The owners went for both when they opened the restaurant seven years ago, head waiter Nando Boccamaiello said, because they wanted to appeal to a wide range of customers, from the highfalutin to a hungry tourist looking for a savory down-home meal.
In Naples, down-home typically is seafood-based.
From spaghetti alle vongole (spaghetti with clams, still in their shells) to a good variety of oven-baked pizzas, the fare at Ristorante Poseidone mirrors what you'll find in many other Neapolitan restaurants. That's not a bad thing — it's consistently good and without surprises.
Prices range from quite reasonable to a bit on the high side for Naples. Starters run between 9 euros and 12 euros, pasta dishes cost 12 euros to 14.50 euros, and meat dishes are in the 12- to 14.50-euro range. Then there's the "imperial fresh large shrimp," at 80 euros for three or four of them. That's an entrée for the highfalutin with cash to burn.
Diners come for the view as well as the food, provided they are among the lucky ones to get an outdoor table (during the warmer months, that is), said owner Maria Rosaria Di Gieolamo.
Ristoreante Poseidone is just a few paces across the street from the famed Castel dell'Ovo (or Egg Castle), which gets its name from a legend that claims poet and sorcerer Virgil put a magical egg in the foundation of the castle. If said egg should ever break, catastrophe would rain down on Naples.
With any luck, not while you're one of those outside diners at Ristorante Poseidone.
Know a restaurant or entertainment spot you'd like to see reviewed in After Hours? E-mail John Taylor at taylorj@estripes.osd.mil.
Location: Via Partenope no. 1, Naples, Italy.
Direction: Restaurant is along Naples' downtown waterfront near the Castel dell'Ovo.
Hours: 12:30 p.m. to about 3 p.m., and then 6:30 p.m. until last customers leave Monday through Saturday; on Sundays, it is open evenings only.
Food and drink: Typical Neapolitan fare; mostly seafood-based, but also offering meats, salads and pizzas.
Prices: Dinner for three consisting of pasta dishes, house wine and desserts totaled 60 euros. In addition to the starters and main dishes, salads cost 5.50 euros to 7 euros and pizzas are 6.50 euros to 7 euros.
Clientele: Mostly Italian, but some tourists.
Dress: Casual
English menu: No, but several of the servers speak English.
Website: ristoranteposeidone.it/home.html
Phone: 081-248-1324; reservations strongly encouraged.
---
---
---
---