After Hours: Piccolo Mondo, Heidelberg, Germany
by
Nancy Montgomery
June 19, 2011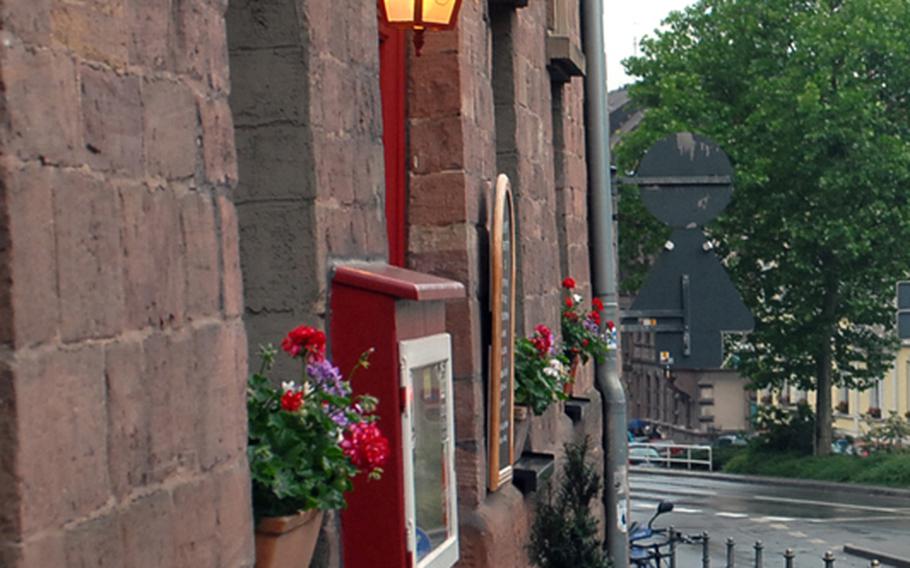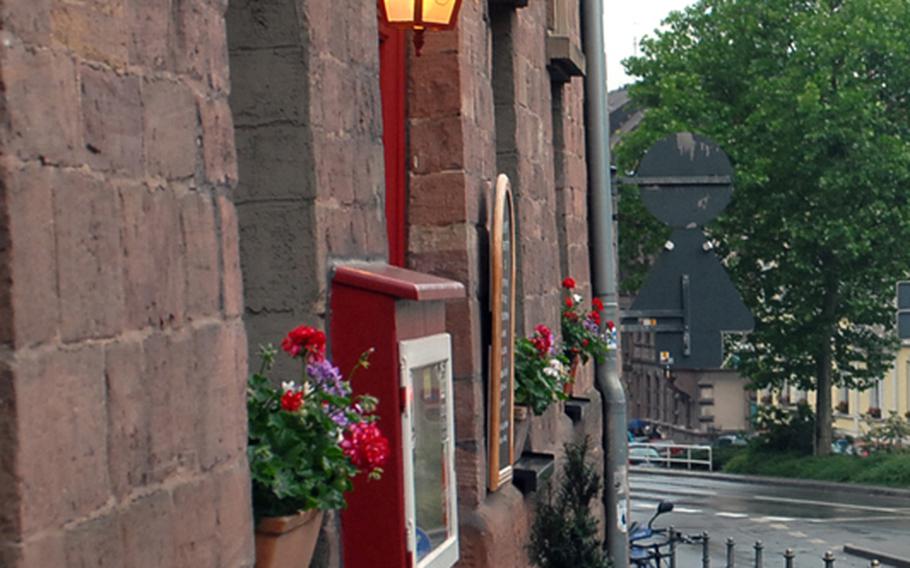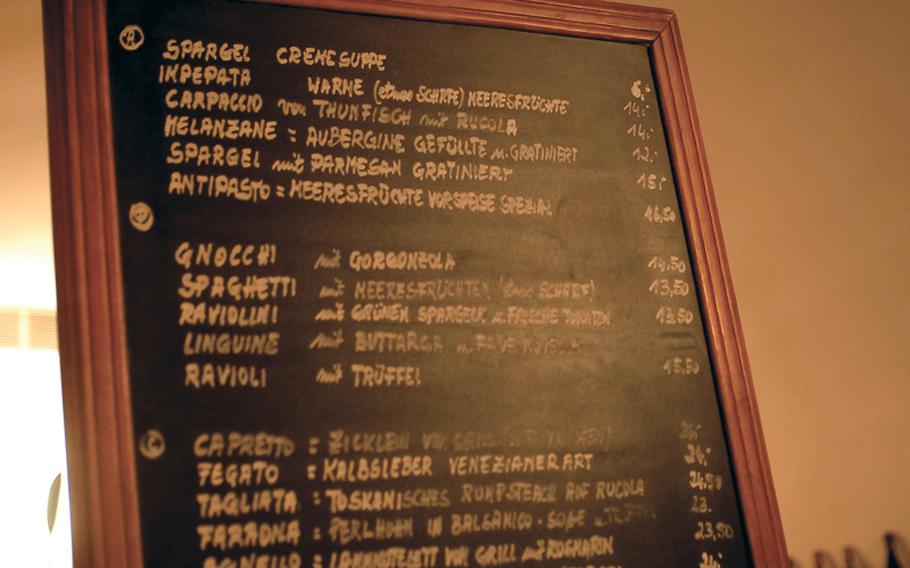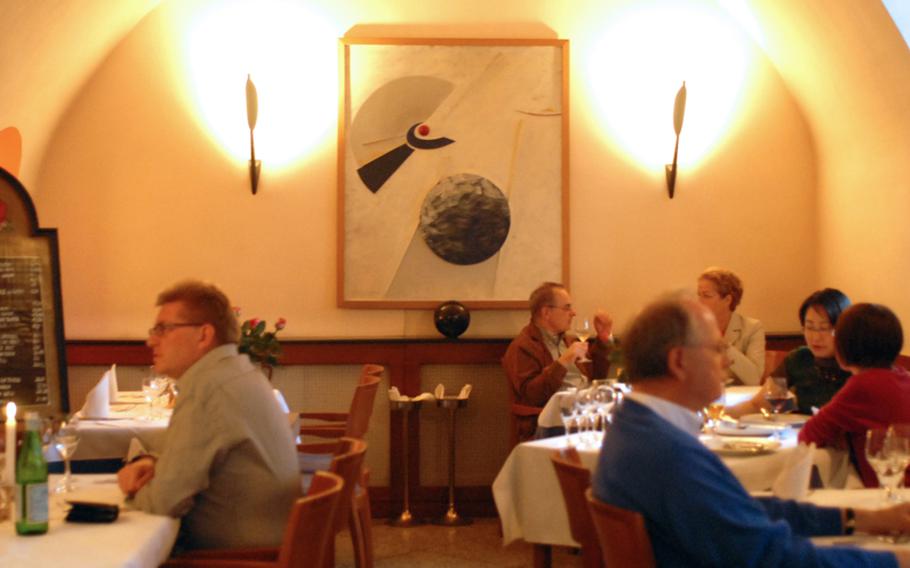 It took six years to find it.
Piccolo Mondo is the closest restaurant to my house in Heidelberg, Germany, but I spent six years ignoring the Italian ristorante on a side street that winds uphill. I thought about trying it from time to time, but I never did.
Then another American who also lives nearby told me it was really good. And on a recent dark and stormy night when we had no groceries, we grabbed our umbrellas and made the four-minute walk.
And now, Piccolo Mondo is the restaurant closest to my heart, the "little world" filled with culinary delights and a great house white wine.
I've been two more times, despite the threat to my wallet and waistline, in part because of a particular pasta. Ah, the ravioli with truffles. Pillows of pasta sauced in cream with the prized aromatic underground mushroom hunted with the help of sows and dogs.
The first mouthful was a revelation, yet raised questions. How could anything taste so good? Why had it been two years since I'd had any truffles? Wasn't it fantastic that, now I knew about Piccolo Mondo, I could have ravioli with truffles whenever I wanted — and have them with a glass of the house white for about 18 euros?
A sigh of "mmmm" escaped from my dining partner and me after each bite for an embarrassingly long time. The second time I ordered it, three days later, it was just as good.
We mentioned to our server that we lived nearby but had never been to the restaurant because we'd routinely gone for Italian food to a restaurant near the Hauptstrasse.
"For tourists," she said. We hung our heads.
Despite its less-than-stellar location, the restaurant has been in business for 35 years and has been recognized as superior both with a listing in the 2011 Michelin Guide and last year by a German organization as one of the best restaurants in southern Germany. All of its pasta is homemade, and the fish is bought fresh daily.
Each course, every dish we tried was amazingly good. Our appetizer, seafood antipasto, was fresh, flavorful and included an oyster. Our roasted branzino, or sea bass, with rosemary, so delicate as to be almost ethereal, came with a side of spinach, carrots and potatoes that even non-veggie fans would love. Our lamb chops were tiny, tasty and grilled medium rare.
The ambience in the restaurant's two rooms is serene and understated with sconces lighting white-and-pink stucco walls. The decor includes some modern art, decorative wine bottles and fresh flowers on the tables. There's a chalkboard of specials, and a printed menu that we've yet to order from but includes 13 pastas, six fish dishes, five cheese selections, five veal selections and five beef dishes.
Diners may also order pizza. But why would they?
Location: Klingenteichstrasse 6, Heidelberg 69117
Directions: The restaurant, in the vicinity of the Heidelberg castle, is tricky to find. It's across the street and up the hill from a big church, Peterskirche, and the Heidelberg University library. The restaurant has a small parking garage; if it's full, there's a pay lot nearby.
Hours: Noon to 3 p.m. and 6 p.m. to midnight daily except Mondays, when it's closed.
Food: Italian cuisine.
Prices: Expensive. Appetizers start at 12 euros and salads at 9 euros. Pasta dishes range between 12.50 euros and 15 euros; fish dishes start at 21 euros and rise, with the mixed grilled fish for two at 27 euros per person. The most expensive meat dish is a filet of beef in red wine sauce with green peppers for 26 euros. Pizzas cost 8 euros to 10 euros.
English menu: No
Clientele: Locals, a few tourists and Americans.
Atmosphere: Casual dress.
Telephone: 06221-602999
Website: www.piccolomondo-hd.de
Know of a good restaurant or entertainment spot you'd like to see reviewed in After Hours? E-mail Pary Smith at smithp@estripes.osd.mil or John Taylor at taylor@estripes.osd.mil.