After Hours: A restaurant with a history in Hohenecken, Germany
---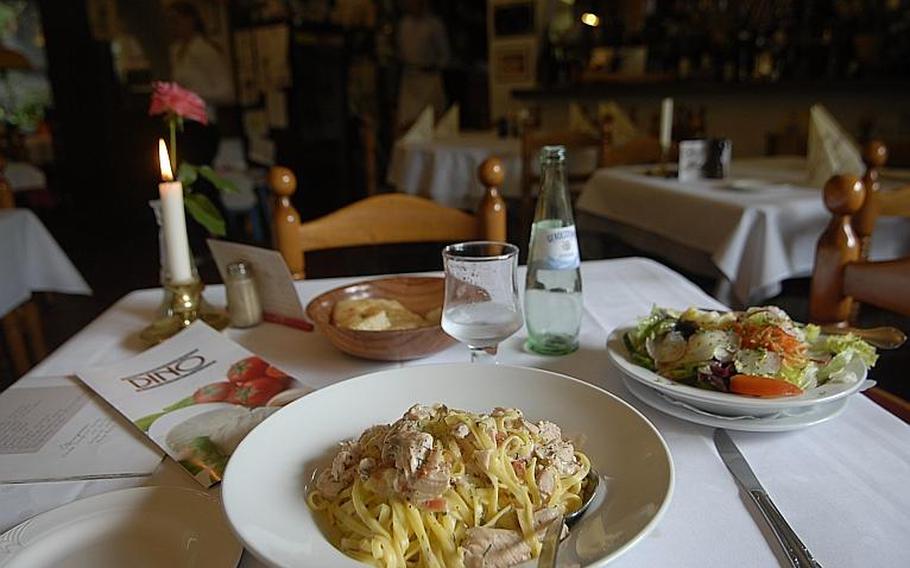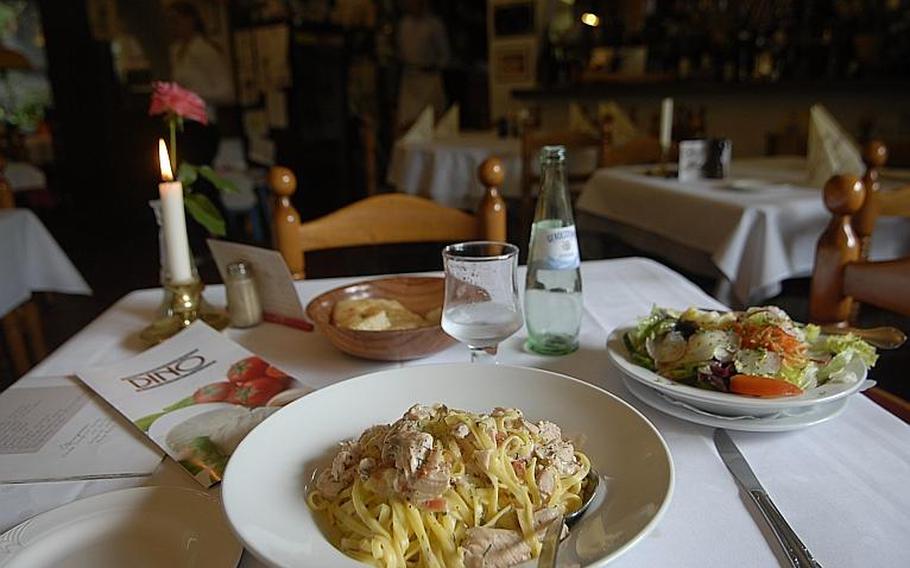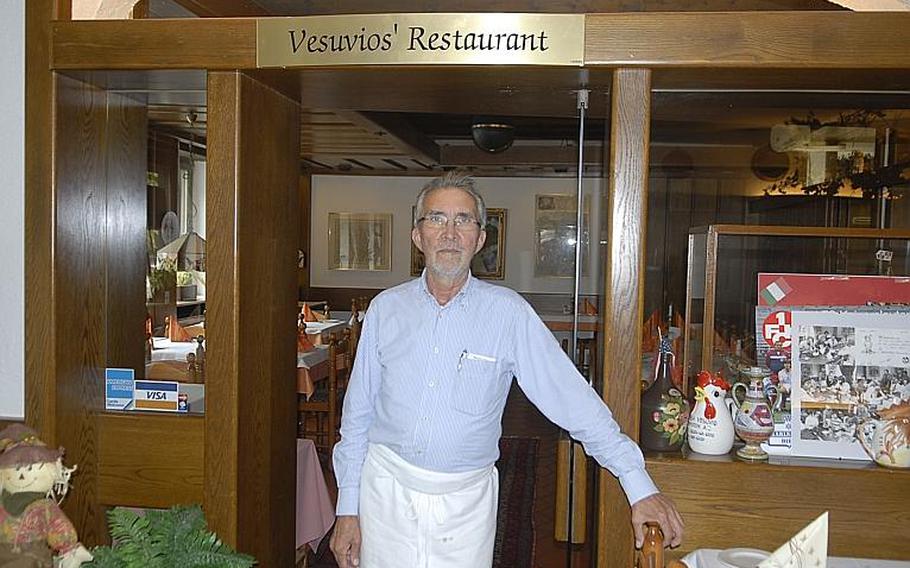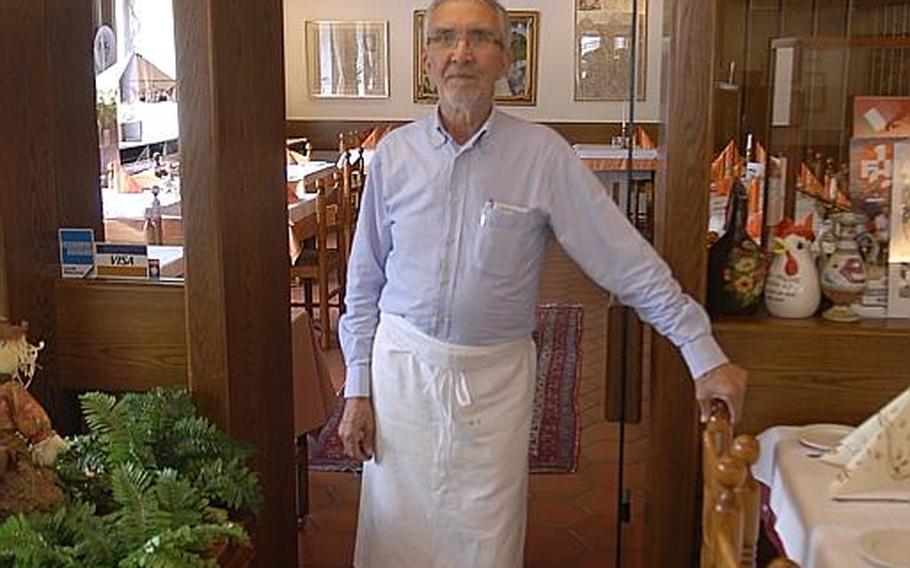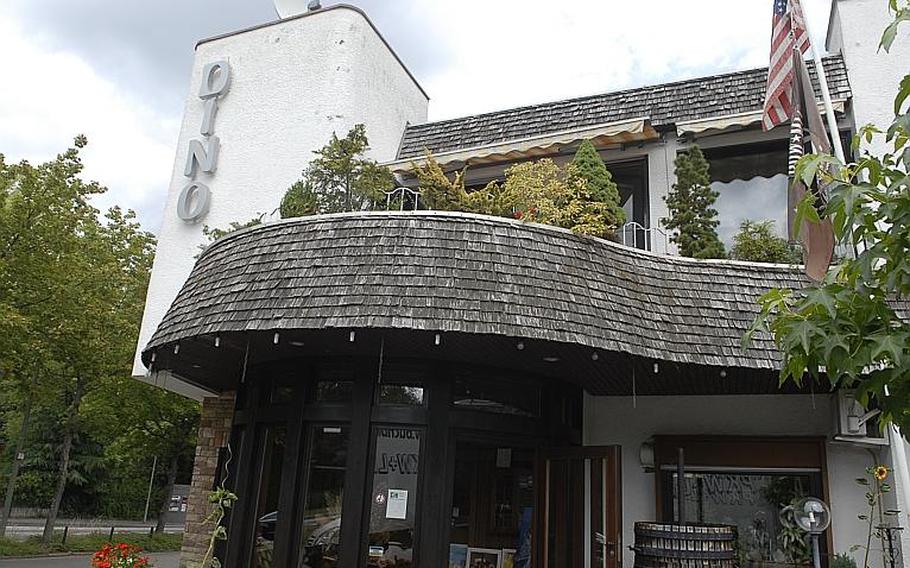 A restaurant called Dino has occupied the same corner in the German village of Hohenecken, south of Kaiserslautern, for more than 40 years.
My family and I have eaten there several times when in the mood for Italian food. The service is top-notch, the portions are generous and reasonably priced and the restaurant is family friendly.
I've always suspected the place harbored some interesting tales: A photo gallery on the wall displays framed autographs from four-star generals, NASA astronauts and a former sergeant major of the Army, among others. A vintage teal green Vespa sits in one of the dining rooms.
Sure enough, they all have stories — even the Vespa. Franco and Christiane Ammirati, Dino's longtime owners, shared some of them with me on a recent afternoon while I enjoyed some fettuccine with salmon and a hearty salad for lunch.
Franco popped out of the kitchen after I struck up a conversation with Tony Baralt and Phil Campbell, an Air Force retiree and a University of Maryland sociology professor, respectively, who've been dining at Dino for 15 years.
"Sometimes we drift away, try another place, but we always come back," Campbell said. "I like the food, it's varied enough … and it tastes good."
Dino's clientele is about 70 percent American, Christiane told me, a customer base that comes in part from Franco's days of running Vesuvio's restaurant, with the couple's daughter, in the basement of the officers club at Ramstein Air Base.
They closed that in 2007, but brought over the military photos and hung a Vesuvio's sign in Dino, where Christiane had been overseeing the kitchen.
These days, they both can be found at Dino, often coming out to chat with their customers.
"He's always coming up to your table," said Baralt of Franco.
Franco comes from the Italian Riviera, and the menu is classic Italian, featuring pasta, pizza, salad, antipasto, meat and a few fish dishes. The restaurant's signature dish is the Parmigiana Dino, breaded schnitzel covered with meat sauce and cheese. Franco recommends the Rigatoni Vesuvio, pasta with tomato sauce, garlic, bacon and chilies, or the spaghetti with seafood.
My favorite is the basket of warm bread that comes before every meal; it's similar to flat bread, baked with butter and a touch of salt.
Harder to choose is my favorite story from Franco and Christiane. It would have to be the one about the Vespa. In 1968, Franco promised his new bride that he would take her riding in the hills above the Riviera on his Vespa. That ride never happened. A few years ago, Christiane found a 1967 Vespa and bought it for Franco for Christmas. They contemplated going for that ride but decided they were too old. So the Vespa, with its two empty seats and a clean spare tire, sits inside Dino, a reminder of the couple's shared past.
The restaurant's website link is http://www.restaurant-dino.com.
Know of a restaurant or entertainment spot you'd like to see reviewed in After Hours? Send an e-mail to essnews@estripes.osd.mil.
---
---
---
---