Weapons cuts, fewer jobs likely lie ahead in Navy's future
---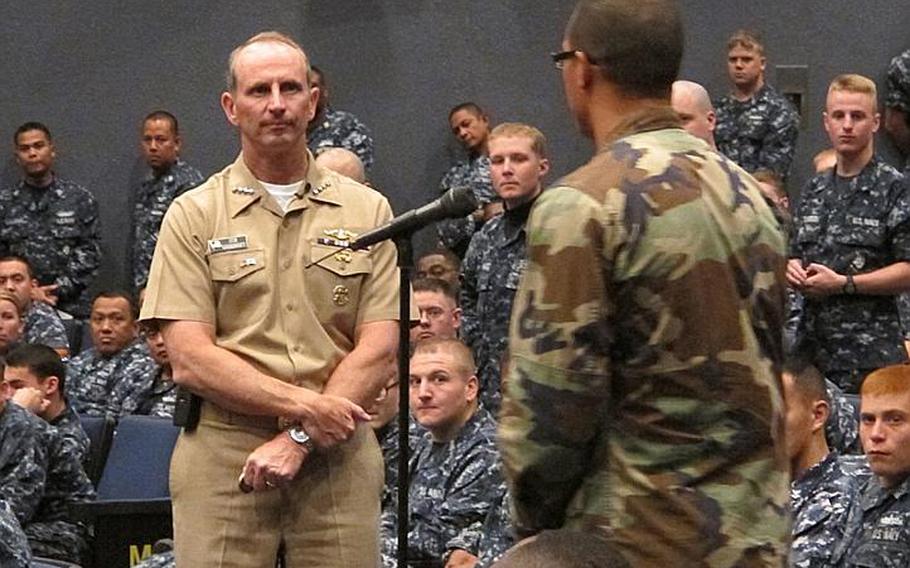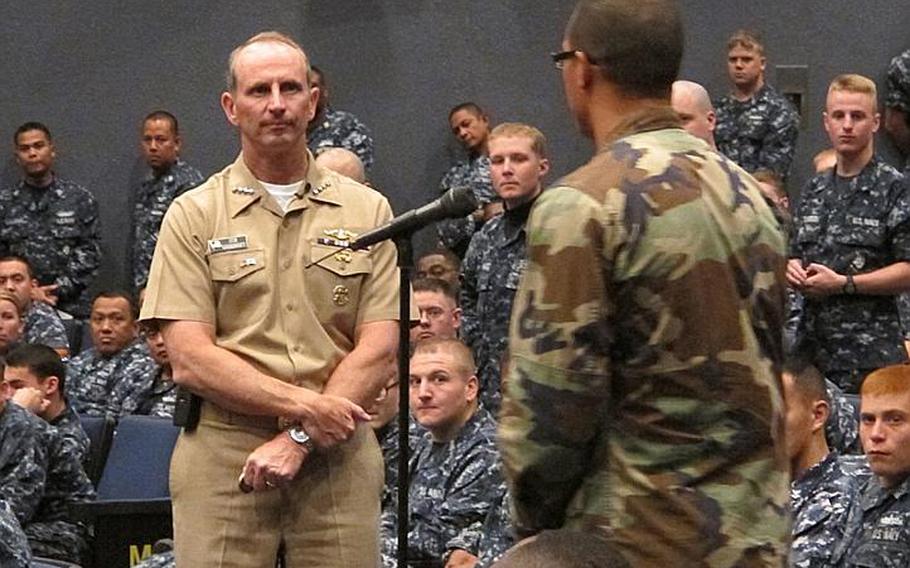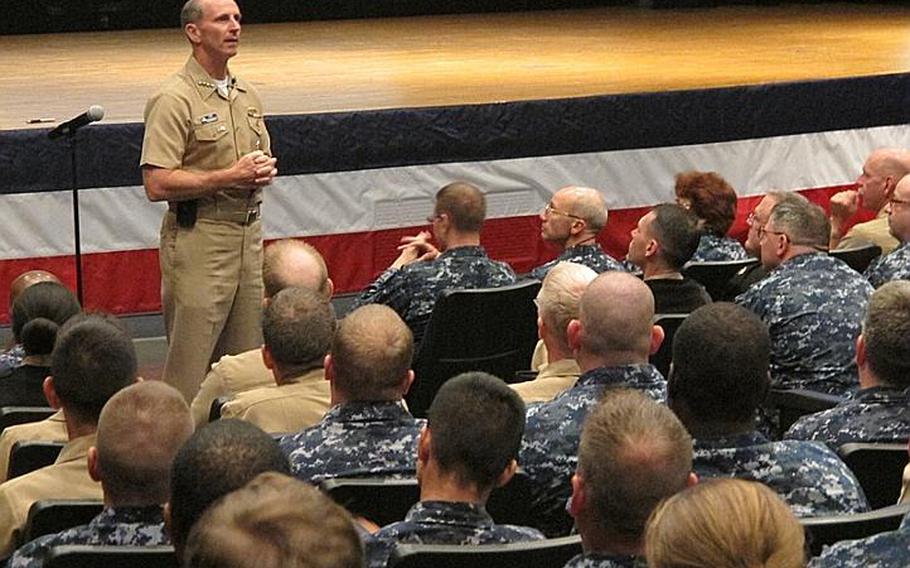 YOKOSUKA NAVAL BASE, Japan – Star Trek-style weapons development will be among the first cuts the new chief of naval operations says he will recommend for next year's expected defense budget overhaul, but those savings alone might not spare sailors from personnel cuts in an era of unprecedented retention.
Following an all-hands meeting Monday at Yokosuka Naval Base, Adm. Jonathan Greenert told Stars and Stripes that some high-tech weapons and sensors were unaffordable, given that naval budget cuts appear certain in the coming years.
"There are some technology investments that we have out there in future systems that have too high a risk technologically, that I'm not certain – in fact, that I know – we're going to have to defer," Greenert said. "We can't afford the luxury of continuing to subsidize that development."
Greenert declined to name specific systems. But multiple military analysts have questioned whether flashy prototypes developed in recent years, such as ship-borne laser cannons and rail guns, are really necessary to protect U.S. interests.
Although weapons programs historically come under fire when budgets tighten, they are notoriously hard to kill on Capitol Hill, where congressmen fight to protect the jobs affected by those cuts.
Greenert's task in the coming months will be to preserve a force budget that some believe has a bull's-eye painted on it, given the Navy's track record of overspending on programs like the Littoral Combat Ship, which went billions over budget before a reboot of the entire program last year.
"In my judgment, the Navy, with its capital-intensive shipbuilding, procurement and maintenance accounts, could be the service that would be most adversely affected," by Pentagon budget cuts, Sen. John McCain, R-Ariz., said during Greenert's testimony before Congress in July.
Paring down the force is often the easier sell for lawmakers. However, Greenert said he would not look to reduce manpower across the board in a service that has already reduced its active duty-force by about 10 percent since 2005.
What will continue is "force-shaping," the Navy's term for selectively trimming sailors and officers from over-manned jobs.
Greenert is seeking authority to continue a selective-early retirement board for officers through 2018, and wants to expand the pool of officers eligible for forced retirement to include commanders who have been passed over only once for promotion.
It is too early to determine whether the Navy will need to continue the boards beyond 2012, but Greenert says he wants the Navy to be able to make that choice.
"We'll see what the behavior is for retention," Greenert said.
Since 2007, officers and enlisted sailors have been avoiding separation and deferring retirement in record numbers, slowing the rate of promotions and forcing the Navy to expand programs like Perform to Serve, which evaluates sailors with between six and 14 years of service.
---
---
---
---