Sailor honors grandfather during Iwo Jima ceremony
By
burkem@pstripes.osd.mil Matthew M. Burke
August 31, 2012
---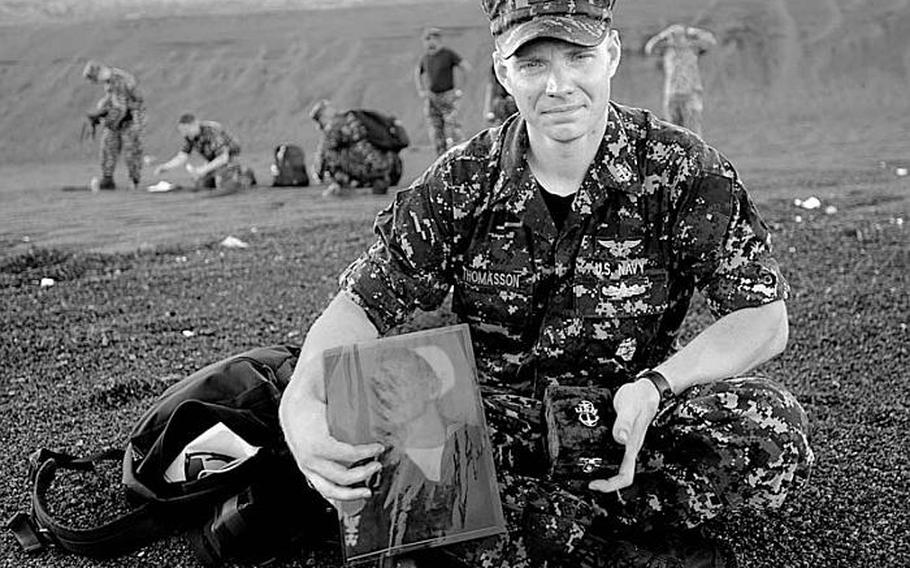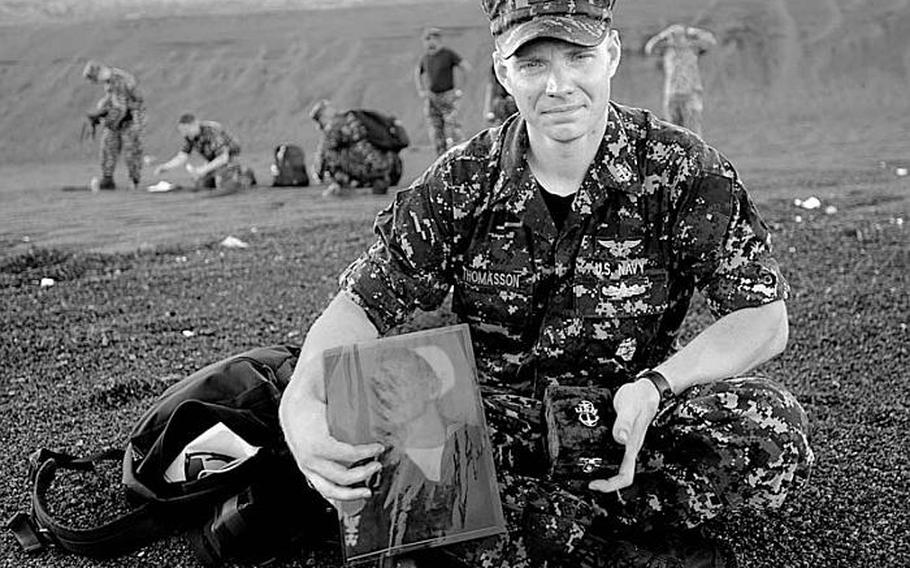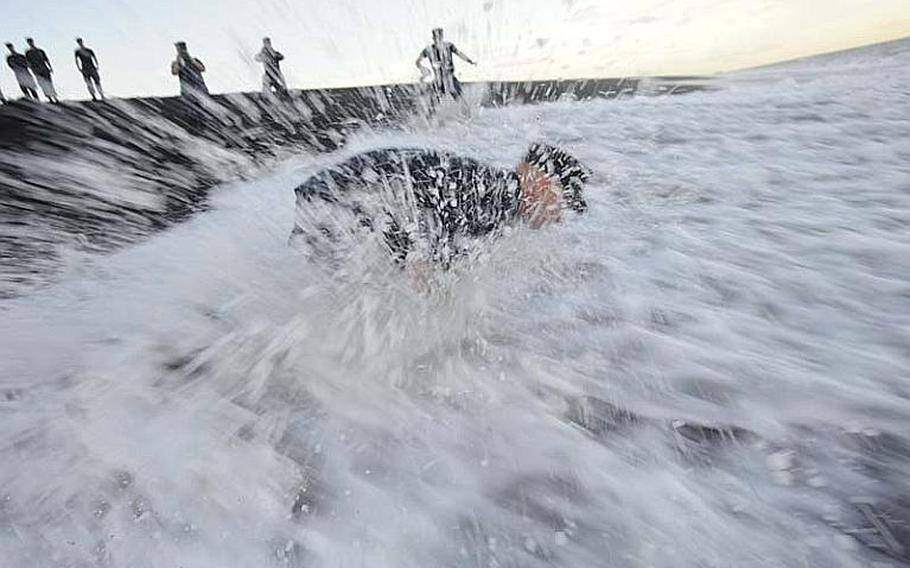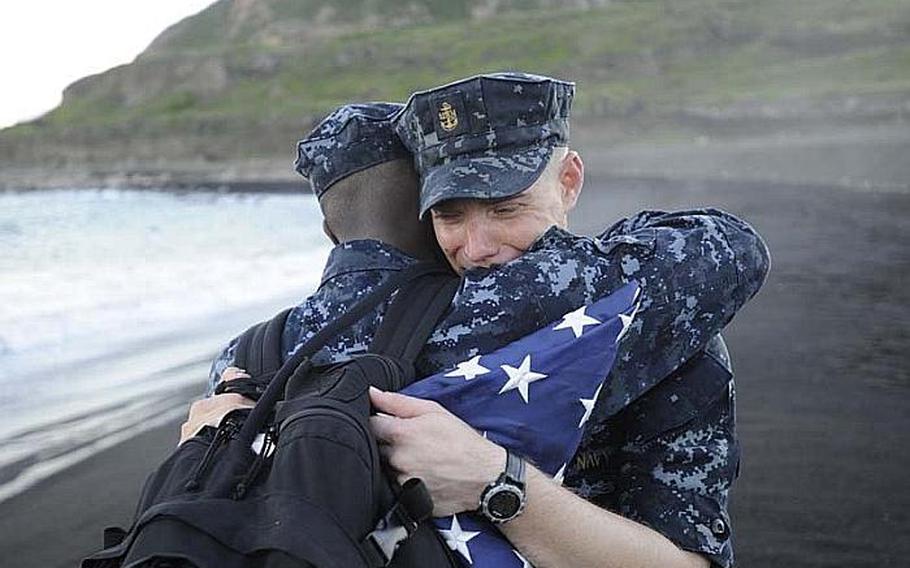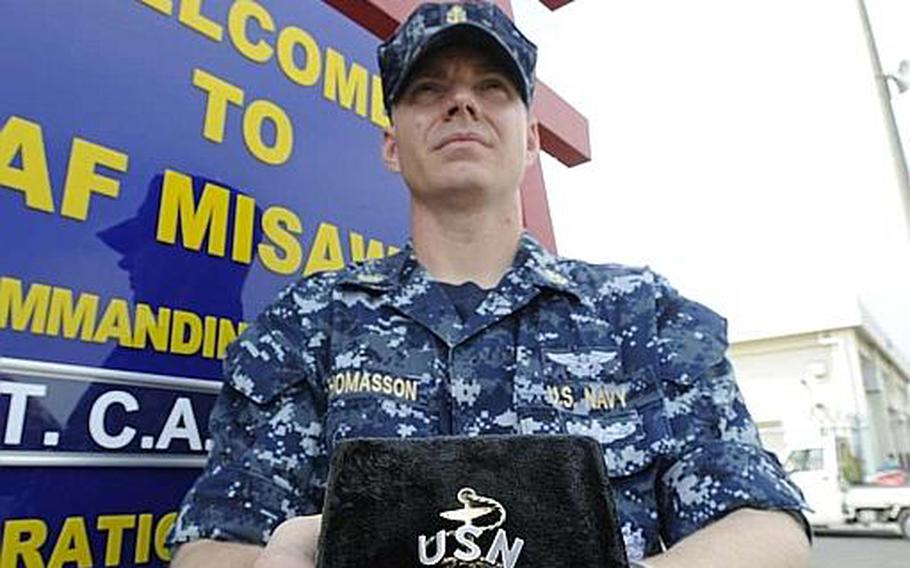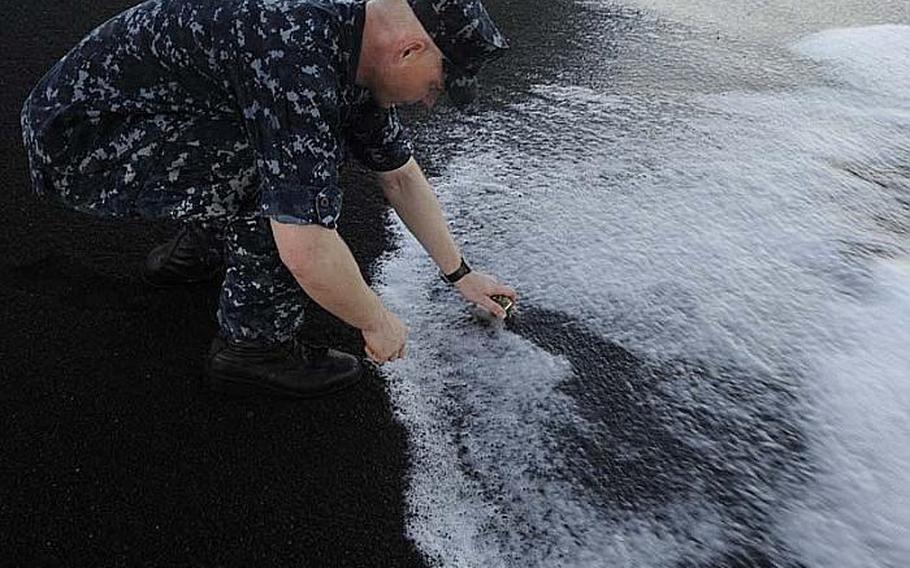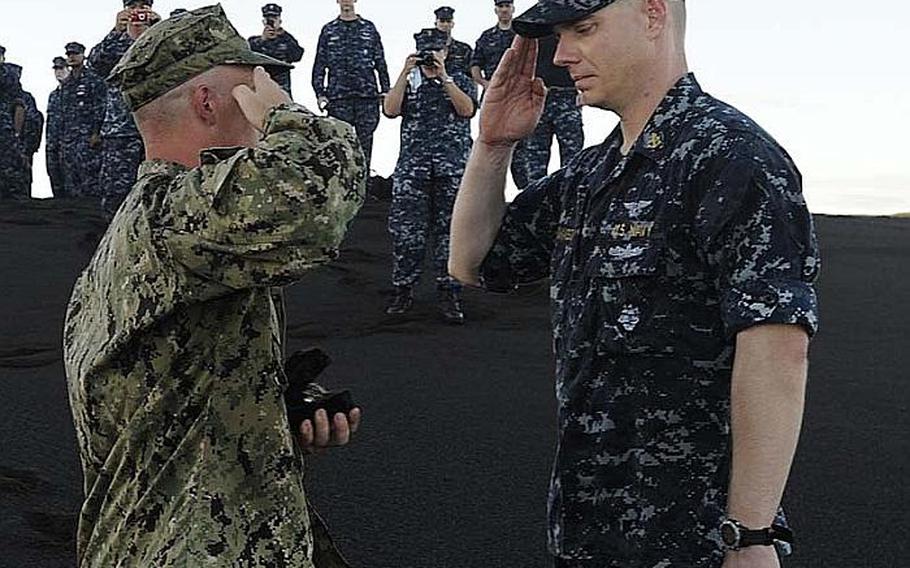 SASEBO NAVAL BASE, Japan — As Navy Petty Officer 2nd Class Oscar Thomasson swam ashore in February 1945, Iwo Jima's black volcanic sand ran through his fingers and surf crashed over him as the unrelenting undertow tried to drag him back out to sea.
The carnage that the motor machinist's mate then witnessed, as part of the first wave to invade the Japanese stronghold with the allies closing in at the end of World War II, would haunt him for the rest of his life. In many ways, part of him never left the beachhead. He died in 2006 at the age of 80.
On Tuesday, another Thomasson in a Navy uniform took his turn struggling with the heavy surf. Andrew, a 34-year-old chief petty officer from Naval Air Facility Misawa, carried an urn of ashes, and his mission wasn't to deliver Marines to the beach, it was to lay his grandfather to rest amongst the swirling sand and water so that his soul might finally know peace.
"I wanted to honor him in that sacred place on hallowed ground in the presence of his shipmates," Andrew said Thursday from Misawa, where he was back supervising the naval flight line.
"To be on that island with him one last time… It was a very humbling ceremony."
The younger Thomasson had been trying to find a way to get to Iwo Jima, now called Iwo To, for four years to spread his grandfather's ashes on the beach.
He had been approved but denied at the last minute in 2011, as the conditions have to be just right on the island. This year, he requested approval for him, 60 chief petty officers and 17 chief selectees from Misawa to jump on training flights to the island to learn about their heritage, but it was still in limbo until minutes before the flight.
When he touched down on Iwo Jima after almost three hours in the air, the group had four hours to hike eight miles to the top of Mount Suribachi, site of the iconic flag-raising, open a flag for Oscar Thomasson and hike back down to the beach for the service.
Andrew found the general area on the beach where his grandfather struggled ashore in 1945. He had a final moment with the man he loved so much, and wept as the Navy hymn was sung. Then he walked out into the water to spread the ashes as waves crashed around him.
"I got hit by some pretty heavy waves but I wouldn't leave until the ashes were in the water," he said.
It was emotional for all in attendance.
"It was an honor for me to be there," Misawa Command Master Chief Scott Knorowski said. "To see a grandson come back here with his grandfather — it's incredible."
Oscar Thomasson returned from World War II a changed man, Andrew said. He raised a family near Wichita, Kan., and did the best he could to return to normalcy.
But he was wracked by nightmares of Iwo Jima and Okinawa and was a little rough around the edges, even with his family. Then relatives noticed a change when he saw his first grandson, Andrew, born.
"He still had that sailor black humor to him," Andrew recalled in his thick Midwestern accent. "He was a very religious man. He was a good man with good morals."
The pair developed a special bond, even after his "granddaddy" retired to a farm in Hatfield, Ark., Andrew would make the trip from suburban Wichita to help him tend to his garden. The pair would go hiking, and Oscar taught his grandson to fish.
Growing up, Andrew was a "troublemaker," but after seeing pictures of his grandfather in his Cracker Jack suit, he always knew he would join.
"That made me want to be like that, to be like him," said Andrew, who enlisted in 1997, a year after high school.
Oscar Thomasson never discussed his service after the war because it was too painful, Andrew said. But in 2003, Andrew, by then a sailor himself, asked him to talk. They went out on the back porch for some privacy.
"It was like a junkyard full of broken boats and broken men," Oscar told his grandson of Iwo Jima. Oscar recalled how the landing craft he was operating was destroyed and he was forced to swim for it. He spent several days on the Iwo Jima beach, aiding beachmasters ashore and loading the wounded.
"It broke his heart," Andrew said.
As Oscar spoke, Andrew got the sense that he was full of regret over seeing so many Marines cut down in battle, maybe even a little survivor's guilt.
"I told him I was proud of him, and that he was smart about it or I wouldn't be here today," Andrew recalled. Relief washed across the old man's face.
Andrew would see his grandfather one last time in 2005. Oscar was still clean-cut but his mind was ravaged by Alzheimer's. He didn't remember Andrew.
Oscar spent his final years in a nursing home, battling Alzheimer's and the diabetes that claimed one of his legs. Andrew had the chance to go see him one more time before he died but made the tough decision to honor his grandfather by staying aboard the USS Kitty Hawk and fulfilling his mission on the flight deck instead.
But Oscar was never far from Andrew's thoughts. He had a shipmate snap a picture of him with Mount Suribachi in the background as they passed Iwo Jima on the Kitty Hawk. He sent it home.
Shortly before Oscar died, Andrew's father showed him the photo. The Alzheimer's seemed to melt away.
"Why is Andy on Iwo Jima?" the old sailor asked. "I thought the war was over."
---
---
---
---