Old-school 'Ouija Board' being phased out on Navy carriers
by
Geoff Ziezulewicz
August 10, 2011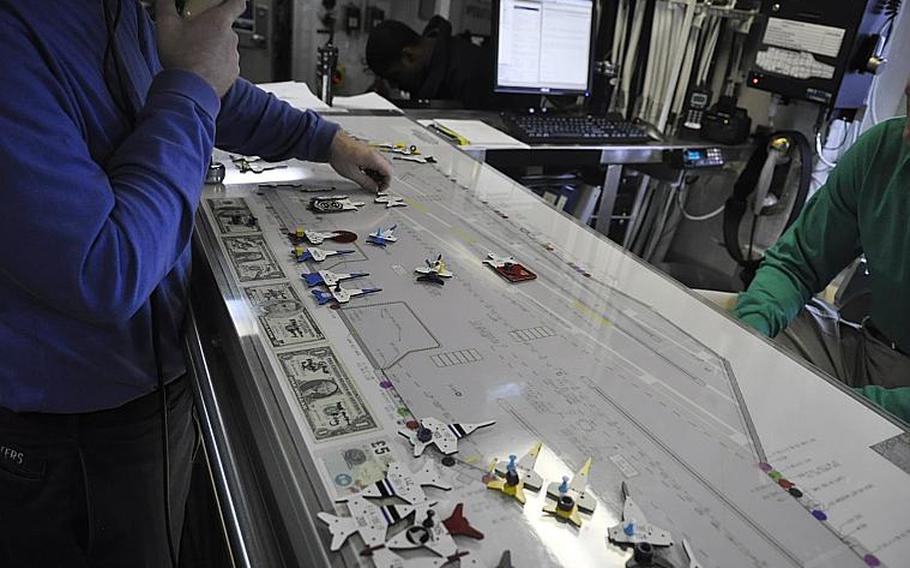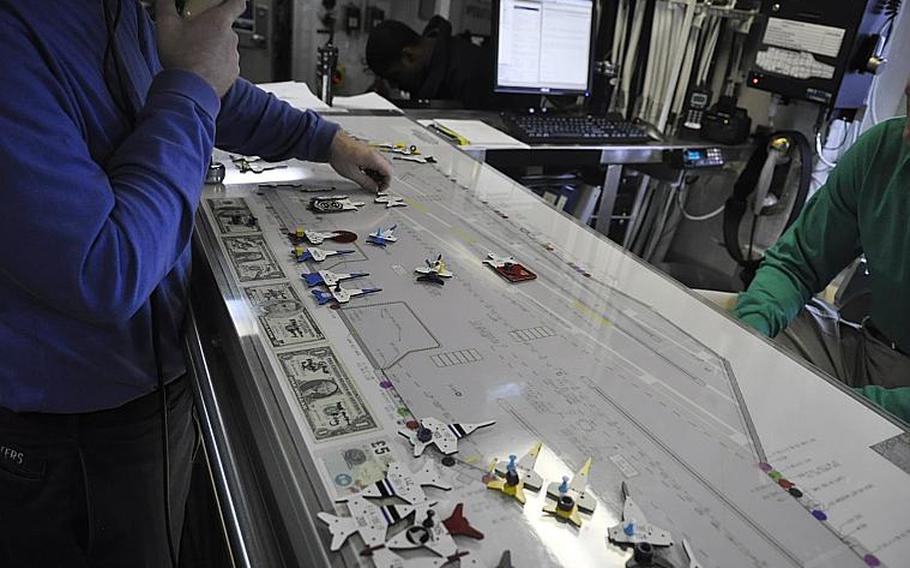 NAPLES, Italy – One of the most low-tech pieces of equipment on one of the Navy's most high-tech ships is being replaced.
The "Ouija Board," which has tracked aircraft movement on aircraft carriers since World War II, is being phased out of the sea service in the name of technological development.
It is the simplest of systems aboard nuclear reactor-powered ships. In a room next to the flight deck, with a window overlooking part of it, a handler officer watches over a tabletop model of the carrier. The officer's assorted crew move models of jets, helicopters and other assets around the model deck to match the movements of the real-life counterparts lumbering just outside.
Updates are documented by sailors on the deck and delivered to the Ouija board's operators. Small bolts are placed upright or on their sides to signify whether an aircraft has received fuel.
The Ouija board's computerized replacement is currently only onboard the USS Dwight D. Eisenhower, where its performance will be evaluated this summer. Plans are to install the new system on all carriers by 2015, according to Marcia Hart-Wise, a spokeswoman with Naval Air Systems Command.
The upgrade will require a handler to track flight deck activity via computer, working with a tri-screen display and a monitor that will be fed data directly from the flight deck, said Bruce Chiodi, who is leading the program for NAVAIR.
Not all handlers are happy about replacing the Ouija board.
Lt. Cmdr. Ronald Rancourt, the aircraft handling officer for the USS George H.W. Bush, ran the tabletop Ouija board movement for the carrier's deployment this year. Earlier this summer, Rancourt said he was skeptical of replacing the existing system.
"I am not a fan of fixing things that are not broke," he said in an email. "I am old school, I guess."
Chiodi said the new system "wasn't designed in a vacuum" and that handlers were involved in this Ouija board replacement.
"That doesn't mean 100 percent of the handlers, the old-school guys, are on board," he said. "But what we're finding is, as soon as they see it, they get it."
The Ouija board replacement is part of the Aviation Data Management and Control System, a suite of electronic upgrades for carriers designed to take advantage of the latest technologies and cut down on excess paperwork and manpower, he said. It costs $3.2 million per carrier to install the new system.
The Ouija board replacement was originally slated to be installed on the USS Abraham Lincoln a few years ago, but was delayed due to software issues and the carrier's deployment schedule, NAVAIR officials said.
Future upgrades will involve electromagnetic launch systems that will be installed on the USS Gerald R. Ford carrier, the first of its class, which is expected to be commissioned in 2015.
Twitter: @Stripes_GeoffZ