Navy relieves commander of new ship
by
Matthew M. Burke
March 14, 2012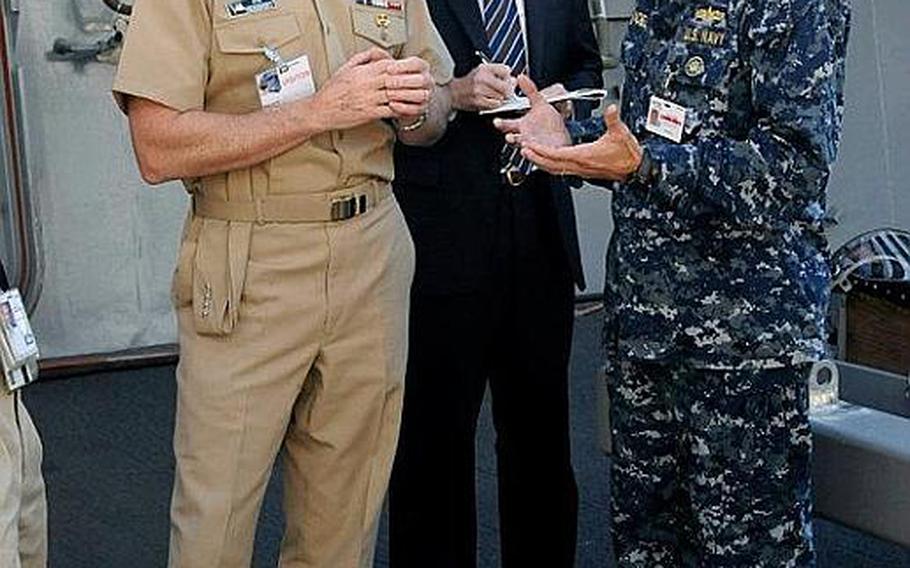 SASEBO NAVAL BASE, Japan — The commanding officer of a new amphibious transport dock was fired Monday before the ship could be commissioned while allegations of "personal misconduct" are investigated, Navy officials said.
Cmdr. Jon Haydel had been the commanding officer aboard the Pre-Commissioning Unit San Diego, which will become the USS San Diego after it is commissioned in May. He was relieved by Rear Adm. Gerard Hueber, commander of Expeditionary Strike Group 3, one day before the ship was to leave a Mississippi shipyard for its new homeport in San Diego, according to a Navy news release and local media reports.
The Navy did not disclose the reasons for his termination.
Haydel becomes the fifth commanding officer fired this year; four of the firings involved allegations of improper conduct. Last year, 23 commanding officers were relieved, nearly reaching the recent high-water mark of 26 in 2003.
Haydel was reassigned to Commander, Naval Surface Force, U.S. Pacific Fleet headquarters pending an investigation, the release said. He was temporarily replaced by the previous commanding officer of the USS Green Bay, Cmdr. Kevin Myers, who took command for the voyage to San Diego.
Haydel's firing will not affect the timeline for the ship's journey home, the release said.
On Wednesday afternoon, Haydel's biography had already been removed from the ship's website, yet his presence on the ship's Facebook page was still very much evident. He often engaged the crew and family members, exhibiting a sense of humor, and posts from sailors who had served with him on the USS Denver lauded his abilities as a commanding officer.