Navy makes changes to Physical Readiness Program
---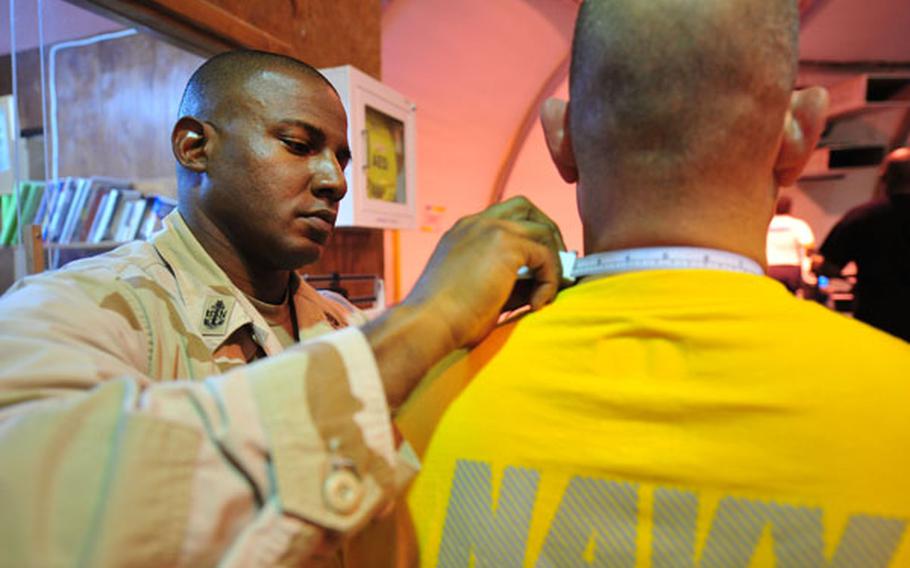 The Navy physical got a little tougher this week.
Newly issued guidelines say sailors who cannot meet body fat standards will automatically be failed, will not be allowed to take the rest of the physical fitness test and will not be granted a "bad day" pass. Sailors can be given a medical waiver for the test, but too many waivers will mean standing before a medical review board, according to the Navy bulletin released Monday.
The Navy tests sailors twice each year on their fitness using sit-ups, push-ups, running and body composition. The changes this week are the first major revisions to the service's Physical Readiness Program since 2005, the Navy said in a release.
"Failing the [body composition assessment] portion of the [physical fitness assessment] is an overall PFA failure," the release said. "Members who fail the BCA or are medically waived from the BCA, shall not participate in the physical readiness test."
Body composition is based on measurements taken of sailors' waists and limbs and is meant to show the amount of excess weight and level of fitness. The tests have always caused anxiety and have inspired some servicemembers to take extreme measures to lose body fat in advance of military physicals.
The Navy warned against that this week - the new guidelines specifically prohibit any attempts to temporarily alter body fat measurements via "body wraps, extreme starvation diets, and sauna suits," according to the Navy bulletin.
Sailors will be required to meet the body composition guidelines and will be rated on a new five-tier scale of outstanding, excellent, good, satisfactory or failure, the Navy said.
Commanders can grant a chance to retake the test for those who fail the physical training requirements such as running and pushups.
Over-weight sailors cannot be granted a chance to retake the test, according to the new rules.
Medical waivers can be granted and will exclude a sailor from the physical requirements but anyone getting two consecutive waivers or three in a four-year period will be referred to a medical review board, which will forward its findings to Navy Personnel Command to review the findings.
---
---
---
---