Navy looks to gamers for ideas to end oil dependence
---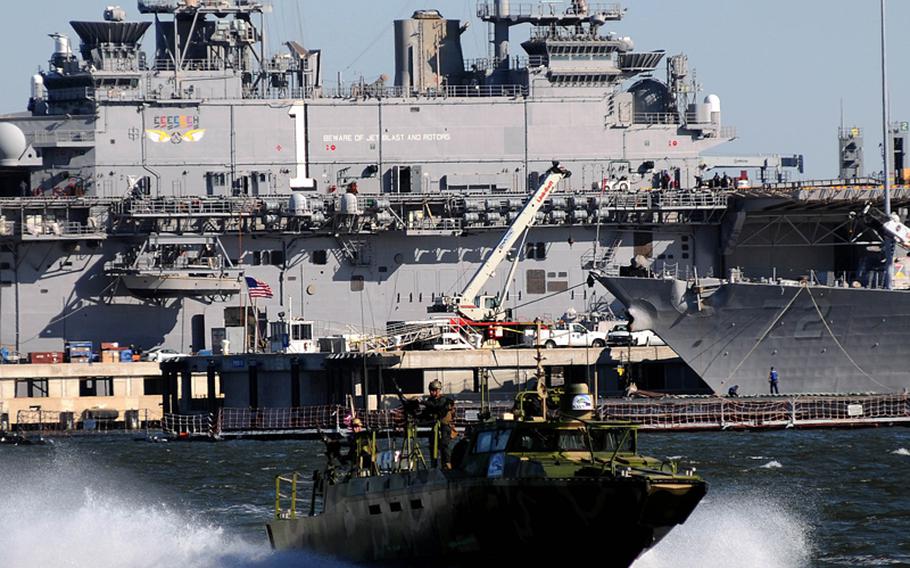 YOKOSUKA NAVAL BASE, Japan — The Navy is hoping that online game playing will yield new ideas as the service seeks to reduce its exposure to the uncertainties of the global oil market.
The Energy MMOWGLI — short for Massive Multiplayer Online Wargame Leveraging the Internet — calls on players to respond to a range of future scenarios where the Navy's ability to respond to disasters and security threats is blunted by fuel shortage.
The competition, which runs this week and is open to the public, comes out just as the Navy's long-term plan for using alternative fuels has been threatened by lawmakers who have criticized its costs.
Earlier this month, House Republicans passed a measure that would bar the Navy from purchasing fuels that cost more than conventional fuels. The biofuels currently being purchased by the Navy for its jets, ships and vehicles cost four to five times the price of fossil fuels.
Within the game, players are open to consider biofuels and any other options that take both consumption and efficiency into account. Players watch videos briefing them on the scenario and then propose ideas in 140 typed characters that advance a small-scale strategy.
Players can scan what ideas others are using and expand upon those ideas, or tell other players to reverse course. In the ideal situation, points are awarded and a large-scale strategy is born.
Officials from the Navy's Energy and Environmental Readiness Division and the Office of Naval Research said they hope the game will introduce them to people outside of their agencies with different ideas.
"We're hoping for an extremely diverse group of players, including talented, thoughtful players from academia, industry, military, government, NGOs and global citizens," said Cmdr. Jim Goudreau, of the Navy's energy division, in a statement posted on the game's website.
Anytime that fuel prices increase, it affects the Navy's ability to train and perform its missions, Goudreau added.
The Navy spends an additional $30 million every time the price of a barrel of oil increases by $1, Secretary of the Navy Ray Mabus said during congressional testimony in March.
Mabus has staunchly advocated using more biofuels, especially after President Barack Obama announced that the departments of Defense and Agriculture would spend $510 million over three years on domestic biofuels.
Mabus declared that the Navy would attempt to derive 50 percent of its fuel from alternative sources by 2020. However, that goal has been derided by congressional critics who say the Navy's shouldn't be spending so much in a time of advancing budget deficits.
Mabus argued at a congressional hearing in March that the Navy's purchases would develop the biofuels market and push down prices.
"Even purchases of small amounts for our research efforts has shown dramatic results in lowering the cost of biofuels, which cost half as much today as they did just two years ago," Mabus said at the hearing.
The game can be accessed online.
---
---
---
---