Wounded Marine inspires Iwakuni troops to give back
by
Matthew M. Burke
June 8, 2011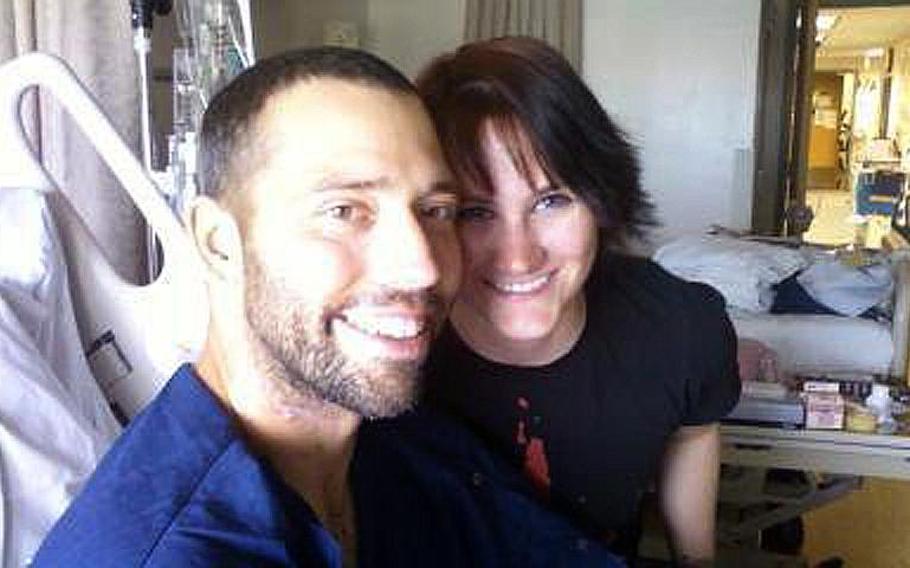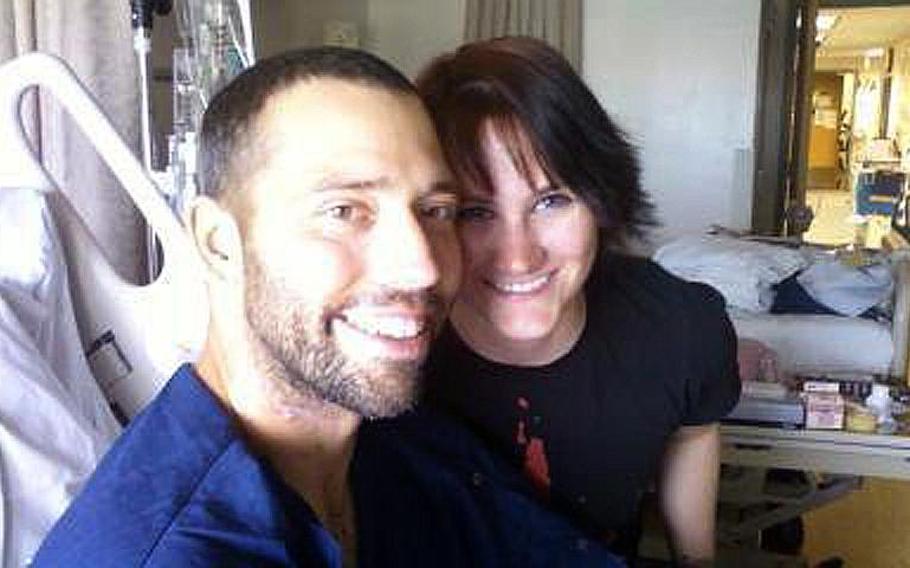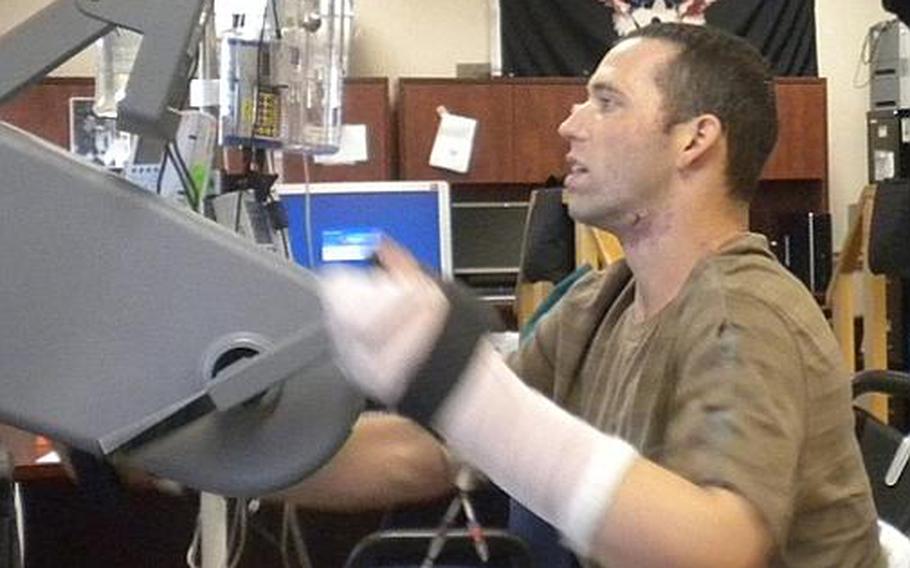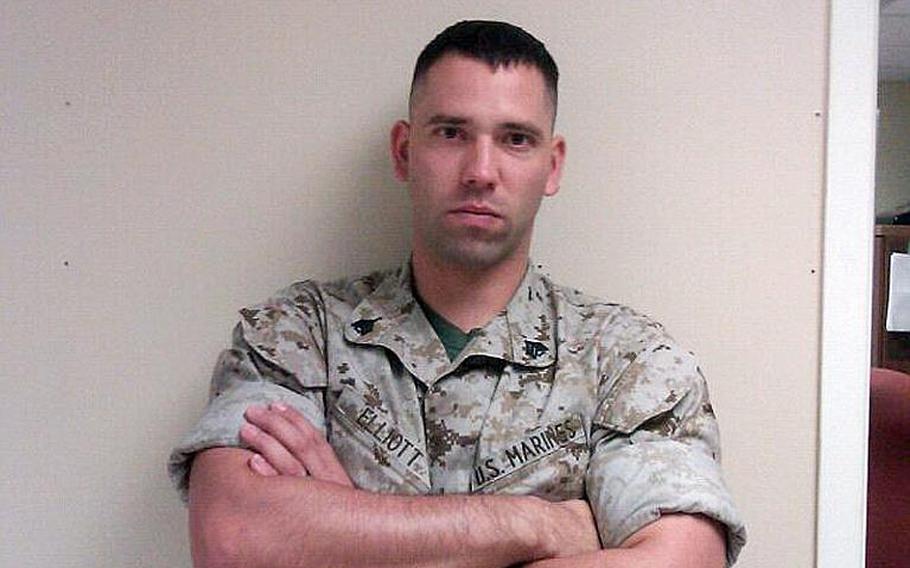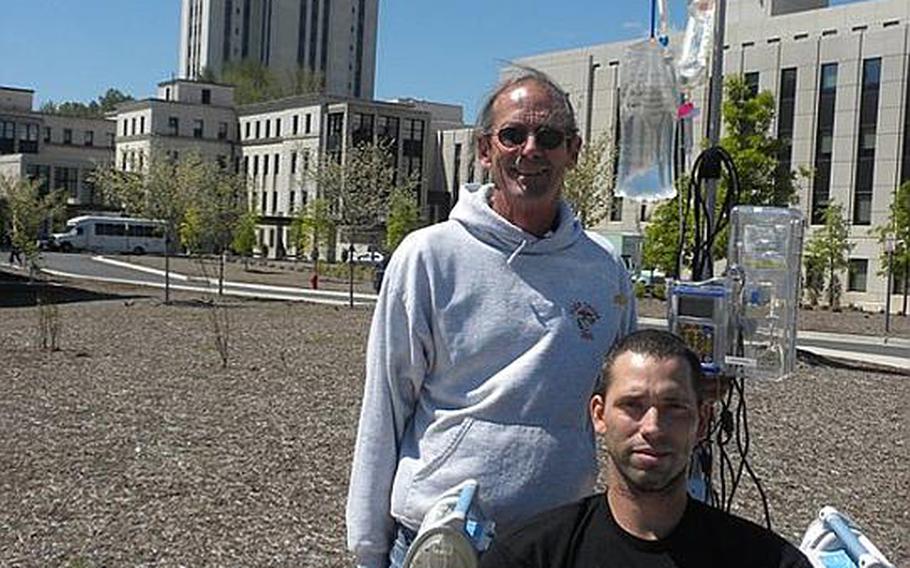 SASEBO NAVAL BASE, Japan — When doctors called Samantha Elliott from Afghanistan in April to tell her that her husband had been seriously wounded by an improvised explosive device, she feared the worst.
The former Navy Seabee said she had tried to prepare herself for such an event, but in that moment, her mind raced.
Her love for her husband and "best friend," Marine Sgt. Joshua Elliott, was such that she could deal with a disfigurement. But as she spoke with the doctors, she was scared to death about losing Josh's beautiful mind.
Would he be in a medically induced coma? Would he be stable enough to fly out of the country for care in Germany? Would the active, outgoing, take-charge kind of man she fell in love with still be there behind that ever-present toothy smile?
The answers came when doctors told her that her husband was awake, was "really funny" and that they liked him a lot. All this despite losing both of his legs and half of his left hand in the attack in southern Afghanistan's dangerous Helmand province.
That was her Josh.
"I heard that and said, 'There is nothing wrong with his head at least. Josh is still all there,'" she said Tuesday from Naval Medical Center San Diego, where her husband is undergoing rehabilitation. "He's one of those guys; he kind of comes into your life and changes it in one way or another."
Joshua Elliott did just that at Marine Corps Air Station Iwakuni in Japan, where he completed a three-year tour last summer — his second stint at the base. Both friends and those who have never met the 29-year-old say his presence is still felt there today.
In fact, some of his friends from the base traveled to visit him while training in the States shortly after he was wounded.
On Friday, eight servicemembers from Iwakuni will play golf from sun up to sun down to raise money to benefit Elliott and the Wounded Warrior Project, according to Navy Cmdr. Keith Applegate, who organized the event.
"It's a horrible situation," said Elliott's snowboarding partner and golfer Sgt. Travis Eno. "Nobody can put themselves in his shoes, but we can put our bodies through some pain to help him and some of the other wounded warriors."
The day Elliott "got hit" — April 18 — started out like any other during his three months in Afghanistan, Elliott said by phone last week. Armed with a metal detector, he led Company E, 2nd Battalion, 8th Marines into the Sangin district, a place dubbed by the media as "the most dangerous place on earth" and the heart of the Taliban insurgency.
He said the area was a place they "didn't really have eyes on."
The mission was to talk with some of the local residents and gather intelligence. Elliott placed cards on the ground so troops walking single file behind him would know where it was safe to tread.
With that mission accomplished, Elliott went into a building that needed to be cleared so an overhead watch position could be established. He made his way through the building, up the dirt stairs to the roof. He got the three gunners behind him in position and was on his way down toward the exit when it happened.
"As I was coming back, I must have stepped on it just right," he said. "I felt myself actually flying."
Elliott was flung into the air and fell through the hole the IED had made in the roof. He called out for help but doesn't know if he was able to make a sound. A medic came to his aid and tried to stop the bleeding, placing tourniquets on his legs and arm.
"I just knew I was in God's hands," Elliott said. "It was life or death. It was in God's hands."
After weeks of countless treatments, tests, X-rays, surgeries and skin grafts, Elliott is already working out and looking forward to getting prosthetics so that he can return to work in the Corps.
Elliott's father, Dennis, said that doctors at Naval Medical Center San Diego refuse to give timetables on his son's release, but they do set goals — from taking pain medication orally to maneuvering in and out of his chair to gain independence. And so far, his son has accomplished almost all of them. He expects his son to be an outpatient in about a week's time.
"There is no reason to dwell on the past," Joshua Elliott said. "What you've lost, you've lost. With the doctors and nurses and the technology they have today, you're going to be put in a position where you will be able to do things better than you did before. There is no reason not to be happy. Don't look back, look ahead."
Eno said the popular and often goofy Elliott was always there for him and other Marines if they had a problem, and now it is their turn to return the favor.
"I don't know Sgt. Elliott, but I know people that do," Applegate said. "They have nothing but wonderful things to say about him. 'This guy's an indomitable spirit. He works very hard. He's an inspiration.' At first, it was a fun way to raise money, but as I learned more about him and his spirit and how people here felt about him, I got more drive and determination to raise more money [to aid in his recovery]."
To donate to the Wounded Warrior Golfathon, contact Applegate at keith.applegate@usmc.mil.