New Army guidelines making it tougher for NCOs to re-enlist
---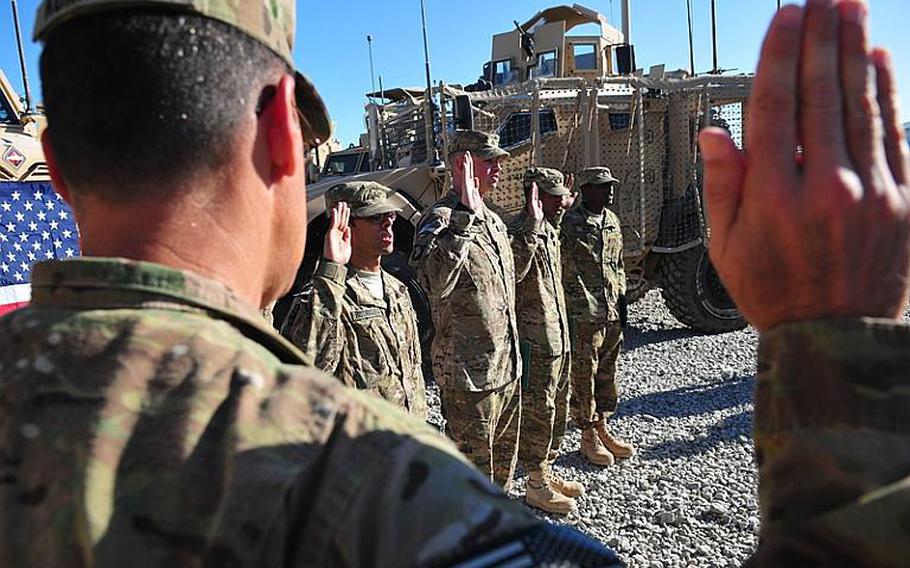 SEOUL — It just got a lot harder to stay in the Army.
Under new guidelines that went into effect Thursday, E-6s and above might not be given the option to re-enlist if they have certain negative marks on their service records. And some of those who do have the option of re-upping, could have to retrain to other jobs to do so.
As a result of the new rules, three in 10 soldiers in South Korea, for example, probably won't get the chance to re-enlist, Army officials there said.
"Tough decisions are ahead," according to a Feb. 2 memo issued by Sgt. Maj. of the Army Raymond F. Chandler III, Army Chief of Staff Gen. Raymond T. Odierno and Secretary of the Army John M. McHugh. "Some fully qualified soldiers will be denied re-enlistment. Commanders must carefully assess their soldiers and ensure only (the) best are retained to meet the needs of (the) Army."
"As we begin this deliberate process, it is imperative we retain those soldiers with the greatest potential for future service — ones truly deserving to remain a part of our Army team," the memo said.
The Army appears to be treating its planned troop reductions as an opportunity to make itself a more lean, mean fighting machine.
Last month, as part of the Pentagon's announced plans to cut spending by close to $500 billion over the next decade, the Army said it would cut 10,000 soldiers in fiscal 2013 and a total of 72,000 over the next five years. The new guidelines facing noncommissioned officers are part of that effort.
According to a separate directive issued by McHugh's office, there will be enhanced retention requirements for staff sergeants and above who have not executed an indefinite re-enlistment contract.
They will not be eligible to re-enlist if they have in their file any of the following items: a relief-for-cause noncommissioned officer evaluation report; a "no" listed in Part IV or a senior rating of 4 or 5 in Part V of an NCOER; or a Service School Academic Evaluation Report indicating a failure in an NCO Education System course.
The directive also added to the mandatory reasons for barring a soldier's re-enlistment:
- Loss of primary military occupational specialty due to fault of the soldier.
- Not being recommended for re-enlistment by unit commander.
- A drug or alcohol incident.
- Two or more field-grade Article 15s.
- Was away without leave more than 96 hours during current enlistment or the re-enlistment period.
Staff Sgt. Nathaniel Goza — a 10-year veteran who is planning to re-enlist — said he supports the new guidelines.
"Personally, I think raising the bar … is a good thing because what it does is keep the best and the brightest in our force, and I think that's what we need," he said. "I think cutting away the fat is a good term to use."
In South Korea, that means some serious trimming.
Eighth Army brigade commanders will be given an objective of retaining an average of 68 percent of those eligible for re-enlistment, according to Sgt. Maj. Kelvin Raibon, a South Korea-based 8th Army command career counselor.
"The goal has never been to re-enlist a substandard soldier," he said.
The new guidelines, he said, will ensure that only the most qualified across a broad spectrum of qualities will be allowed to extend their Army service.
"Re-enlistment has always been a privilege, not a right," he said.
But having a stellar record doesn't mean an automatic re-enlistment under the new guidelines. Some soldiers will be required to move from "over-strength" career fields to "under-strength" military occupations skills specialties.
Raibon said the Army will continue to try to accommodate soldiers' wishes in changing their MOS, but all will be counseled to understand they may be directed into an MOS they don't necessarily want.
Spc. Theodosis Efthimiadis, a South Korea-based information technology specialist, said he was not happy to hear that he would be forced to change his MOS when he re-enlists because his current job is over-strength.
"I think I'm very good at my job right now, so I'm disappointed," said Efthimiadis, who will be moving into satellite communications. "But, also, I see a lot of potential in this new sector and, of course, it's going to give me more tools for the future.
"It's not bad, really," he said. "Of course, the military is a different lifestyle. But … if you do your homework, you can prepare for the unexpected."
Master Sgt. Shelia Obleton, the 8th Army's senior retention operations NCO, said despite all the changes in the re-enlistment process, "I don't think we're going to have an influx of soldiers knocking our (career counselors') doors down," because the Army has done a thorough job of getting out information about the revisions and everyone coming up on potential re-enlistment is required to talk with a specialist about their options.
There is one other change that took effect on Thursday. Under the new rules, brigade-level commanders have the authority to decide which soldiers will be allowed to re-enlist. Until now, only the Human Resources Command could make such decisions.
"We will fundamentally change the active-component retention program. This will provide our brigade-level commanders the flexibility and agility needed to retain those who best meet the needs of our Army," reads the Chandler-Odierno-McHugh memo.
However, waivers to the new re-enlistment requirements will still be considered on a case-by-case basis by the Human Resources Command.
---
---
---
---