Work on getting homeless veterans into permanent housing has halted, advocates say
---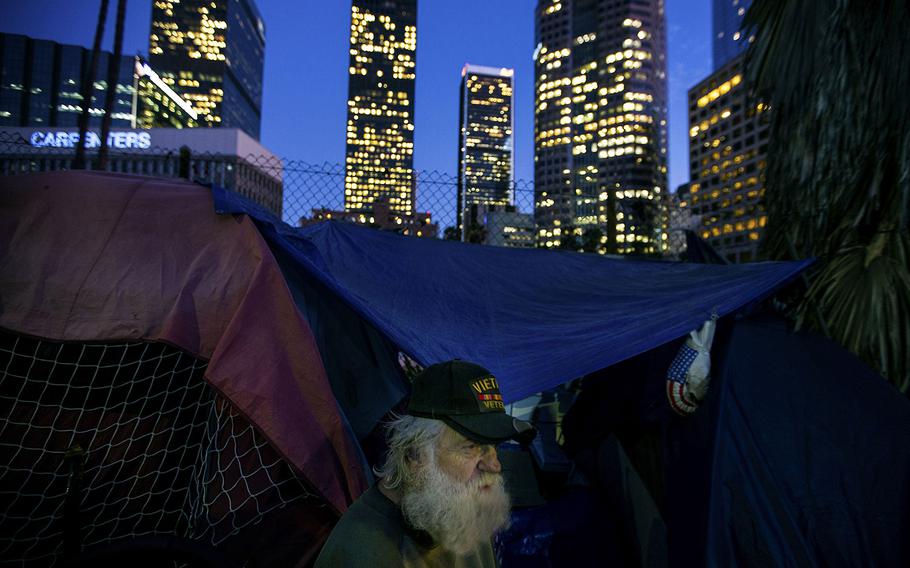 Stars and Stripes is making stories on the coronavirus pandemic available free of charge. See other free reports here. Sign up for our daily coronavirus newsletter here. Please support our journalism with a subscription.
WASHINGTON — As offices close and much of the country shifted to remote work this month, progress in getting homeless veterans into permanent housing stopped at a time they need the help most, advocates say.
Veterans who received housing vouchers from the government but had not yet rented homes before the coronavirus pandemic are now unable to find housing, said Kathryn Monet, chief executive officer of the National Coalition for Homeless Veterans. Meanwhile, the homeless population is at increased risk of contracting the coronavirus, and the economic fallout is expected to push more Americans into homelessness.
The National Coalition for Homeless Veterans is urging Congress to approve $200 million in emergency funding to house homeless veterans temporarily in hotel rooms and secure coronavirus tests for those who get sick.
"If homeless veterans are left behind in any congressional response to this pandemic, the consequences will be deadly," Monet said. "Congress must distribute additional resources to [the Department of Veterans Affairs and the Department of Labor] so that organizations serving this population can continue to do so, safely and effectively."
'Huge spike' expected in homeless vetsThe HVAF of Indiana, which stands for "helping veterans and families," houses homeless veterans in Indianapolis. The organization has been unable to get veterans with housing vouchers into permanent homes since the pandemic hit the U.S., said Emmy Hildebrand, HVAF's vice president of public policy.
"It seems like those move-ins will be on hold until all of this is over," Hildebrand said.
Employees at the local housing authority are working from home and are unable to complete the inspections that are required before veterans can move into their rental units. Landlords also are closing their offices.
Some of the veterans waiting to use their vouchers are currently residing in shelters or transitional housing programs, on the street or in their cars. Without the usual flow of veterans moving into permanent housing, shelters and transitional programs are expected to reach capacity. At HVAF, their beds are already full.
"Anyone who has a voucher is basically homeless until the coronavirus subsides in their community," Monet said. "Without permanent housing, we're going to see a huge spike in veterans who don't have access to a shelter or transitional housing beds."
To help with the problem, local groups like HVAF are getting veterans and their families into hotel and motel rooms, which is permitted in emergency situations. On Monday alone, Hildebrand received requests from three veterans who wanted to get themselves and their families into motels. The problem: There's limited funding to do it.
"We're hoping to find additional resources to be able to meet that need," she said. "Without permanent housing options available, we have nowhere to put people."
The National Coalition for Homeless Veterans sent a list of requests to House and Senate appropriators, including millions of dollars to help get veterans and their families into hotels. They based their requests on the expected need for the next two months.
'Likely to wreak havoc'Getting veterans into hotels and motels will help with the need for social distancing, particularly for those older than 60 or with underlying health conditions, Monet argued. The population of homeless veterans is aging, lacks reliable access to running water and hygiene products and has few safe spaces to isolate or self-quarantine, she said.
Experts at the University of Pennsylvania, the University of California Los Angeles and Boston University published research March 20 that estimated more than 21,000 homeless Americans, about 4.3% of the country's total homeless population, would require hospitalization because of the coronavirus, and more than 3,400 would die. The coronavirus has created a "severe and emergent health care crisis" for the homeless population that is "likely to wreak havoc" on this already vulnerable group, the report says.
The experts estimated the country would need an additional 400,000 shelter beds to house all homeless Americans and to provide for social distancing to help prevent the spread of the virus. They called on local, state and federal governments to work together immediately to shelter the homeless, to provide space for social distancing and to isolate the sick.
"There are obvious and immediate steps that we can take to mitigate this situation," they wrote. "… The urgency is clear, as is the moral imperative to act."
The effects are likely to be felt most on the West Coast, particularly in California, the research shows. Los Angeles County is expected to be hit the hardest.
Though the research isn't veteran-specific, Monet said it provided some insight into the extent of the problems that homeless veterans might face.
The funding request from the National Coalition for Homeless Veterans includes money for coronavirus tests for homeless veterans. The group also is seeking funding for the government to train outreach staff to administer the tests, to provide protective gear for those staff members, to supply shelters with disinfectant and sanitation products and to increase surveillance of the homeless veteran population to identify and track cases of the virus.
"Those who had been exposed are unable to follow the recommendations of the [Centers for Disease Control and Prevention] and stay 'at home,' " Monet wrote in her letter to lawmakers. "Instead, these individuals are surviving unsheltered, in congregate shelters or group homes where transmission to others is increasingly likely."
Not enough resourcesThe National Coalition for Homeless Veterans also is requesting $15 million for the Department of Labor to direct toward homelessness prevention. The funds would help veterans who lost their jobs because of the pandemic to stay financially afloat.
Monet said she was expecting a wave of veterans seeking assistance, but the numbers were difficult to estimate. Hildebrand expects the immediate need will be slowed by the White House policy to stop housing foreclosures and evictions for 60 days.
"We are all aware of people getting laid off left and right," Monet said. "There's only a couple of weeks before the rent will be due. As people start to exhaust their savings and other options, we're all on high alert and trying to make sure there are resources available to serve the people we anticipate will be coming in."
The HVAF of Indiana already is having trouble keeping its food pantry stocked after seeing higher demand since the beginning of the coronavirus pandemic in the U.S., Hildebrand said. The pantry is open twice each week. Last week, 90 veterans and their families came to the pantry to look for food.
Donations have dried up, and stores remain out of stock of many food items as shoppers take to panic buying, Hildebrand said.
"The crisis is hard on the entire country, but for veterans and everyone experiencing homelessness, it's particularly hard," she said. "They don't have a lot of resources."
Congress is working this week on multiple funding packages to stimulate the economy and to boost response efforts to the coronavirus pandemic. Monet was working Tuesday to get her organization's requests into one of the bills.
wentling.nikki@stripes.com Twitter: @nikkiwentling
---
---
---
---