Veterans to come together at 'March For Our Lives' events across the country
by
Nikki Wentling
March 23, 2018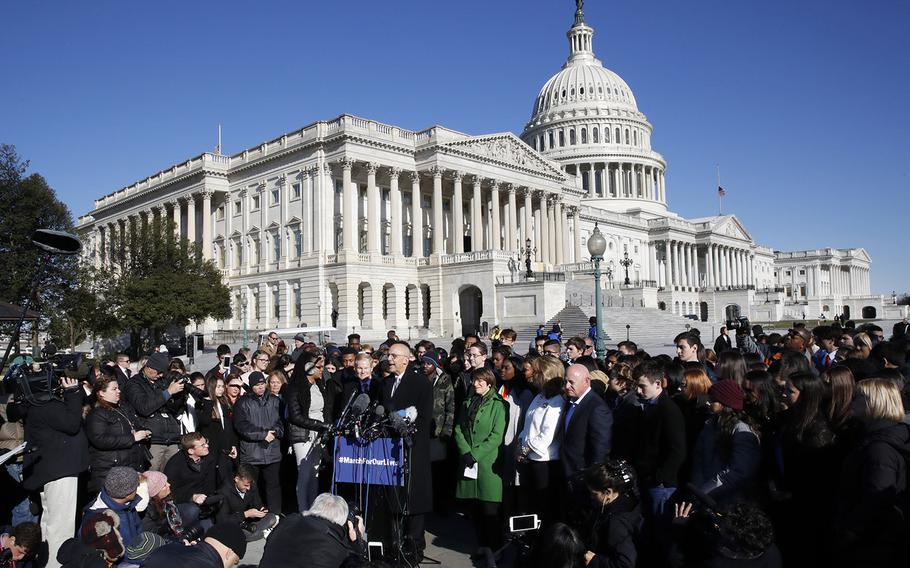 WASHINGTON – The mass shooting at a Florida high school last month and subsequent social media postings that made assumptions about veterans and guns inspired former Army Sgt. Kate Logan to speak out.
Logan said her social media pages were lined with memes and other posts stating veterans were against gun-control measures and supported ideas to arm teachers or have veterans guard schools themselves.
But that wasn't how Logan felt. The thought of veterans standing guard at U.S. schools took her back to Iraq, where she protected young Iraqi students as they walked to school in a war zone.
Logan, 35, has previously voiced her opinions about the need for gun reform, not as a veteran, but from her perspective as a mother of four young children. In the past few weeks, that's changed.
"I didn't want words being put in my mouth," she said. "I can't speak for the entire veteran population, but I can speak for myself as a combat veteran."
Logan is one of potentially hundreds of veterans who plan to participate Saturday in March for Our Lives, an anti-gun-violence rally primarily organized by students. More than 500,000 people are expected to attend the main event in Washington, D.C., including a group of veterans. Organizers didn't have a good estimate Friday of how many veterans would participate
Logan is organizing the veteran contingent of the sister march in Detroit. Groups of veterans have arranged to gather at several of the hundreds of other sister marches nationwide, from Montana to Florida, New York and Texas.
The event's official mission statement claims the purpose of the rallies is to demand Congress act on a "comprehensive and effective bill" to address gun reform in the wake of the 17 people killed at Marjory Stoneman Douglas High School in Parkland, Fla.
In Helena, Mont., former Staff Sgt. Josh Manning, 43, was finalizing plans Friday to organize a group of veterans for the protest there. The rally was intended to be held at the Montana State Capitol, but counter protesters arranged a pro-gun-rights event first. The "March for Our Guns" will be held at the capitol and "March For Our Lives" at a nearby park.
Manning attended the local women's march in Helena last year, which attracted approximately 10,000 people and was one of the largest political gatherings in Montana's history. The experience was powerful for Manning, and he's expecting that feeling again Saturday.
"I think it will be massive," he said. "Activism and advocacy in the state have really turned up lately."
Manning, a former Army intelligence analyst, joined the call for gun reform in 2012, after the shooting at Sandy Hook Elementary School in Newtown, Conn.
"I saw that weapons we used in combat situations were being used in movie theaters, bars," he said. "As someone who got away from combat and was trying to recover from everything I had been through, to see those weapons again in places I go to relax and recover is just frightening."
Manning said he has gathered a group of veterans in Helena who are supportive of gun reform. In Houston, former Air Force Maj. Heather DeShone is experiencing more resistance.
DeShone, 41, contends a vocal minority of pro-guns veterans in Houston have prevented others from speaking out.
"We're a small community. It's almost as if folks are afraid to speak up," she said. "As you can imagine, guns in Texas are a very controversial topic – one people are very passionate about."
Even with a shortage of vocal support, DeShone is planning a gathering of veterans at the Houston rally. Participants plan to meet at a downtown park and march to the Houston office of Sen. Ted Cruz, R-Texas.
Like many other people across the country, DeShone was inspired by the students of Stoneman Douglas High School, who immediately after the shooting began urging Congress for gun-control measures. DeShone, who served as a social worker in the military, has used current events to talk about policy and activism with her master's degree students at the Baylor University School of Social Work.
"It really has created a dialogue that we need," she said. "If these 13- to 16-year-olds can put themselves on the line, give up their time and fight for this, why am I not?"
DeShone said she isn't convinced that as a veteran her voice should count more. But people tend to give it more credence, she said.
Logan agrees. And because people take into account veterans' perspectives on gun control, more of them should speak out, Logan insisted.
"There's a need for our armed forces and law enforcement to get involved in this conversation," she said. "A lot of rhetoric is coming out that I think an overwhelming number of Iraq and Afghanistan veterans and law enforcement would disagree with."
As momentous as Logan thinks Saturday's marches will be, she said it's really just a starting point for veterans assembling for political change.
"It's coming out of the woodwork," she said. "We've gotten to the point where we have to take action now and need all the voices we can get. This is about fighting for our communities and what's right."
Wentling.nikki@stripes.com Twitter: @nikkiwentling