Veterans group accuses VA of using coronavirus patients as 'testing subjects'
by
Nikki Wentling
April 23, 2020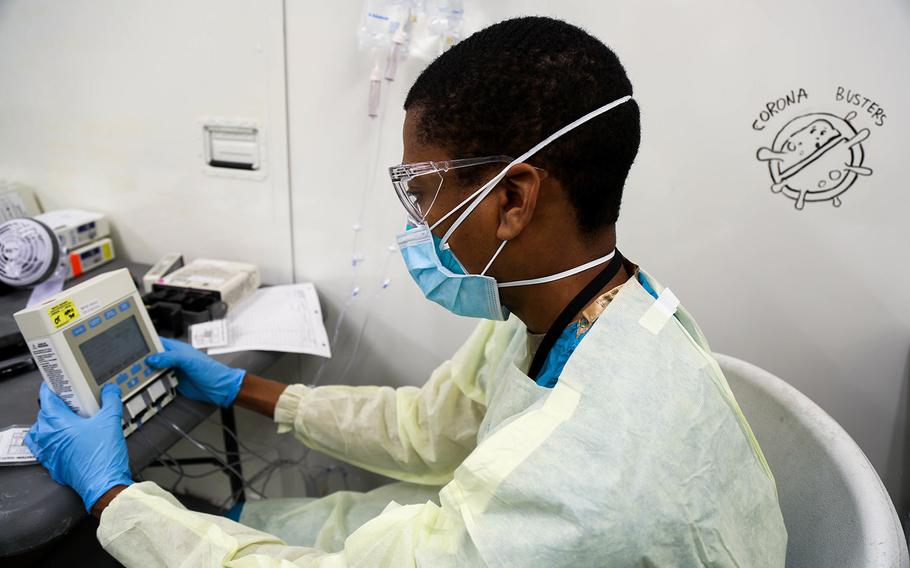 Stars and Stripes is making stories on the coronavirus pandemic available free of charge. See other free reports here. Sign up for our daily coronavirus newsletter here. Please support our journalism with a subscription.
WASHINGTON — A national veterans group has accused the Department of Veterans Affairs of using patients as "human testing subjects" for an anti-malaria medication that some believe could be useful against the coronavirus.
The VA is giving hydroxychloroquine to some patients as a "last resort," the department said Thursday, even though it's unproven to work.
Iraq and Afghanistan Veterans of America took issue with the department doling out an unproven treatment for the coronavirus after a study was published this week that determined the drug had no benefit for VA patients.
"This is incredibly troubling for a number of reasons and raises so many questions that we need answered," said Jeremy Butler, CEO of IAVA.
There is no proven treatment for the coronavirus, which has killed more than 45,000 Americans and infected nearly 845,000, according to Johns Hopkins University. Hydroxychloroquine, which is used to treat rheumatoid arthritis and lupus, entered the public spotlight after optimistic claims by President Donald Trump that it could be a "game changer" against the virus.
Late last month, the Food and Drug Administration granted emergency approval for doctors to use hydroxychloroquine to treat hospitalized coronavirus patients in certain instances. The potential benefits of using the drug must outweigh the risks, and there must be no adequate, approved or available alternative, the FDA guidance says.
The VA placed emergency orders in late March and early April for $208,000 worth of the drug. VA Press Secretary Christina Noel said Thursday it's being used to treat coronavirus patients only when veterans and their doctors determine it's medically necessary.
A group of researchers studied the VA's use of hydrochloroquine on coronavirus patients. In their analysis, posted online this week, they found no benefits of using the drug. There were more deaths among those patients who were given the drug than patients who received standard care, researchers found.
The researchers urged medical providers to wait for more rigorous studies of the drug before it's adopted as a treatment for the virus.
Researchers analyzed the treatment of 368 male coronavirus patients at VA hospitals nationwide who had died or been discharged as of April 11. Treatment included hydroxychloroquine for 97 of those patients, 113 received hydroxychloroquine with azithromycin, and 158 received standard care.
About 28% of patients who received hydroxychloroquine died, compared with 11% of patients who received standard care. About 22% of patients died when they received hydroxychloroquine with azithromycin, which is used to treat bacterial infections.
The study, paid for by the National Institutes of Health and University of Virginia, was submitted to the New England Journal of Medicine but has not yet been reviewed by other scientists.
Noel said Thursday the study results should "not be viewed as definitive." The analysis looked only at the VA's hydrochloroquine use on its sickest veterans who were given the drug "many times as a last resort," she said.
IAVA claimed VA Secretary Robert Wilkie downplayed the study in a call with veterans organizations Wednesday.
"If Secretary Wilkie is dismissive of the facts published in this study because they are observational and not peer-reviewed, then where are the peer-reviewed studies that convinced him that it is safe to treat our veterans suffering from COVID-19 with hydroxychloroquine?" Butler said.
wentling.nikki@stripes.com Twitter: @nikkiwentling