Veterans disappointed in lack of legislation for 2013
by
Leo Shane III shane.leo@stripes.com
December 13, 2013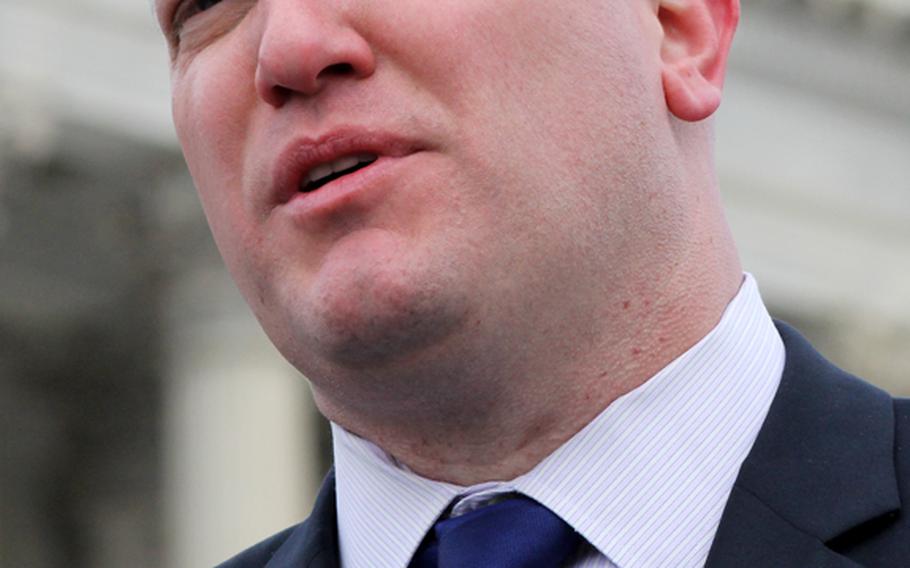 WASHINGTON — The House wrapped up its legislative work for 2013 on Thursday without finalizing any major veterans initiatives, a disheartening footnote for some advocates pushing issues they thought had bipartisan support.
In past years, even with partisan gridlock, veterans have seen a number of high-profile veterans bill signed into law. In 2012, lawmakers put aside budget battles to provide more resources for rural veterans and brain injury treatment. In 2011, they passed sweeping new employment retraining programs for veterans.
But 2013 will close without any similar signature moves.
"This is the least productive Congress we've seen," said Paul Rieckhoff, Chief Executive Officer of Iraq and Afghanistan Veterans of America. "At the end of the day, the gridlock that folks see on C-SPAN has human consequences."
In fact, the most significant veterans legislation to pass Congress this year may be one that veterans groups strongly oppose: a budget deal that trims some military retirees pensions.
In early fall, veterans groups were hopeful that several initiatives — including a measure granting in-state tuition rates at public universities to veterans using the post-9/11 GI Bill, regardless of their hometown — would become law before the end of December.
But the October government shutdown scuttled weeks of legislative work, sidelining many congressional goals. The Senate next week plans to vote on a stripped-down version of the defense authorization bill, one of the most basic annual responsibilities of lawmakers.
Much of the problem stems from Congress' inability to pass anything. Lawmakers will likely complete work on about 60 bills by year's end, putting them far below the pace of 284 laws passed by the 112th Congress in 2011 and 2012.
And that Congress had the lowest productivity in decades.
Next week, the Senate may take up an omnibus bill that guarantees the in-state tuition rates, eases benefits claims related to military sexual trauma, offers more alternative medicine treatments for lingering war wounds and expands veteran employment opportunities.
The chamber also has a pending measure to provide funding for all Veterans Affairs programs a year in advance, which advocates have said would provide fiscal security for veterans if another budget fight or government shutdown occurs.
But Senate leadership hasn't committed to votes on any of those measures, and the House has already gone on holiday break, meaning the legislation can't be finalized before year's end.
Senate Majority Leader Harry Reid has promised a vote on a budget deal (approved by the House Thursday) which would roll back mandatory sequestration cuts and cap federal spending at about $1.01 trillion in fiscal 2014 and 2015.
But part of the savings in that plan is a 1 percent reduction in cost-of-living increases for military retirees under 62, an idea that members of the Military Coalition have vowed to fight.
With the lack of any other significant veterans legislation, the proposal adds insult to injury, IAVA officials said.
Senate Democrats have expressed reservations about the plan, but Reid has praised it as an important step towards restoring fiscal and political sanity in Congress.
The Senate could also finalize work on the Convention on the Rights of Persons with Disabilities treaty, designed to promote equal rights for disabled people around the world, including combat-injured veterans.
Any legislative movement on those issues would be positive progress at this point, Rieckhoff noted.
Other veterans groups said they are hopeful that the unresolved veterans bills will be acted on quickly in January, providing a positive boost at the beginning of next year.
Still, given the topic, officials from IAVA are unhappy that more could not be done.
"Sometimes, veterans issues are the only things that Congress can agree on," Rieckhoff said.
shane.leo@stripes.com Twitter: @LeoShane