VA, Treasury will automatically send stimulus checks to veterans
by
Nikki Wentling
April 17, 2020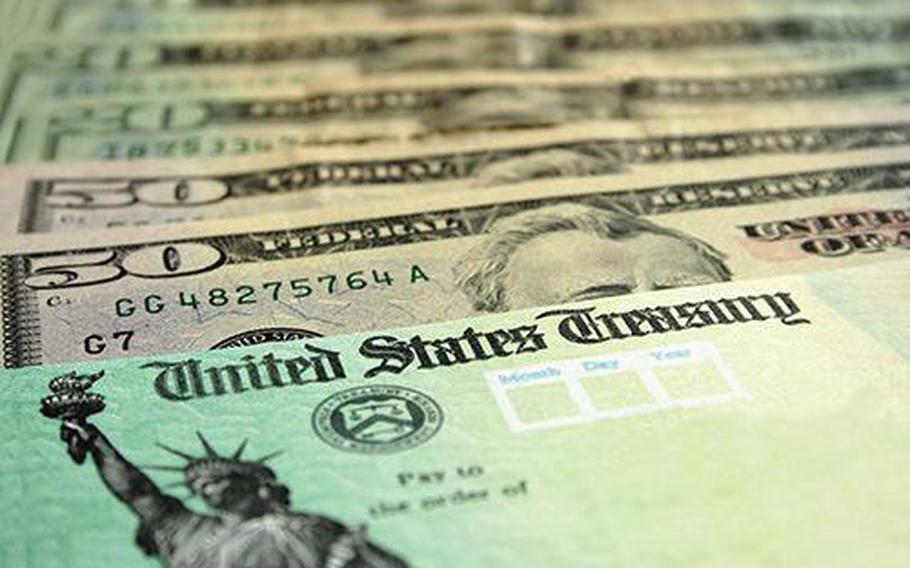 Stars and Stripes is making stories on the coronavirus pandemic available free of charge. See other free reports here. Sign up for our daily coronavirus newsletter here. Please support our journalism with a subscription.
WASHINGTON — The Department of Veterans Affairs and Treasury Department said Friday they had found a method to distribute stimulus payments to many low-income and disabled veterans who otherwise might not receive them.
The departments said the money would be automatically sent to veterans and family members who receive VA benefits, even if they hadn't filed tax returns for 2018 or 2019.
The announcement came after lawmakers and veterans organizations alerted the government that a "significant" number of disabled veterans and surviving family members may never receive the direct payments, which Congress approved in a $2 trillion stimulus package March 27. Their concern was for disabled or low-income veterans and surviving family members who receive monthly compensation from the VA but don't file tax returns or benefit from Social Security.
The Internal Revenue Service is using the addresses or direct deposit information on file from Americans' 2018 or 2019 tax returns to send the stimulus checks, which amount to $1,200 for many Americans. For some veterans, the VA payments are their only income. Those payments are not taxable, so the IRS lacks payment information for many veterans and families — potentially millions, advocates said.
Lawmakers asked that the VA share direct deposit information with the IRS that veterans use to receive their monthly VA benefits. The VA is sharing that information now, the department announced Friday.
"Many have expressed concern that veterans and their beneficiaries would be overlooked … simply because they don't file an annual tax return," said VA Secretary Robert Wilkie. "This collaboration will ensure our veterans receive CARES Act payments without any additional action or paperwork required."
The VA could not give a date when the payments may be distributed but indicated it could take weeks. The department referred veterans to the IRS website to track their payments.
"For non-tax filing VA beneficiaries, please note their information will be loaded on this tool within the next few weeks," the VA said in a statement.
The VA acknowledged that some veterans in this category may have already entered their payment information through an online tool the IRS created for non-filers. The department said there would be no interruption in payment for those veterans.
The VA encouraged veterans to use that IRS tool if they have children. Otherwise, it was unclear whether they would receive the extra financial support for their dependents. Under the $2 trillion CARES Act, families are supposed to receive $500 per child.
wentling.nikki@stripes.com Twitter: @nikkiwentling