VA secretary, congressman feud over office space inside Florida hospital
---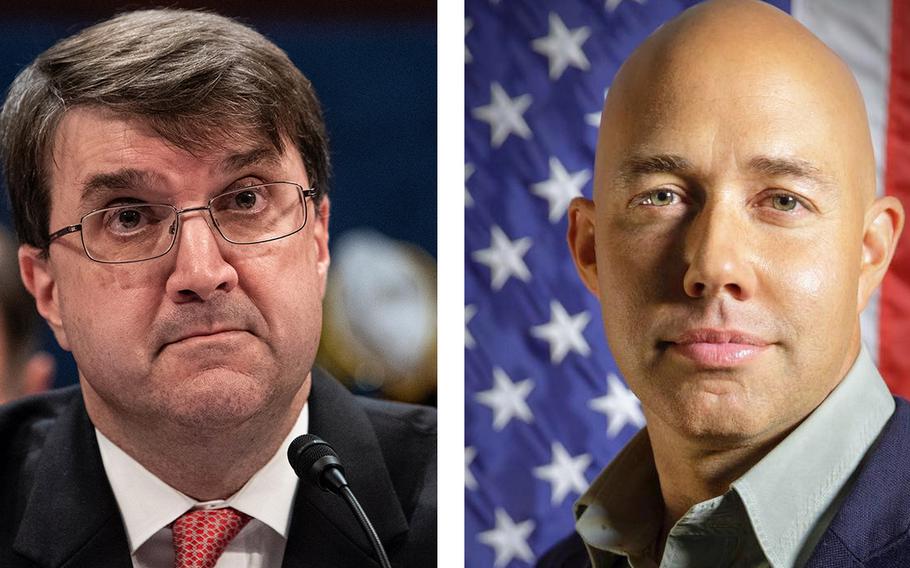 WASHINGTON – Department of Veterans Affairs Secretary Robert Wilkie accused a Florida congressman of misleading the public Friday after the lawmaker expressed outrage at being evicted from his congressional office inside a VA hospital.
The VA sent eviction notices to six members of Congress at the end of August, booting them and their staffs out of their offices inside VA hospitals in West Palm Beach and Orlando. Rep. Brian Mast, R-Fla., an Afghanistan War veteran and double amputee who in 2017 opened the first-ever congressional office inside a VA hospital, accused the agency of trying to avoid transparency and accountability.
On "Fox & Friends" last week, Mast referenced a tense exchange between he and Wilkie at a hearing in April, during which Mast pressed the secretary to visit the West Palm Beach VA hospital after a doctor there was shot by a patient.
Following the "Fox & Friends" interview, Wilkie wrote the congressman, alleging he made false implications about the VA's decision to remove the lawmakers from their offices by the end of December.
Mast is being evicted, Wilkie wrote, so the VA hospital in West Palm Beach can use the space for its smoking cessation program. The VA is planning to make all of its health care facilities smoke free beginning Oct. 1.
"VA's decision to reclaim the office space in question is not related to any congressional hearing and is rooted instead in the need to maximize the clinical space in VA medical facilities," Wilkie wrote.
Wilkie said Mast could use his offices in Washington and his district to conduct congressional oversight, writing: "You are one of only six members of Congress who currently have office space in a VA facility. None of the other 529 members of Congress, all of whom conduct oversight and constituent services, are making such demands."
Reps. Alcee Hastings, D-Fla., Ted Deutch, D-Fla., and Lois Frankel, D-Fla., share the office with Mast. Their staff members take turns using the space to meet with veterans. Reps. Darren Soto, D-Fla., and Stephanie Murphy, D-Fla., share a space in the Orlando VA Medical Center.
"It does something good for our veterans while not hurting anybody," Mast said. "If you really want to understand a problem… you have to get your eyes on it and witness it yourself. I want to have an office in the VA so I can have my eyes on it, so my staff can have their eyes on what's going right and wrong on a daily basis."
Mast said last week that the extra oversight was necessary for the VA, which has "limped from crisis to crisis."
In his letter, Wilkie also argued against that point.
"While that was true during the [former President Barack] Obama Administration, under President Trump, VA has done more in the last two and a half years than previous administrations have in decades to reform the department and improve health care and benefits for our nation's patriots," he wrote.
Mast said he planned to appeal to Trump to let him keep the office space.
Mast also introduced the Improving Veterans Access to Congressional Services Act earlier this year – legislation that would permit lawmakers to use VA facilities to meet with constituents.
wentling.nikki@stripes.com Twitter: @nikkiwentling
---
---
---
---