VA questioned on mental health care progress despite hiring, funding
---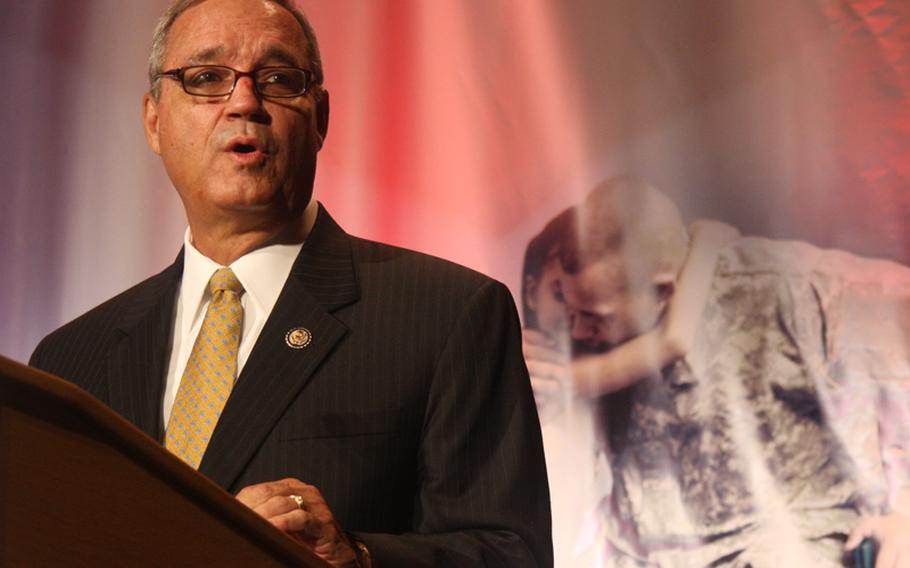 WASHINGTON — Despite more money and more staff to tackle the problem, veterans aren't seeing enough progress toward getting mental health care, the chair of the House Veterans Affairs Committee said Wednesday.
Rep. Jeff Miller, R-Fla., said the extra funding and effort by the Department of Veterans Affairs seems to be going toward more bureaucracy and not better care for veterans. That's particularly concerning with the wave of Iraq and Afghanistan servicemembers expected to reach the department in coming years.
"The true measure of success with respect to mental health care is not how many people are hired but how many people are helped," he told VA officials during a hearing Wednesday. "It has become painfully clear to me that the VA is focused more on its process and not its outcomes."
The comments came during a hearing examining recent struggles of the department. Veterans Health Administration Undersecretary for Health Robert Petzel countered that the department is on the right path, but acknowledged they still have a daunting task ahead.
Veterans Affairs officials have seen a steady rise in the number of veterans seeking mental health care in recent years, from about 927,000 cases in fiscal 2006 to more than 1.3 million in fiscal 2012.
Earlier this week, department officials announced they have hired more than 1,280 clinical providers and support staff to new posts in the last five months, part of an effort to add 1,900 new mental health specialists.
They've also filled 1,980 vacant mental health positions since last summer, and increased the number of crisis workers and phone lines. In a statement, VA Secretary Eric Shinseki said the moves mean that "we can treat more veterans and provide greater access to our mental health services."
But lawmakers remain frustrated that the agency isn't moving fast enough to respond to veterans battling problems like post-traumatic stress disorder and traumatic brain injury.
A VA Inspector General report found that veterans seeking any mental health care in the department wait an average of 50 days before getting treatment. Earlier this month, a new VA study found that 22 veterans a day committed suicide in 2010, and increase from 18 a day just three years before.
Veterans advocates say they still see fundamental flaws in the department's approach to treating troubled former troops, which leads to the disappointing results.
Linda Spoonster Schwartz, commissioner of the Connecticut VA, said families are often shut out of treatment programs, despite research showing significant benefits in including them. David Rudd, director of the University of Utah's Center for Veterans Studies, said VA's preference to add staff rather than coordinate with private physicians leaves rural veterans with long drives to seek care.
But Petzel said he has seen positive signs of progress. While calls to the department's suicide hotline are up, the percent of actively suicidal vets is down. Officials say veterans who receive VA care are also less likely to take their own lives.
"We are making a difference," he said.
In his State of the Union address Tuesday night, President Barack Obama promised that "we will keep faith with our veterans, investing in world-class care -- including mental health care -- for our wounded warriors."
Petzel said the department is working to launch 15 pilot programs on working more closely with community health providers, to see whether that might solve some rural veteran access problems. They've also expanded online health care programs and readjustment counseling options for veterans.
But Rep. Jon Runyan, R-N.J., said the department's efforts still seem more reactive than proactive, jumping from one crisis to another. Several lawmakers and veterans advocates said they worry the department still reaches only a small segment of the veterans population, leaving tens of thousands of troubled individuals without any help.
"VA must stand ready to treat our veterans where and how our veterans want, not just where and how VA wants," Miller said.
shanel@stripes.osd.mil Twitter: @LeoShane
---
---
---
---