VA predicts virus could affect 30 percent of its workforce
---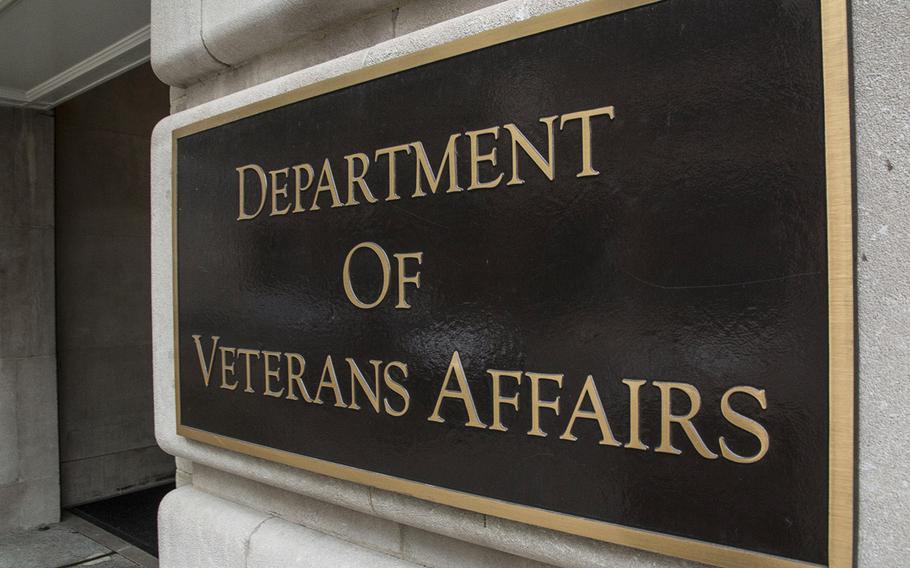 Stars and Stripes is making stories on the coronavirus pandemic available free of charge. See other free reports here. Sign up for our daily coronavirus newsletter here. Please support our journalism with a subscription.
WASHINGTON — The Department of Veterans Affairs released its 262-page response plan for the coronavirus pandemic Friday, in which the department predicts 30% of its employees will be unable to work because they or a family member will become sick.
The coronavirus outbreak could last 18 months or longer and include multiple waves of illness, the VA predicted. About 20% of people who test positive for the virus will require hospitalization, and 5% of those will require intensive care.
The VA also wrote in its plan that its facilities could see critical shortages of personal protective equipment for medical staff, hospital beds, ventilators and morgue space.
The plan was put together by the VA's Office of Emergency Management. VA Secretary Robert Wilkie decided to publicly release the plan so other medical providers could learn from it and provide feedback, he said.
"We will continue to share best practices and lessons learned with other government agencies and the private health care system as appropriate so we can defeat COVID-19 as a nation," Wilkie said in a statement.
The VA included a list of goals: limit the spread of the coronavirus to veterans and staff, provide care for the infected, continue providing care to non-infected veterans and lend resources to the Department of Health and Human Services, as requested.
The VA operates 170 medical centers across the country and treats more than 9 million veterans. As of Friday, the department reported 571 positive coronavirus cases. Nine veterans have died.
The VA has not provided a public count of its employees who have contracted the virus. Rep. Mark Takano, D-Calif., said on the House floor Friday that 185 VA staff members had tested positive, including doctors and nurses. Takano is the chairman of the House Committee on Veterans' Affairs and receives briefings from the VA about its coronavirus response.
While the VA's response plan estimates 30% of its workforce could get sick or have a sick family member, the department predicted that even more staff could be gone from work because they need to stay with their children as states close schools. In total, the VA guessed up to 40% of its staff could be absent.
Before the pandemic hit the United States, there were already concerns among lawmakers and advocates about VA staff shortages. The health care system had 44,131 staff vacancies during the first quarter of 2020, according to VA data. The occupations with the most vacancies were nurses, medical support assistants and medical officers.
The VA Office of Inspector General published a report Thursday that cited concerns from medical facility leaders about nurse shortages and a growing number of employees staying home from work. Inspectors reviewed 54 VA facilities from March 19 to 25. Leaders at half of the facilities said some employees had to stay home because of school closures. One location said older employees were opting not to work because they were concerned for their safety during the pandemic.
In response to the report, the VA wrote it was "constantly reviewing staffing levels" and preparing to start an expedited hiring process, if needed.
The VA announced earlier this week it wanted to hire retired medical providers to help with the surge of coronavirus patients. The department urged retired physicians, nurses, pharmacists, lab technicians, respiratory therapists and other medical professionals to help treat veterans.
In response to the pandemic, the VA canceled all elective surgeries, prohibited visitors, is screening patients who arrive to its facilities and is shifting appointments to telehealth. Wilkie said Friday the department will start creating two zones in all of its inpatient units, one dedicated for coronavirus patients and the second for all other types of care.
The agency received nearly $20 billion in a massive $2 trillion spending bill that Congress approved and President Donald Trump signed Friday. The money was directed toward buying more testing kits, medical equipment and personal protective equipment, boosting the department's telehealth capabilities and sending veterans outside the VA for emergency care, among other things.
wentling.nikki@stripes.com Twitter: @nikkiwentling
---
---
---
---