VA hires nearly 1,000 nurses to help with coronavirus response
by
Nikki Wentling
April 28, 2020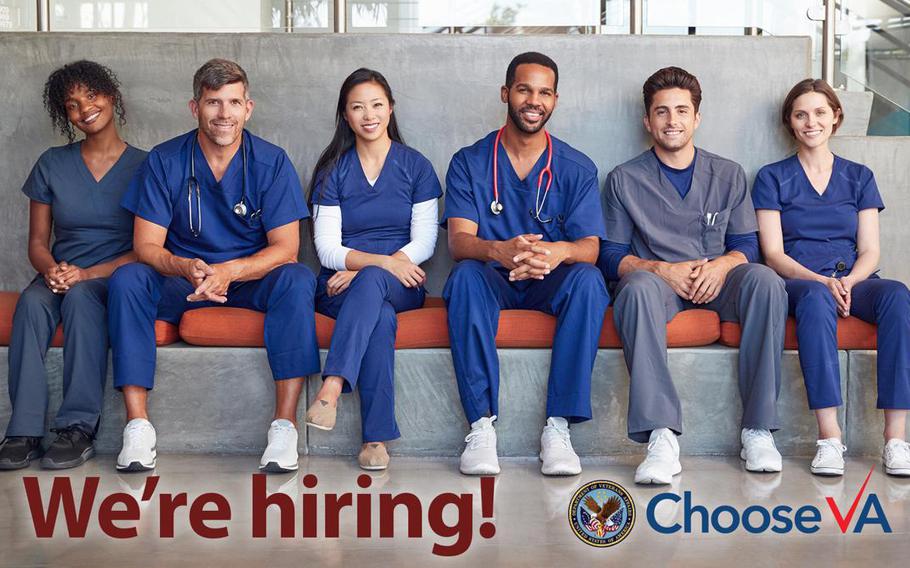 Stars and Stripes is making stories on the coronavirus pandemic available free of charge. See other free reports here. Sign up for our daily coronavirus newsletter here. Please support our journalism with a subscription.
WASHINGTON – The Department of Veterans Affairs hired nearly 1,000 nurses during a two-week period to help treat a growing number of coronavirus patients.
From March 29 to April 11, the VA hired 3,183 new employees, and 981 of them are registered nurses. The department looked to boost hiring in the early weeks of the pandemic, putting the call out for nurses, respiratory therapists and other health care professionals to join VA facilities across the country. Many of the jobs are temporary.
Some of the workers have come from health care systems that temporarily laid off employees, the VA said. Dozens of hospitals have furloughed staff members because of lost revenue after they postponed elective procedures.
The VA expects to hire an additional 4,500 employees in the next several weeks, VA Secretary Robert Wilkie said in a statement.
"Caring for Veterans requires dedicated staff," he said. "On behalf of the Veterans we are charged with serving, I salute those who have recently joined the VA team so we can continue serving Veterans during this national emergency."
The VA's death toll continues to climb. On Tuesday, 7,342 VA patients had tested positive for the virus, and 457 patients had died. The death toll does not include veterans who aren't enrolled in the VA or VA patients who died at hospitals outside the VA system.
The VA was already facing a shortage of health care workers before the pandemic. There were more than 49,000 vacancies across the VA system during the first quarter of 2020, and more than 44,000 of those were vacancies in the VA health care system.
In order to hire employees faster, the White House's Office of Management and Budget waived restrictions on salaries for retired health care workers who wanted to temporarily return to the VA. As of Thursday, 42 retired VA employees had rejoined the agency during the pandemic, 23 of whom are nurses.
The VA created a 262-page coronavirus response plan in March, in which the department predicted 30% of its employees would be absent from work because they or a family member will become sick, or out of fear of becoming infected.
As of Tuesday, 2,153 VA employees had contracted the virus, and 20 had died. About 3,400 more employees are quarantined after being exposed to the virus.
Nurses have gathered between shifts at VA hospitals across the country in recent weeks to protest a lack of personal protective equipment. Nurses said they were forced to wear single-use masks multiple times and check out masks from their supervisors.
Workers who didn't have direct contact with coronavirus patients were given only one surgical mask each week. VA leaders have issued a new policy to give those employees one surgical mask each day. The department has authorized hospital directors to implement policies for medical staff to reuse masks or bring their own.
Until recently, VA officials insisted there was plenty of protective equipment for medical staff. However, Richard Stone, executive-in-charge of the Veterans Health Administration, acknowledged to the Washington Post last week that there was a shortage.
He said the department ordered 5 million masks, but the Federal Emergency Management Agency diverted the order to replenish the government's emergency stockpile. After Wilkie appealed to FEMA officials, the agency released 500,000 masks to the VA, the Post reported.
On Monday, FEMA spokeswoman Lizzie Litzow denied in a tweet that the emergency response agency diverted any orders from the VA. Litzow said FEMA has coordinated shipments of more than 4.3 million respirators, 1 million masks, 1.5 million gloves and 14,000 face shields to VA facilities across the country.
"FEMA does not, has not [and] will not divert orders of personal protective equipment from our federal, state and local partners, nor do we have the legal authority to do so," Litzow tweeted.
wentling.nikki@stripes.com Twitter: @nikkiwentling