VA doesn't need more money for coronavirus response, CFO says
by
Nikki Wentling
May 29, 2020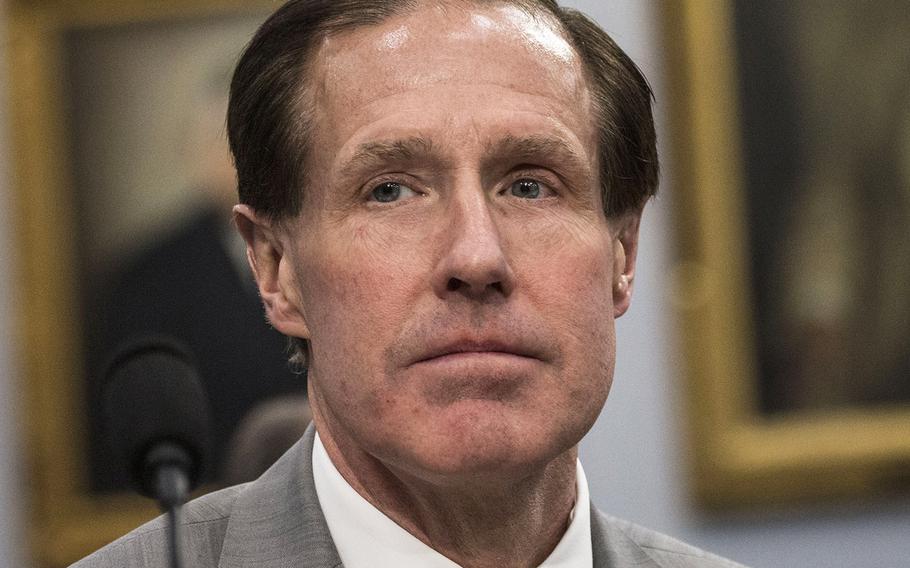 Stars and Stripes is making stories on the coronavirus pandemic available free of charge. See other free reports here. Sign up for our daily coronavirus newsletter here. Please support our journalism with a subscription.
WASHINGTON – The Department of Veterans Affairs has spent only 12% of nearly $20 billion that Congress gave the agency for its response to the coronavirus pandemic and will need no more money in coming months, the chief financial officer said Thursday.
CFO Jon Rychalski, who testified before the House Committee on Appropriations, told lawmakers the VA has spent about $2.3 billion to date. Congress allocated $19.6 billion to the agency through the CARES Act – a $2 trillion stimulus package approved March 27. The department doesn't need more funds in any future package that Congress might pass, he said.
"I think we are absolutely adequately funded at this time," Rychalski said. "I don't know what's going to happen in the future with spikes [of the virus], but I think from a medical perspective, we're still adequately funded."
As of Thursday, the department reported 13,657 positive cases of the virus, and more than 1,200 VA patients have died of the virus since mid-March. Some experts have predicted new spikes in cases this fall.
Rep. John Carter, R-Texas, questioned VA officials about whether Congress should be concerned about the department's spending level.
"What I would say is we don't have a precedent to compare," Rychalski said. "There's nothing to compare it to and know whether it's low or high."
He said the VA would use more of the CARES Act money by resupplying and creating a stock of personal protective equipment.
As some VA facilities began to fill with coronavirus patients in March, medical staff expressed outrage over a lack of personal protective equipment, such as masks. VA memos showed that the department had rationed its supply by limiting which employees were given respirator masks and having workers reuse them. Thousands of employees became sick with the virus and 31 had died as of Friday.
VA officials insisted for weeks that there were no shortages and only later admitted that they had rationed masks because of a disruption to the agency's supply chain. VA Secretary Robert Wilkie said Thursday that the department now has a steady supply of PPE.
The department has spent some of the CARES money on overtime for employees of the Veterans Benefits Office and hotel rooms for VA medical workers who didn't want to risk exposing their families to the virus, Rychalski said.
He said the low amount the VA has spent is attributable to a slow federal procurement process and an outdated accounting system that doesn't show the amount spent in real time.
"I think we'll see this grow pretty substantially," Rychalski said.
He asked lawmakers for more flexibility on how to spend the CARES funding. Specifically, the VA needs more money to reconfigure multi-patient rooms into single-patient rooms for those suffering from the coronavirus.
The VA also wants to use the CARES money to pay its private-sector health care providers. The department pays non-VA doctors to treat VA patients. Rychalski said the department was looking at a $5 billion shortfall on those bills unless it's given the authority to transfer money between accounts.
"What we need more than money at this point is the additional flexibility to move some of the CARES money around and the authority to keep paying our community care bills," Rychalski said. "It's a matter of a legal issue, as opposed to a money issue."
Wentling.nikki@stripes.com Twitter: @nikkiwentling
---
---
---