Trump discourages Jackson from continuing in 'ugly' VA confirmation process
by
Nikki Wentling
April 24, 2018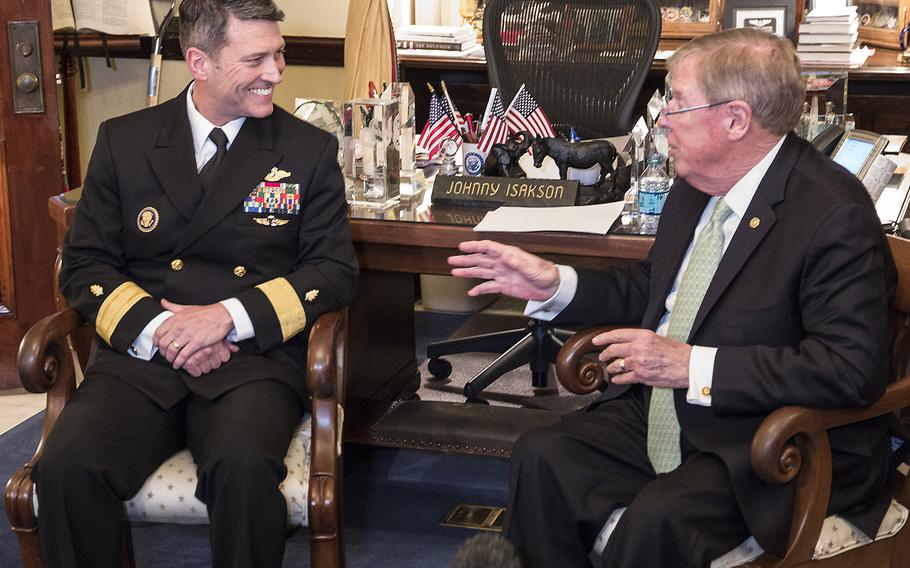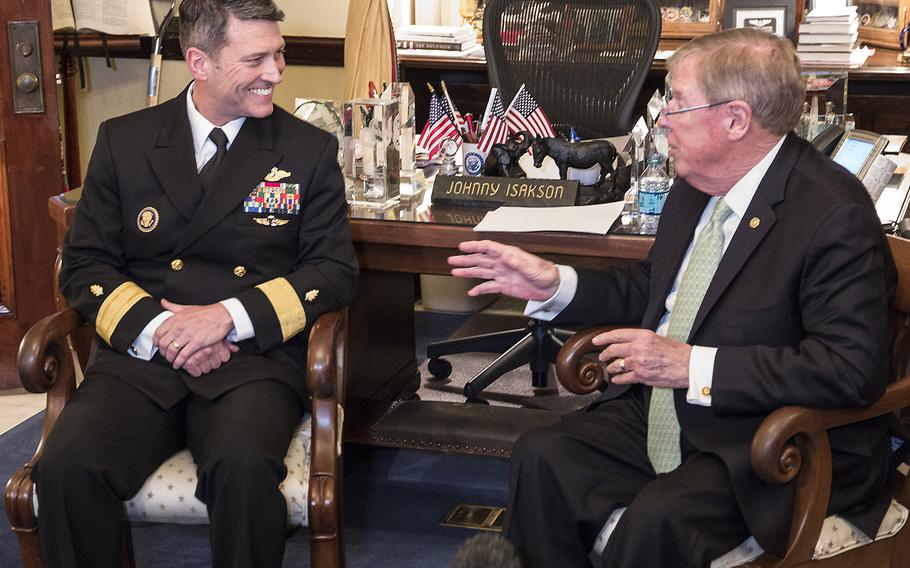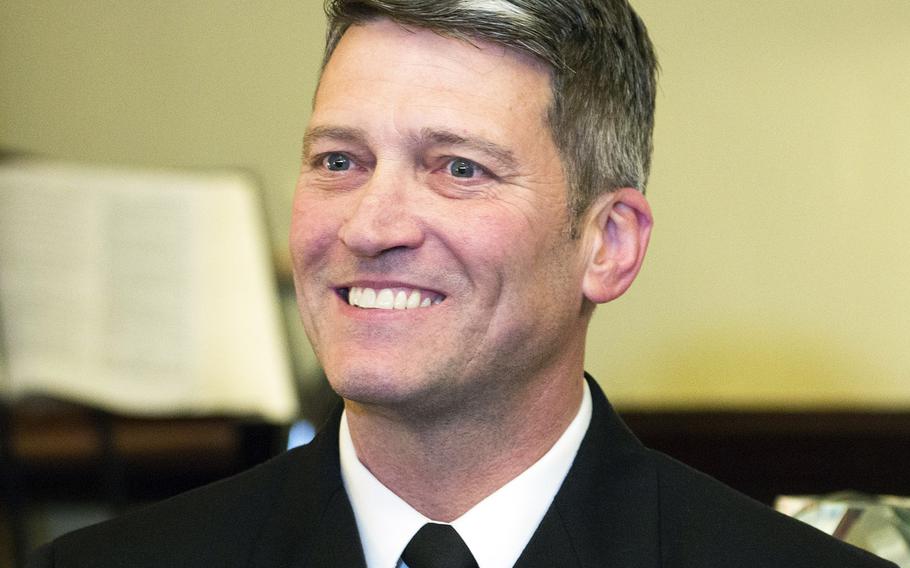 WASHINGTON — President Donald Trump on Tuesday said he still supported Rear Adm. Ronny Jackson as his nominee for Department of Veterans Affairs secretary, but discouraged the White House physician from continuing in what he called an "ugly" and "disgusting" confirmation process.
"I said to Dr. Jackson, 'What do you need it for?'" Trump said during a news conference with French President Emmanuel Macron. "I don't want to put a man through a process like this. It's too ugly and too disgusting."
Trump said Jackson will decide soon whether to move forward with the confirmation process.
"I really don't think he should do it, but it's totally his decision," he said.
Trump made public March 28 that he intended to nominate Jackson to lead the VA, an agency that comprises more than 375,000 employees and operates on a nearly $200 billion budget.
Trump's latest comments came just hours after senators postponed Jackson's Wednesday con-firmation hearing.
Leaders of the Senate Veterans' Affairs Committee said the hearing was postponed because of new information they received about the nominee. Jackson faces allegations of creating a hostile work environment as White House physician, overprescribing medications and drinking on the job, the New York Times reported.
Sens. Johnny Isakson, R-Ga., and Jon Tester, D-Mont., the chairman and ranking Democrat on the committee, asked the White House on Tuesday to turn over a litany of information about Jackson.
Isakson and Tester said in a joint statement: "We will continue looking into these serious allega-tions."
Trump blamed Democrats, calling them "obstructionists."
He argued Democrats were angry about the Senate Foreign Relations Committee vote Monday to approve CIA Director Mike Pompeo as secretary of state, so they turned their sights on the VA secretary nominee.
"They failed to stop [Pompeo], so now they say, 'Who's next? Who's next?'" Trump said.
However, some Democrats blamed the White House for a lackluster vetting of Jackson. Trump's administration should have been aware of the allegations against Jackson before sending his nomination to the Senate, said Senate Minority Leader Chuck Schumer, D-N.Y.
"How did he get through the process with all of these allegations not even being made public?" Schumer said on the Senate floor. "My guess: not proper vetting. So, the president is putting forward nominees without appropriate vetting, and it's our job to vet, and we will not be rushed through."
Trump hinted at wanting to escape the viciousness of politics and said he would "love to be" Jackson and end the confirmation process.
"He's been an extraordinary person, and he has to listen to the abuse," the president said. "If I were him – actually in many ways I'd love to be him. The fact is, I wouldn't do it. What does he need it for, to be abused by a bunch of politicians that aren't thinking nicely about our country?"
It's uncertain when Jackson might announce a decision about continuing in the confirmation pro-cess. It appeared Tuesday that he still wanted to move forward with it.
On the way to a meeting with Sen. Jerry Moran, R-Kan., on Tuesday afternoon, Jackson briefly spoke to reporters. In response to questions about the allegations, Jackson said he was still look-ing forward to having a confirmation hearing.
"I'm looking forward to the hearing so we can sit down, and I can explain everything and answer all of the senators' questions," he said.
Wentling.nikki@stripes.com Twitter: @nikkiwentling