Trump announces VA undersecretary as his choice to lead department
by
Nikki Wentling
January 11, 2017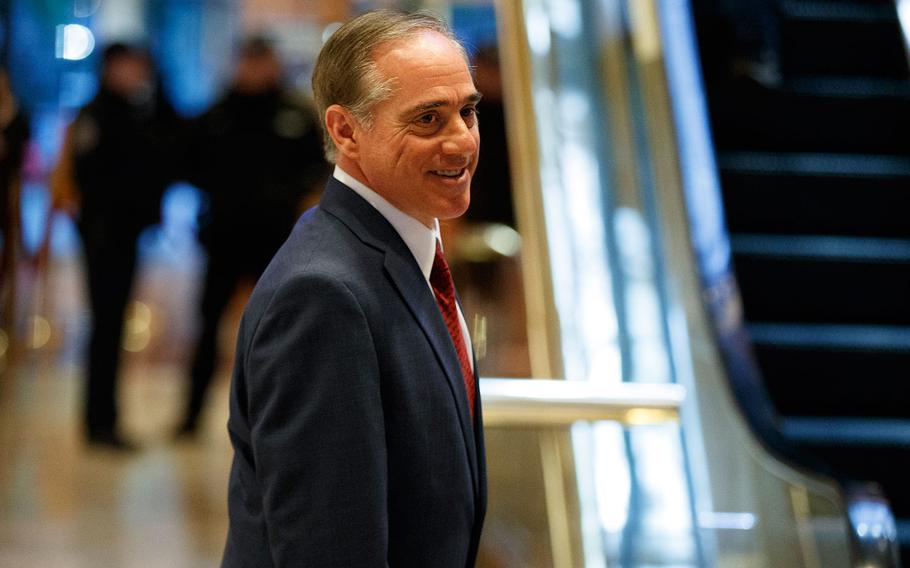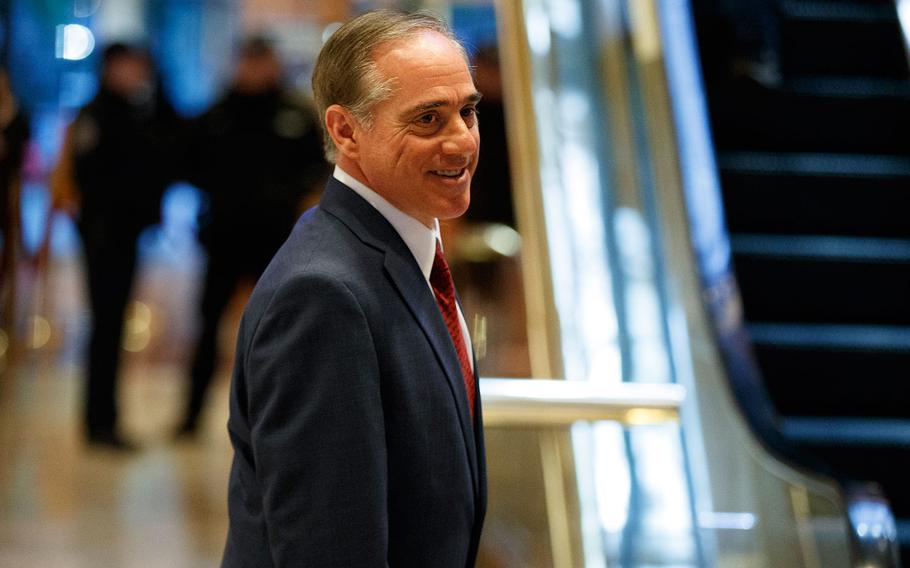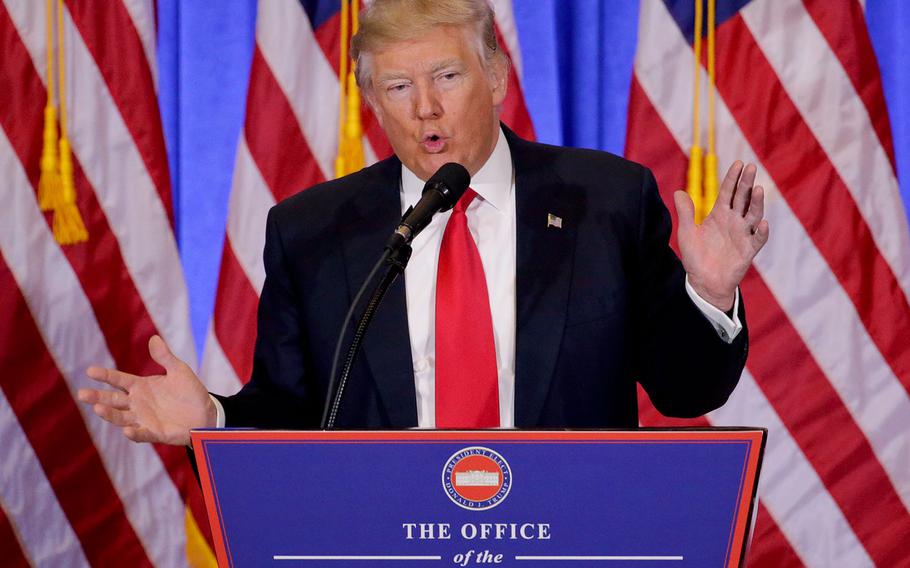 WASHINGTON — In a move that goes against his vow to completely overhaul the Department of Veterans Affairs, President-elect Donald Trump chose Dr. David Shulkin, current VA under secretary for health, to lead the department.
Trump announced Shulkin's nomination during a news conference in New York on Wednesday.
"I think you'll be very impressed with the job he does," Trump said. "We think his selection will be something that with time, he'll straighten it out for good because our veterans have been treated very unfairly."
President Barack Obama appointed Shulkin in 2015 to lead the veterans health administration. It's the country's largest health care system, with 152 medical centers and about 800 outpatient clinics.
As VA secretary, Shulkin would oversee both arms of VA – health care and benefits – and the agency's nearly 340,000 employees and annual budget of $180 billion.
"We are both eager to begin reforming the areas in our Veterans Affairs system that need critical attention, and do it in a swift, thoughtful and responsible way," Shulkin said in a written statement.
Leaders of veterans organizations reacted to Shulkin's nomination with surprise, particularly because Shulkin has never served in the military. If his nomination is confirmed by the Senate, Shulkin will be the first VA secretary who is not a veteran.
"I was surprised because he's not a veteran, chiefly," said Joe Chenelly, executive director of AMVETS. "Our membership has expressed strong desire to have a veteran leading the Department of Veterans Affairs."
Iraq and Afghanistan Veterans of America issued a statement that it has "strong concerns" about a non-veteran running the agency.
Rick Weidman of Vietnam Veterans of America said Shulkin's selection is likely to be opposed because he's not a veteran, though he does not agree it's something worth fighting over. Weidman had urged Trump's transition team to retain Shulkin in some role.
"In many instances, it would set me back as well," Weidman said of his civilian status. "But in this instance, we know this guy is just flat good. Let's move forward."
Though they brought up concerns, Chenelly, Paul Rieckhoff -- CEO and founder of IAVA – and other veteran leaders said Shulkin's nomination would help ensure progress made under current VA Secretary Bob McDonald is continued.
"He's the tip of the spear for [veterans health administration] transformation," Chenelly said. "I'm happy someone is coming in already aware of all of the issues."
Bill Rausch, executive director of Got Your 6, said he was watching in a room with McDonald, veterans advocates and VA employees when Trump announced Shulkin's nomination.
"There was overwhelming support," Rausch said. "Our perspective is similar to those in the room: if the current VA secretary thinks he's a good choice, if veterans organizations think he's a good choice, I think we're right along with that."
Appointed after scandal that rocked the agency in 2014 -- when it was discovered veterans were waiting long periods for care at VA facilities -- Shulkin has undertaken efforts to reduce wait times.
The VA recently touted an increased capacity to get veterans same-day access to primary care and mental health services at all VA medical centers.
Shulkin has also helped with implementation of the Veterans Choice Program, which aims to have more veterans seen by non-VA providers. Some veterans have complained that the program is difficult to navigate, and outside providers are fighting to receive timely payments from the VA.
In talks with transition officials, Chenelly said they were complimentary of the work Shulkin had started in VA health care.
"They were pleased and surprised, saying the VA was doing things they had wanted to do," Chenelly said. "The VA has been working on it for a while, it just was not evident because transformation takes time."
Shulkin's nomination came about one week before Trump's inauguration. The only other Cabinet position unfilled is Secretary of Agriculture. The Cabinet positions require Senate approval.
In months leading up to the pick, leaders of several prominent veterans groups asked to meet with Trump to discuss the selection, but that never happened.
Veterans anxiously waited for an announcement, especially after Cleveland Clinic CEO Toby Cosgrove and businessman Luis Quinonez – considered top contenders for the Cabinet position – dropped out of the running two weeks ago.
The people rumored to be under consideration changed almost daily, ranging from retired Rep. Jeff Miller, R-Fla., and Navy Adm. Michelle Howard, retired Army Gen. Ann Dunwoody, Coast Guard Adm. Thad Allen, Kentucky Lt. Gov. Jenean Hampton and Henry Ford Health System CEO Nancy Schlichting.
Early frontrunners were Sen. Scott Brown, R-Mass., who retired from the Army National Guard; and Pete Hegseth, Fox News contributor, Iraq War veteran and former CEO of conservative-leaning Concerned Veterans for America. Trump also considered Lockheed Martin executive Leo Mackay Jr.
"We looked long and hard," Trump said during Wednesday's news conference. "We interviewed at least 100 people, some good, some not so good."
After seeing some of the candidates, the largest veterans organizations asked Trump to consider retaining McDonald in the role. When Trump laid out his 10-point plan in July for fixing the VA, he called McDonald a "political hack," Stars and Stripes reported. Trump has called the VA the "most corrupt" and "most incompetently run" federal agency.
The groups were particularly concerned about Hegseth and his ties to CVA, which is backed by billionaires Charles and David Koch.
CVA has called for Trump to expand veterans' care further into the private sector. Other groups worry that paying for more outside care could erode VA resources.
After Shulkin's nomination, CVA Director Mark Lucas said the group was "hopeful he will take it in a new direction."
"It is no secret that the VA has been failing veterans for years," Lucas said in a written statement. "CVA will seek to partner with Shulkin on urgently needed reforms, such as empowering veterans to access care outside the VA when the VA is failing them."
In a statement Wednesday, Trump called Shulkin an "incredibly gifted doctor" and said, "Americans can have faith he will get the job done right."
Trump said that he has assembled a group of health care executives, including Cosgrove and Mayo Clinic CEO Dr. John Noseworthy, who will advise the VA on its transformation.
Sen. Johnny Isakson, R-Ga., chairman of the Senate Committee on Veterans' Affairs, will lead Shulkin's confirmation hearing.
"There is tremendous amount of work to be done – by the VA and by Congress – to change the paradigm," Isakson said in a written statement. "Dr. Shulkin understands the critical importance of working hand-in-hand with Cogress on enacting meaningful, bipartisan reforms to help right the ship at the VA."
Sen. John Tester, D-Mont., ranking member of the Senate committee, said he would question Shulkin about fixing the Veterans Choice Program and reducing how long veterans wait for care.
Before coming to the VA, Shulkin served as an executive at several health care facilities in New Jersey, including Morristown Medical Center, Goryeb Children's Hospital and the Atlantic Rehabilitation Institute.
wentling.nikki@stripes.com Twitter: @nikkiwentling