To head VA, Obama selects former CEO of consumer products giant
---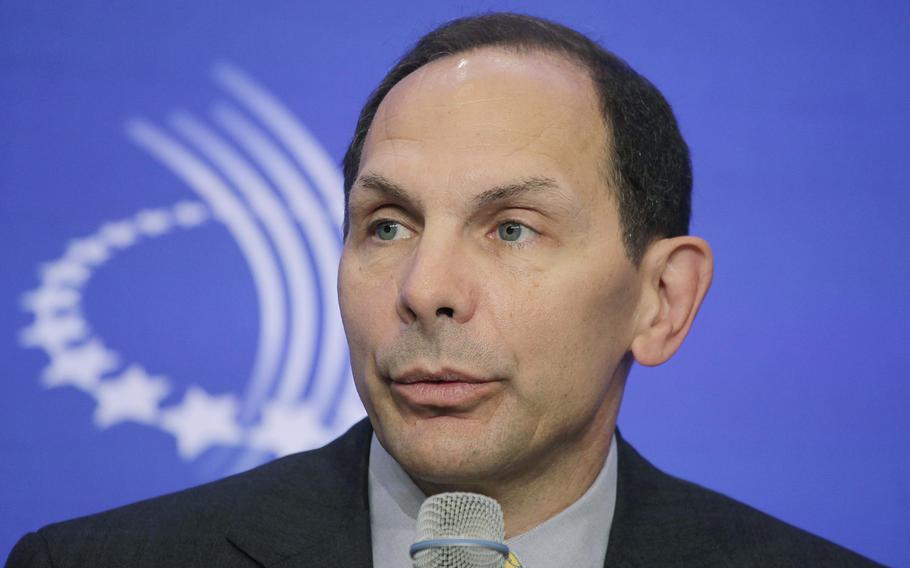 WASHINGTON — President Barack Obama's nominee to take over the embattled Department of Veterans Affairs commanded soldiers, ran one of the world's largest consumer-focused corporations, and now faces the daunting task of fixing an arm of the U.S. government that critics say is among the most corrupt in American history.
The president announced the nomination of Bob McDonald, 61, former president and CEO of Proctor & Gamble, as secretary of Veterans Affairs late Monday at VA headquarters in Washington.
Overhauling the VA won't be easy, Obama said, but McDonald's background in business management gives him the tools to succeed at VA.
"He knows the key to any successful enterprise is staying focused on the people you're trying to serve," the president said.
McDonald said that he had focused on improving people's lives both in his military and business careers, and he'll follow the same ethic at the VA.
"At Procter & Gamble, we always focused on our customer," McDonald said. "At the VA, the veteran is our customer and we must all focus all day, every day, on getting them the benefits and the care that they've so earned. That's the only reason that we're here."
The choice of a corporate executive stands in sharp contrast to Obama's first VA secretary, retired Army Gen. Eric Shinseki, who resigned in May amid the turmoil of continual revelations about fraudulent scheduling practices and lengthy wait times for veterans seeking medical care at VA facilities.
The latest damning report, ordered by President Obama and released Friday, concludes the VA is suffering from "significant and chronic system failures" as well as a "corrosive culture."
The VA's Veterans Health Administration is the nation's largest healthcare organization, serving nearly 9 million veterans at about 1,700 locations around the country. The organization is plagued by a lack of transparency and managers who frequently shake off suggestions for how to improve, said the report by deputy White House chief of staff Rob Nabors.
House Veterans' Affairs Committee Chairman Jeff Miller, R-Fla., summed up McDonald's mission — if he gets the job — in near-apocalyptic tones.
"If confirmed by the Senate, Robert McDonald will inherit a Department of Veterans Affairs under a specter of corruption that may very well surpass anything in the history of American government," Miller said.
On his final day as secretary, Shinseki expressed surprise at abusive actions by VA management, saying his decades in the military hadn't prepared him for such behavior. By contrast, McDonald spent his career managing civilian workers for a massive company with a wide, globally dispersed array of consumer brands, leading some observers to suggest the president had decided to make customer satisfaction the priority at VA.
McDonald spent 33 years at Procter & Gamble, during which he managed the Tide brand and later was named president of global fabric care before being promoted to president and CEO in 2009. P&G's stock price grew by 60 percent under his leadership, according to his official biography on the company's website. But he retired in May 2013, reportedly after months of grumbling by investors dissatisfied over earnings.
Although McDonald built a career outside the military, he reportedly graduated near the top of his class at West Point in 1975, and served mostly in the 82nd Airborne Division, rising to the rank of captain.
Defense Secretary Chuck Hagel said McDonald would be an effective partner with DOD in efforts to serve veterans. One of the issues the two will face is the longstanding interdepartmental failure to develop a system to share electronic medical records.
"Bob has been one of America's premier corporate leaders and is a fellow Army veteran and a graduate of the U.S. Military Academy," Hagel said. "If confirmed by Congress, he will be well-equipped to lead the VA … Taking care of our veterans is as high a priority as this country has, and I look forward to working closely with Bob and Sloan to further strengthen and improve DOD-VA collaboration and the lives of our veterans.
The choice of McDonald, who has a history of supporting Republican candidates, is expected to generate little political controversy, with House Speaker John Boehner, R-Ohio, calling McDonald "a good man, a veteran and a strong leader with decades of experience in the private sector. With those traits, he's the kind of person who is capable of implementing the kind of dramatic, systemic change that is badly needed and long overdue at the VA."
Sen. Patty Murray, D-Wash., the senior member of the Veterans Affairs Committee, said McDonald's business background was a big plus for the VA.
"His successful management and leadership track record, combined with his commitment and service to our nation's men and women in uniform, are essential to address both the immediate and long-term challenges at the VA," she said in a press release.
Senate Veterans' Affairs Committee Chairman Bernie Sanders, I-Vt., said was eager to hear McDonald's views on how to fix the VA.
"The VA needs significantly improved transparency and accountability, and it needs an increased number of doctors, nurses and other medical staff so that all eligible veterans get high-quality health care in a timely manner," Sanders said in a statement.
McDonald is a surprising pick, said Paul Rieckhoff, CEO and founder of Iraq and Afghanistan Veterans of America.
"McDonald is not a name that was on anyone's radar over the last few weeks," Rieckhoff said in a press release. "His branding background may prove helpful, because there are few organizations in America with a worse reputation with its customers than the VA right now. He's been away from the military for quite a while, and will have to move quickly to show he is committed to and understands the post-9/11 generation of veterans."
carroll.chris@stripes.com Twitter: @ChrisCarroll_
---
---
---
---