Survey: Coronavirus pandemic, social distancing are taking toll on veterans' mental health
by
Steve Beynon
September 24, 2020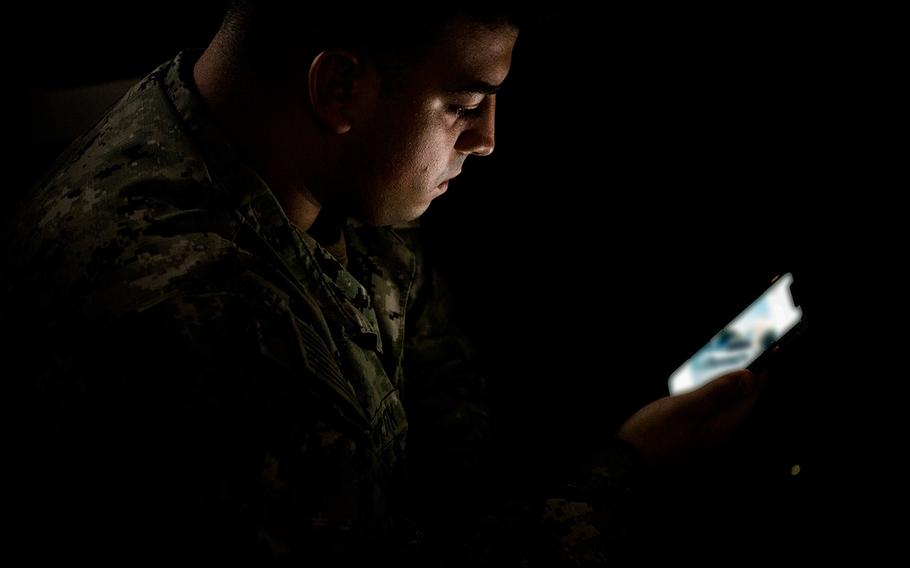 Stars and Stripes is making stories on the coronavirus pandemic available free of charge. See other free reports here. Sign up for our daily coronavirus newsletter here. Please support our journalism with a subscription.
WASHINGTON — Veterans are facing increased mental health challenges during the coronavirus pandemic with less access to in-person therapy and isolation from friends and family, according to a new survey of Wounded Warrior Project members released this week.
About 60% of veterans surveyed reported feeling disconnected from their family, friends, or community. Half of veterans agreed their mental and physical health has worsened since social distancing themselves.
The survey, the 11th annual membership poll conducted by WWP officials, gathered responses from 28,282 post-9/11 veterans who are WWP members. Of those, 30% reported having suicidal thoughts in the past two weeks and virtually the same amount said they are having difficulty getting mental health care.
"This is now more than ever important for warriors to take advantage of services available within the limitation of the current environment to maintain the support that they need," Dr. Melanie Mousseau, WWP's vice president of program operations and partnerships, said Thursday during in a news conference. She said about 70% of veterans who participated in the study have had physical health appointments canceled.
The survey also found about half of veterans surveyed had mental health appointments at the Department of Veterans Affairs canceled or postponed; only about half of them received information from the agency on how to continue treatment.
The VA has limited inpatient care for physical and mental health services to help prevent the potential for coronavirus to spread in its facilities. Earlier this month, the VA inspector general released a report that stated the agency canceled 7.3 million in-person appointments from March 15 to May 1 as the pandemic spread throughout the U.S., and then canceled an additional 4 million appointments through June 15.
Most of the appointments were rescheduled or were replaced with phone or video consultations. However, the department has yet to track or reschedule about 3 million appointments, according to the watchdog report.
Most VA hospitals and clinics had to cut back or shut down in-patient care to prevent the coronavirus from spreading in its facilities.
"During a pandemic the likes of which the nation hasn't seen since 1918, almost every health-care provider has been forced to cancel and reschedule some appointments," Christina Noel, a VA spokeswoman, said in a statement. "VA is no different."
The VA has been slowly opening its facilities since May, according to Noel. However, the agency cannot commit to a full reopen date because the situation requires a case-by-case analysis, she said.
"All VA medical centers are taking precautions and considering the unique circumstances of their state and local markets, environmental safety preparedness and clinical risk assessments," Noel said.
Scaling back in-patient care has led to hospitals leaning on telehealth, which VA Secretary Robert Wilkie has called the wave of the future and said the department will continue to invest in digital care after the pandemic. Noel said 18% of VA patients were using telehealth as of March.
However, 68% of veterans surveyed by WWP said they know where to turn for help if they need it.
Mousseau said an outlet for mental health is video games, saying there is an uptick in veterans playing games for social interaction and to put their minds on something else.
"It can be done while socially distant. It is being reported by almost the majority of warriors that is helps them forget their problems and helps them cope with feelings of anger," she said. "While it is not a conventional mental health treatment, it is a way warriors are coping despite the challenges."
WWP said they have seen a rise in the number of veterans who use the mental health services that they provide, mainly because the pandemic forces more use of digital interaction.
"We found a lot of engagement went up," said Joe Plenzler, WWP's communications director. "When the barrier of participation went down because someone didn't have to show up physically at a Wounded Warrior Project event, we found that there was a higher participation rate, especially with women. That was an unexpected event."
Researchers also found 45% of veterans surveyed are obese, which could lead to Type 2 diabetes, heart disease, strokes, kidney disease and sleep apnea. Obesity also puts someone at an increased risk of severe illness from the coronavirus and is associated with poor mental health, according to the Centers for Disease Control and Prevention. The WWP study found 45.6% of veterans are obese and 6.5% are morbidly obese.
A majority of those surveyed also reported mental health issues: 84% say they have difficulties sleeping, 83% report suffering from post-traumatic stress disorder, and 72% have issues with depression.
beynon.steven@stripes.com Twitter: @StevenBeynon