Study of malaria drug on VA virus patients shows no benefit, more deaths
by
Nikki Wentling
April 21, 2020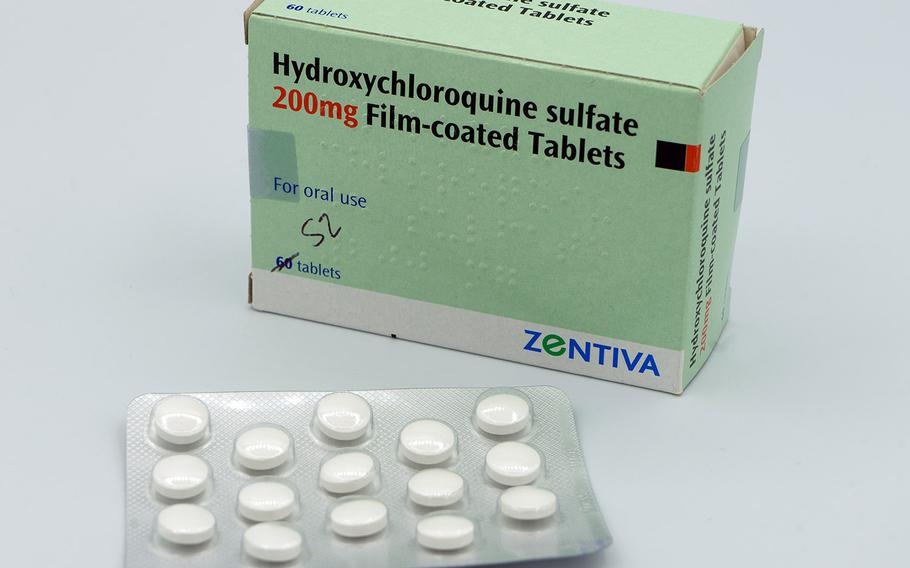 Stars and Stripes is making stories on the coronavirus pandemic available free of charge. See other free reports here. Sign up for our daily coronavirus newsletter here. Please support our journalism with a subscription.
WASHINGTON — An anti-malaria drug repeatedly touted by President Donald Trump as a "game-changer" in the coronavirus pandemic didn't work on patients recently treated by the Department of Veterans Affairs. There were more deaths among those patients who were given the drug, hydroxychloroquine, than patients who received standard care, researchers found.
Researchers analyzed the treatment of 368 male coronavirus patients at VA hospitals nationwide who had died or been discharged as of April 11. Treatment included hydroxychloroquine for 97 of those patients, 113 received hydroxychloroquine with azithromycin, and 158 received standard care.
About 28% of patients who received hydroxychloroquine died, compared with 11% of patients who received standard care. About 22% of patients died when they received hydroxychloroquine with azithromycin, which is used to treat bacterial infections.
Hydroxychloroquine had no effect on whether patients needed a ventilator, researchers found.
"In this study, we found no evidence that use of hydroxychloroquine, either with or without azithromycin, reduced the risk of mechanical ventilation in patients hospitalized with COVID-19," the researchers wrote. "An association of increased overall mortality was identified in patients treated with hydroxychloroquine alone."
The information they collected represents the largest data set in the world regarding coronavirus patients who've been treated with hydroxychloroquine. The drug is used for rheumatoid arthritis and lupus but is an unproven treatment for the coronavirus.
The study, paid for by the National Institutes of Health and University of Virginia, was posted online. It was submitted to the New England Journal of Medicine but has not yet been reviewed by other scientists, the Associated Press reported. It was conducted by scientists at the University of South Carolina and the University of Virginia, as well as the VA Health Care System in Columbia, S.C.
Late last month, the Food and Drug Administration granted emergency approval for doctors to use hydroxychloroquine to treat hospitalized coronavirus patients in certain instances. The researchers called for more rigorous studies before hospitals adopt it as a treatment for the virus.
"Despite limited and conflicting data on the use of hydroxychloroquine in patients with COVID-19, the U.S. Food and Drug Administration has authorized the emergency use of this drug when clinical trials are unavailable or infeasible," they wrote. "These findings highlight the importance of awaiting the results of ongoing prospective, randomized, controlled studies before widespread adoption of these drugs."
Some studies have suggested the drug was promising, especially for mild cases, but the studies were small and didn't include control groups. One of the studies has since been discredited.
Dr. Anthony Fauci, the top infectious disease doctor in the United States, said on Fox News this month it would be a "majestic leap" to consider hydroxychloroquine a miracle cure.
The public spotlight on the drug has led to its "soaring" use to fight the coronavirus and stockpiling by the U.S. and other countries, the researchers said.
The VA placed emergency orders for hydroxychloroquine on March 26 and April 1, buying $208,000 worth. The VA said most of the supply would be used to treat non-coronavirus conditions.
"The bulk of this order will be used for those purposes," said VA Press Secretary Christina Noel. "VA is only using hydroxychloroquine to treat COVID-19 in cases where veteran patients and their providers determine it is medically necessary."
The researchers didn't list any side effects for the drug but indicated it might have damaged other vital organs.
Its known side effects are diarrhea, nausea, skin rash and stomach pain, and it's not safe for people who have heart abnormalities, certain eye diseases or liver or kidney disease. The presidents of the American Heart Association, American College of Cardiology and the Heart Rhythm Society published a paper this month, warning the drug can cause dangerous disruptions in heart rhythm.
wentling.nikki@stripes.com Twitter: @nikkiwentling