Senators reach deal on VA health care
---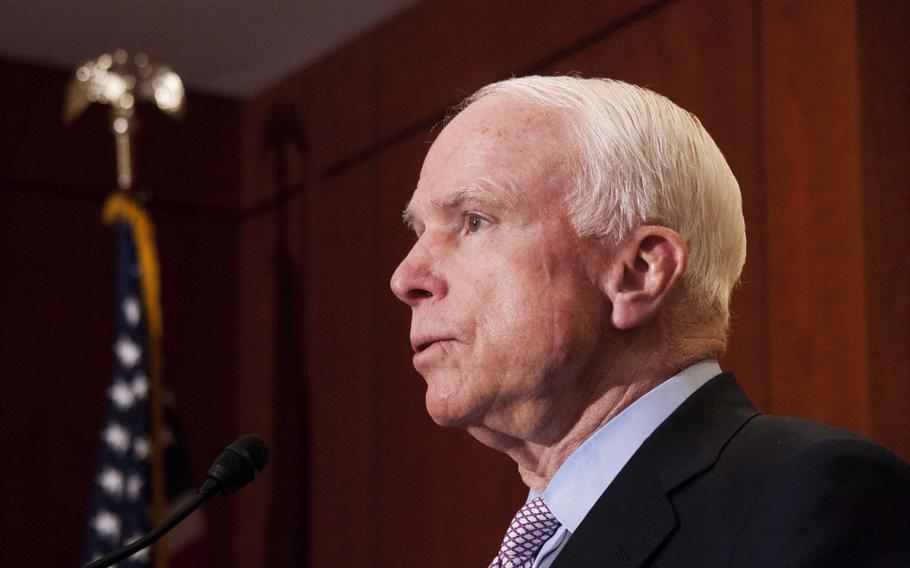 WASHINGTON — The Senate introduced a compromise bill Thursday aimed at reforming the troubled Department of Veterans Affairs.
The legislation would streamline executive firings, expand access to outside health care for rural veterans, hire more doctors and nurses, and look at ways to improve VA computer systems.
It was a hard-fought compromise between Sen. John McCain, R-Ariz., and Sen. Bernie Sanders, I-Vt., who both floated VA reform bills to help solve a widening scandal over patient scheduling abuses and veteran deaths. Sen. Marco Rubio, R-Fla., who sponsored a bill solely on firing VA executives, said Thursday he also supports the compromise.
Support appears to be building, but the bill must still pass a floor vote in the Senate, which has built a reputation for gridlock. Congress is grappling with how to fix the nation's largest integrated health system, which serves 6.5 million veterans per year, since the VA scandal broke in April with news that 40 veterans might have died due to a secret wait list kept at a Phoenix hospital.
The House passed a bill last month that would give the VA secretary power to fire department executives at will, which supporters say it necessary to clear out an entrenched culture of unaccountability and wrongdoing.
"I can fully assure you I am not 100 percent happy with [the compromise bill]," Sanders said. "I would have written a very different bill, [but] right now we have a crisis on our hands, and it is imperative we deal with that crisis."
Under the bill, VA employees could be fired immediately by the secretary and would stop receiving pay and benefits. They could file an appeal within a week and would have a right to an appeal committee verdict within three weeks.
"Under appeal, that person will not receive a salary but that employee will receive due process," McCain said.
A key proposal of McCain's legislation introduced Tuesday also made it into the compromise bill. Veterans who live more than 40 miles from a VA hospital or clinic and cannot get care within a reasonable time would be allowed to choose where they are treated. The VA already approves some outside care but McCain and Sanders say the bill will make that easier for veterans.
McCain's office said the 40-mile proposal was taken from the regulations of military health care provider Tricare, which uses the geographical radius to determine the patient coverage area of medical facilities.
Here is what else the bill includes:
$500 million in unobligated VA funds for hiring doctors and nurses Leases for 26 new major medical facilities in 18 states Expansion of sexual assault treatment The creation of commissions to review VA computer systems and construction programs"We both had to make some very tough compromises," McCain said. "Usually that is a sign of bipartisanship and proof it is a good piece of legislation."
McCain said the bill will go to the Senate floor and face potential amendments in the coming weeks.
---
---
---
---