Senators demand investigation into Wilkie's handling of sexual assault case at the VA
by
Nikki Wentling
February 25, 2020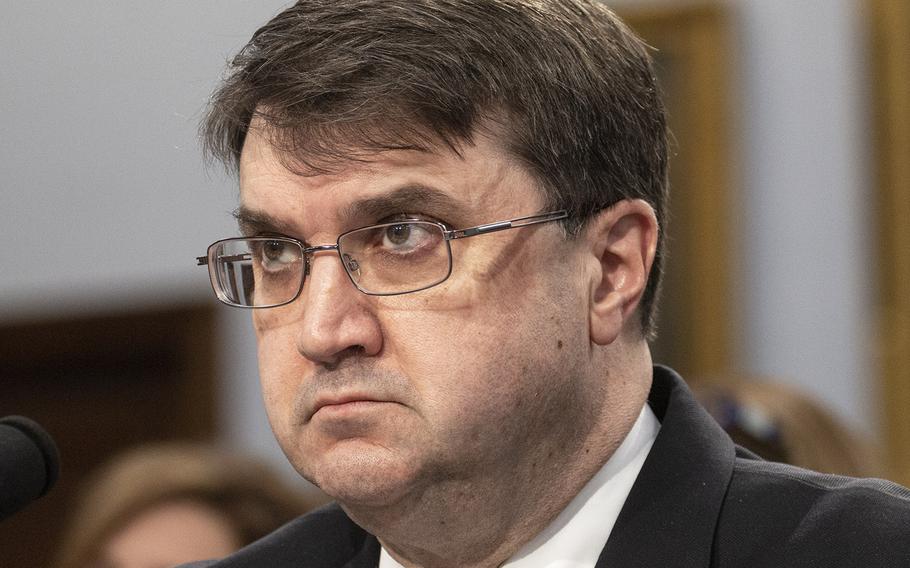 WASHINGTON — Six senators are demanding an investigation into how the Department of Veterans Affairs handled an alleged sexual assault at its Washington, D.C., hospital, prompted by reports that Secretary Robert Wilkie attempted to discredit the veteran who reported the assault.
The senators, led by Sen. Patty Murray, D-Wash., called the reports "deeply concerning" Monday and asked the VA Office of Inspector General to investigate.
"Secretary Wilkie's decision to cast doubt, paint the individual as dishonest, and discredit her traumatic experience demonstrates VA's continued inability to ensure women veterans are welcomed and supported by the country they have served," the senators wrote to Inspector General Michael Missal.
Andrea Goldstein, a Navy veteran and congressional aide for Rep. Mark Takano, D-Calif., said in September that a man groped and propositioned her inside the VA Medical Center in Washington. The VA inspector general's office investigated the alleged sexual assault but announced in January that it had closed the case without filing any charges.
After the case was closed, Wilkie scolded Takano and his staff for making "unsubstantiated claims."
Wilkie's characterization of the claim as "unsubstantiated" prompted backlash. Missal released his own letter shortly after Wilkie's, writing, "That is not an accurate description of the results of our investigation."
Goldstein wrote an article for the blog Jezebel earlier this month. She wrote Wilkie had implied that she was a liar — amounting to "public retaliation and gaslighting."
"Upon reading the letter, and this phrase, I hid in a stairwell in the Longworth House Office Building and began to shake with rage and horror," Goldstein wrote in the article.
It later was reported, first by the nonprofit news publication ProPublica, that Wilkie had sought damaging information about Goldstein in an attempt to undermine her report of sexual assault. The Washington Post reported Wilkie, a former Pentagon leader, had inquired with military officials about her Navy service.
Wilkie has denied seeking damaging information about Goldstein.
"If these reports are true, such an abuse of power and government resources would be outrageous and inexcusable," the senators wrote Monday.
The senators also asked Missal to investigate one congressman's involvement. Citing unnamed VA officials, The Washington Post reported this month that Wilkie discussed Goldstein's past with Rep. Dan Crenshaw, R-Texas, who once had deployed on the same Middle East mission with her. A spokesman for Crenshaw denied the congressman had been asked about Goldstein.
"If the reports of a member of Congress being involved are true, the matter should be immediately referred to the Ethics Committee for their investigation and disciplinary action," the senators wrote.
In addition to Murray, Sens. Sherrod Brown, D-Ohio, Richard Blumenthal, D-Conn., Mazie Hirono, D-Hawaii., Bernie Sanders, I-Vt., and Tammy Duckworth, D-Ill., signed onto the letter to Missal.
Takano, who is the chairman of the House Committee on Veterans' Affairs, requested earlier this month that the inspector general's office open an investigation.
The VA Office of Inspector General has received both requests and is reviewing them, said Fred Baker, the IG communications director.
wentling.nikki@stripes.com Twitter: @nikkiwentling