Senators begin negotiations on new VA Choice Program
---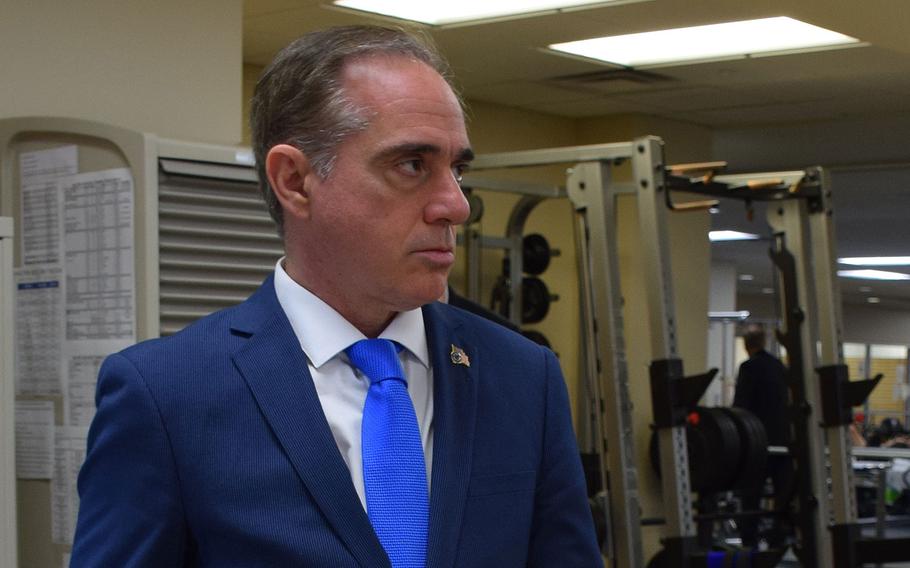 WASHINGTON – Members of the Senate Veterans' Affairs Committee gained feedback this week about three draft proposals to reform how and when veterans seek private-sector health care, setting the stage for negotiations between Democrats and Republicans on what might be the biggest task for the committee this year.
Sen. Johnny Isakson, R-Ga., chairman of the committee, said an "amazing amount" has been accomplished so far this session and he attributed it to an amiable relationship between Republicans and Democrats on the committee. This spring, after years of failing to reach agreement on firing bad workers at the VA, the committee came to a bipartisan compromise that resulted in President Donald Trump signing into law a faster process for punishing poor performance by employees. Senators have also made moves to speed up veterans' appeals for VA benefits — legislation they're expected to act on soon.
Now, the senators are turning to the larger discussion of how veterans receive health care outside of the VA, and how much choice they'll have in the matter, a topic that's previously caused a rift between parties as Democrats decried Republican attempts at VA privatization.
"That discussion, the issue of where a veteran receives care and how that process is constructed, has been looming over this committee for years," said Sen. Jon Tester, D-Mont., the ranking Democrat on the committee. "We need a dramatic revamp of the VA's community care program."
Since David Shulkin's first public address as VA secretary in February, he has promised changes to how the VA partners with private-sector health care providers to treat veterans. He and his predecessor, former VA Secretary Robert McDonald, described the Veterans Choice Program as complex and confusing. The program was created by Congress in 2014 in response to the discovery that veterans were waiting long periods for VA health care, and lawmakers gave the VA only 90 days to implement it.
Shulkin said he would end a controversial policy that allows veterans to seek care outside the VA only if they can't receive an appointment within 30 days or they live more than 40 miles from a VA facility. But, he said, the new program would stop short of giving all veterans complete choice.
Shulkin is still working on his plan to reform the program, and it hasn't been publicly released. A discussion draft for the plan obtained by Stars and Stripes describes a performance-based system in which veterans would be allowed to seek private-sector health care if the quality of VA care in a certain area isn't up to par with other health care providers in that community. The VA would periodically determine which VA hospitals and clinics aren't meeting standards, based on wait-time data and patient satisfaction information.
Isakson and Tester each drafted their own proposals to change how the VA handles community care and Sen. Mike Crapo, R-Idaho, also introduced legislation, S. 1279, to reform the system. The proposals were given a first look during a committee hearing Tuesday.
Tester's office called his proposal a "starting point for bipartisan negotiations" and Isakson said he saw opportunity to create bipartisan legislation using parts of all three proposals.
Baligh Yehia, VA deputy under secretary for health, wouldn't choose a favorite of the three, when asked. In creating a new program, he said, Congress should give the VA flexibility to enter into agreements with providers and consolidate money from different community care accounts into one. He also asked the VA be allotted at least one year to establish the new system.
"They're touching on the key areas that need to be addressed. I think that's a good step forward," Yehia said of the proposals. "Every one of them has different strengths and weaknesses."
Representatives from major veterans organizations who testified Tuesday warned against expanding too far into the private sector. Adrian Atizado, deputy legislative director for Disabled American Veterans, testified Isakson's proposal goes too far in offering "unfettered choice."
"The overall effect would lead to fragmented and uncoordinated care for millions of enrolled veterans," Atizado testified. "Further, the enormous cost… would endanger the long-term viability of the VA health care system."
Sen. Bernie Sanders, I-Vt., said he believed there are members of Congress who "want to go after the VA."
"I have no problem when people want to get care outside VA when it's reasonable, but I will not allow the VA to be dismembered," he said.
During Trump's presidential campaign, he described a system in which veterans would use identification cards to go to any private doctor that accepts Medicare. The nonpartisan Committee for a Responsible Federal Budget said at the time that sort of system would cost the government about $500 billion in 10 years.
For Democrats and at least some Republicans, Tester said the idea "gives people heartburn."
"The ultimate end result of that would be a VA that would no longer exist," he said.
While they negotiate long-term solutions for VA community care programs, the Senate committee is facing the more urgent issue of a funding shortfall for the Choice program as it is. Shulkin told lawmakers in June that the program was quickly and unexpectedly running out of money, and its funding is expected to be depleted by Aug. 7. He's seeking emergency funding from Congress or the authority to move money between accounts to keep the program operational for the rest of the fiscal year, which ends Sept. 30.
Tester introduced legislation Tuesday that would appropriate $4.3 billion to continue the Choice program through fiscal 2018. He admitted the bill would receive pushback from other lawmakers because of other provisions lumped into it, including an expansion of VA caregiver benefits.
Isakson remained optimistic Tuesday that the committee could reach a bipartisan compromise on funding the Choice program in the near-term and reforming VA community care.
"This is a big lift that, in many years, would've seemed out of our reach," Isakson said. "But because of the spirit of this committee and the commitment to getting the job done, I just believe we're going to do it. We're going to demonstrate once again we can find common ground and meet those challenges."
Wentling.nikki@stripes.com Twitter: @nikkiwentling
---
---
---
---