Senator quizzes VA about delaying Agent Orange decision
by
Nikki Wentling
February 5, 2020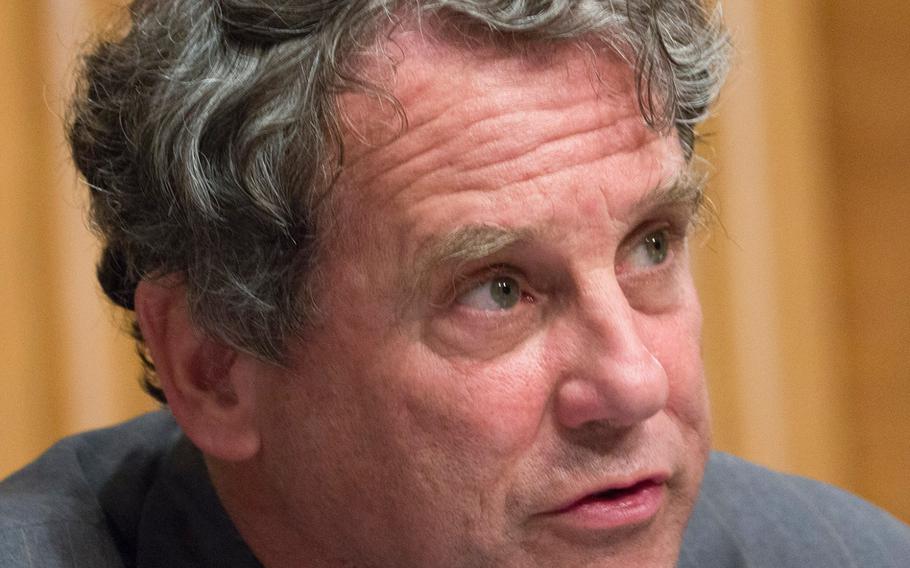 WASHINGTON — Sen. Sherrod Brown, D-Ohio, urged a top Department of Veterans Affairs health official Wednesday to fast-track benefits for Vietnam War veterans suffering from multiple diseases thought to be caused by the chemical herbicide Agent Orange.
After years of indecision, the agency is still wavering on whether to add bladder cancer, hypothyroidism, hypertension and Parkinson's-like symptoms to the list of conditions presumed to be caused by Agent Orange. Being on the presumptive list lowers the burden of proof for veterans who suffer from the diseases to receive VA benefits.
Richard Stone, executive in charge of the Veterans Health Administration, said in March that he would make a recommendation about the diseases to VA Secretary Robert Wilkie within 90 days. As of Wednesday, Wilkie had not yet decided whether to act on them.
"We have not forgotten," Brown said. "We find the department's response deficient. The science is there, and veterans deserve their benefits. You need to move on that."
Wilkie indicated in December that a decision wasn't likely to come until the end of 2020, when the results of two scientific studies are expected to be published, Military Times reported. VA officials said the same thing in 2018, when they told lawmakers that the agency was waiting for results of ongoing mortality and morbidity studies, which could prove more evidence of a connection between the diseases and Agent Orange.
Under previous leaders, the VA recommended to the White House's Office of Management and Budget that some of the conditions be added, but those recommendations never moved forward.
Stone said Wednesday that VA leaders were taking a closer look at whether hypertension was caused by Agent Orange exposure, or if it's simply age that puts Vietnam War veterans at higher risk for the condition.
In 2018, researchers with the National Academies of Sciences, Engineering and Medicine found for the first time that enough evidence exists to link hypertension to Agent Orange exposure during the Vietnam War. Previously, researchers had determined there was only "limited" or "suggestive" evidence that hypertension could be caused by chemical herbicides used in Vietnam.
The study renewed calls from veterans organizations, such as Vietnam Veterans of America, to add hypertension and other conditions to the presumptive list, but no definitive action was taken.
Results of the two other studies — which are delaying the decision-making process until the end of 2020 — should help shed light on the issue, Stone said.
"You really begin to wonder what we're dealing with," Stone said of Vietnam War veterans with hypertension. "Is it Agent Orange exposure, or the fact that this is a different demographic group? I think we're struggling through that."
Brown chastised President Donald Trump's administration for not giving veterans the benefit of the doubt.
"So an administration that is very willing to give tax cuts to the richest people in the country can't find their way to slightly err on the side of taking care of people who served their country in Vietnam, apparently," Brown said.
wentling.nikki@stripes.com Twitter: @nikkiwentling