Senator calls for McDonald to resign over Disney comment
by
Travis J. Tritten
May 24, 2016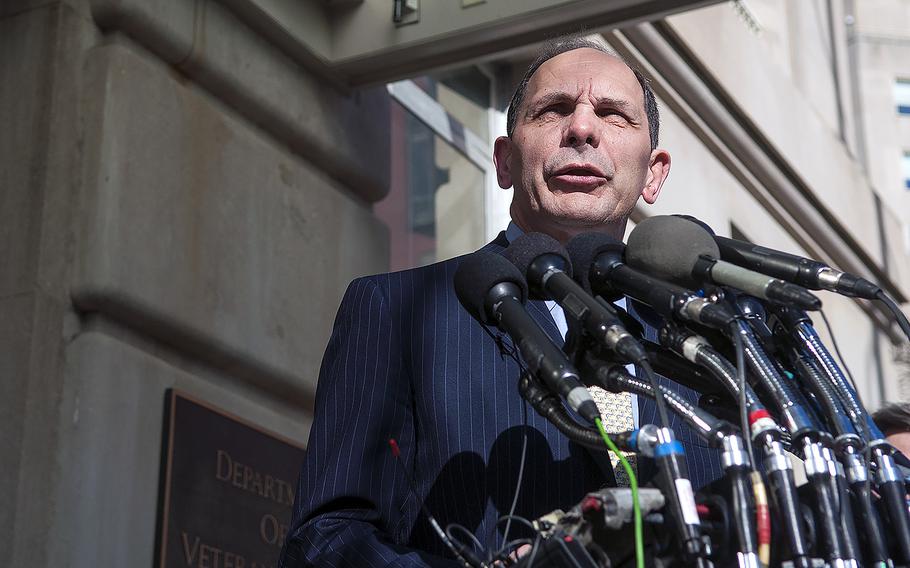 WASHINGTON — A Republican senator called for Bob McDonald to resign Tuesday amid growing public outrage after the Department of Veterans Affairs secretary compared the time veterans wait for health care to the wait for rides at Disneyland.
Sen. Roy Blunt, R-Mo., said the dismissive statements about long waits for veterans seeking health care are "negligent." Other senators and Republican leadership in the House also lashed out at McDonald but stopped short of demanding that he step down.
During a breakfast gathering Monday, McDonald told a group of reporters that he looks to the Disney company as a model for the embattled VA. It is a comparison that he has used in the past and one that plays to his own experience as the former CEO of Procter & Gamble, one of the world's largest and most successful companies.
"When you go to Disney, do they measure the number of hours you wait in line? Or what's important? What's important is, what's your satisfaction with the experience?" McDonald said during a media breakfast, according to multiple reports. "And what I would like to move to, eventually, is that kind of measure."
Long and potentially dangerous wait times at VA hospitals were at the center of a national scandal in 2014. Investigations found veterans were waiting months to be seen and that the department was systematically covering up the waits at facilities across the country.
"Secretary McDonald's preposterous statement is right out of Never Never Land," Blunt said in a statement posted on his website. "I call on him to resign because it's clear he cannot prioritize getting our veterans the health care they deserve and have earned in a timely manner."
Critics also included House leadership, which used a morning press conference Tuesday to lob criticism at McDonald, and the Republican chairmen of veterans committees in both the House and Senate.
House Speaker Paul Ryan said lawmakers were dumbfounded by the secretary's "disgusting" comments and he urged McDonald to clarify the department's stance on wait times and renew its pledge to treat veterans.
The speaker stopped short of calling for McDonald's resignation.
"I don't know how he's going to fix it but he needs to fix it," Ryan said.
The VA did not immediately say Tuesday whether McDonald plans to make a public appearance to clarify his remarks. It released a statement Monday saying veterans are still waiting too long for care at its nationwide network of hospitals and clinics, but that satisfaction among patients is its top concern.
"We have heard [veterans] tell us that wait times alone are not the only indication of their experience with VA and that's why we must transform the way we do business," the department statement said.
Rep. Jeff Miller, R-Fla., chairman of the Veterans' Affairs Committee, said McDonald was brought in as secretary in 2014 precisely to solve the wait-time debacle.
"There is nothing amusing about VA's performance over the past few years, and comparing VA wait times to those of an amusement park is just plain wrong," Miller wrote in a statement posted to the committee website. "Wait times are of critical importance to the veterans waiting for VA medical care and they should be to Sec. Bob McDonald as well."
Sen. Johnny Isakson, R-Ga., chairman of the Senate Veterans Affairs Committee, said he was "extremely disappointed in Secretary McDonald's comparison of the deadly VA wait-time scandal to long lines at an amusement park."
The American Legion, which represents 2.2 million veterans, said the Disney comment was an unfortunate comparison and that reasonable wait times – not just veteran satisfaction rates -- are key to successful health care.
"People don't die while waiting to go on Space Mountain," National Commander Dale Barnett said in a released statement.
tritten.travis@stripes.com Twitter: @Travis_Tritten
---
---
---
---