Sen. Isakson lashes out at VA over dying Vietnam vet being bitten 100 times by ants at nursing home
by
Rose L. Thayer
September 13, 2019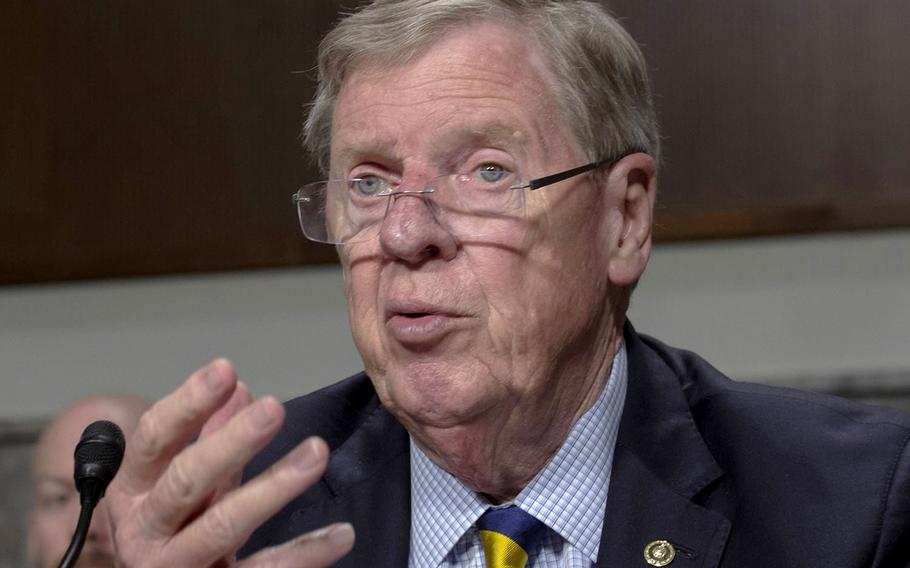 Sen. Johnny Isakson, R-Ga., is demanding answers from the Department of Veterans Affairs about how a veteran stricken with cancer and living in a VA nursing home could be bitten more than 100 times by ants before his death.
"I am shocked, horrified and downright maddened by the news that a veteran under the care of the VA was treated so poorly and without any regard for his well-being," Isakson, chairman of the Senate Committee on Veterans' Affairs, said in a statement issued Thursday. "This patient, at the end of his life, was clearly not being monitored closely enough, and I am so sad for his family who had to discover his insect-infested conditions before anything was reportedly done."
Vietnam veteran Joel Marrable was a resident of the Eagle's Nest Community Living Center inside the Atlanta VA Medical Center. On Sept. 6, his daughter Laquna Ross visited him and found his body covered in red marks that appeared to cause him pain, according to a report by the New York Daily News.
Marrable, a 74-year-old with cancer, died the following day of causes unrelated to the ant bites. Ross told the Daily News that it was "unfortunate this happened right at the end."
Local leadership at the Atlanta VA confirmed to Isakson's staff that at least three veterans were affected by the ant-infested conditions discovered Sept. 2 at the community living center. In a statement, facility officials said they have apologized to the Marrable family and taken measures to mitigate the problem, including hiring a pest control company, stripping bedrooms and removing open food containers.
"Atlanta VA Health Care System always strives to provide veterans with the very best health care available. When we don't meet that standard, we hold ourselves accountable," said Greg Kendall, spokesman for the Atlanta VA. "That's why we have initiated a top-to-bottom review of this situation to ensure it never happens again."
Isakson said when he heard about Marrable, he reached out to VA Deputy Secretary James Byrne to demand answers and express his dissatisfaction with the VA for allowing this to occur and then failing to inform Congress about the incident until hours before the news was first reported. Byrne was confirmed by the Senate on Wednesday as the VA deputy secretary, the second-highest post at the agency.
"I've also spoken to the veteran's daughter and offered my deepest condolences and offered to help in any way I can to ensure that her family is taken care of and that those who allowed these conditions to persist be held accountable to the fullest extent," said Isakson, who is a veteran of the Georgia Air National Guard.
Located in Decatur, Ga., the living center has a three-star rating on Medicare's five-star rating scale, which is based on health surveys, staffing and quality of resident care measures. A February report on the facility states the nursing home has a 60-bed capacity and had 56 patients at the time. The facility did not provide a comfortable and homelike environment and had a strong smell of urine, according to the report.
The VA operates more than 100 community living centers across the country.
Thayer.rose@stripes.com Twitter: @Rose_Lori