Proposed rule change for burial at Arlington would exclude more veterans, service members
by
Caitlin M. Kenney
September 15, 2020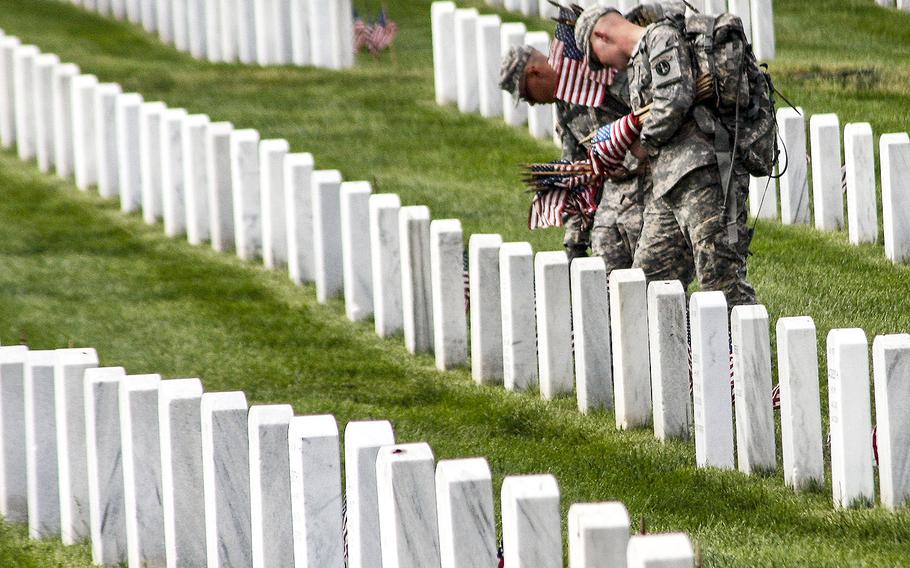 WASHINGTON — Active-duty service members who die from an incident that was not in support of combat operations would no longer be eligible for burial at Arlington National Cemetery under a new proposed rule posted Tuesday to the Federal Register.
The current burial eligibility states any service member who dies while on active duty can have an in-ground burial at the cemetery or be inurned in a columbarium. According to the Federal Register notice, recent trends show about 43 service members are buried annually at Arlington National Cemetery who died on active duty "neither as the result of armed conflict service nor from preparations or operations related to combat."
The new proposed rule is part of several changes meant to extend the active use of the cemetery.
Arlington National Cemetery is expected to run out of space for new burials by 2055 despite two recent expansion projects. In fiscal year 2019, there were 3,691 new graves at the cemetery, according to the register notice. That year's National Defense Authorization Act included instructions for the Army secretary to develop new criteria for burial at Arlington — restrictions that would allow it to remain an active cemetery for the next 150 years. The Department of the Army oversees the running of the cemetery.
"Changes to eligibility at Arlington National Cemetery will preserve this national symbol and shrine as an active burial ground for current and future generations of military service members," the register notice states.
The proposed rule is posted to the Federal Register as part of the process to change the regulation regarding burial eligibility. The rule would allow for about 700 new in-ground burials and 1,950 above-ground burials annually at the cemetery for eligible service members, veterans and family members. The public comment period on the proposed rule is open to until Nov. 16.
Service members who are killed in action or whose death "results from preparations or operations related to combat" would be eligible for in-ground burials, according to the proposal.
Veterans and service members are still eligible for in-ground and above-ground burials if they have served in combat and received one of the following decorations: the Medal of Honor, Distinguished Service Cross (Air Force or Navy), Distinguished Service Medal, Silver Star or Purple Heart.
The proposed rule also states "without other eligibility," such as being awarded those specific medals, veterans and service members who served on active duty for at least two years and "performed armed-conflict service" are still eligible for above-ground inurnment at the cemetery. If they do not meet these criteria, they are no longer eligible for above-ground inurnment unless they served honorably during an armed conflict prior to July 27, 1953.
Active-duty service members who do not die in combat, such as in a training accident, could still be eligible for burial at the cemetery, depending on their specific circumstances. However, Barbara Lewandrowski, a spokeswoman for Arlington National Cemetery, wrote Tuesday in an email that cemetery officials "may not provide direct responses to hypothetical eligibility during the comment period."
The largest groups impacted by the new proposed rule are retired veterans who receive military retired pay and service members who are eligible to retire and are entitled to retired pay on the date of their death, according to the notice. They are now eligible for in-ground burial and inurnment in a columbarium, but the new change would only allow for above-ground inurnment unless they meet another eligibility. About 1,900 people in this category will remain eligible annually for above-ground inurnment.
About 1,000 gravesites at Arlington National Cemetery are also being set aside for current and future Medal of Honor recipients, according to the notice.
kenney.caitlin@stripes.com Twitter: @caitlinmkenney