Outcry continues over masks for VA workers; patient deaths rise 13%
by
Nikki Wentling
April 20, 2020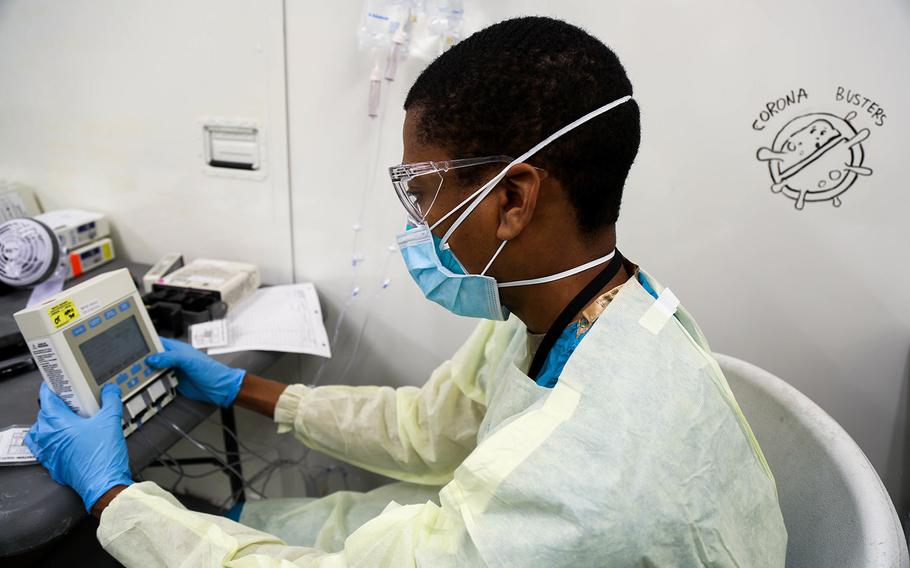 Stars and Stripes is making stories on the coronavirus pandemic available free of charge. See other free reports here. Sign up for our daily coronavirus newsletter here. Please support our journalism with a subscription.
WASHINGTON – The chairman of the House Committee on Veterans' Affairs said Monday he was "very concerned" about the Department of Veterans Affairs workforce during the coronavirus pandemic, as patient deaths rise 13% over the weekend.
"If the VA workforce gets sick, if they catch the virus in great numbers, that's going to imperil their ability to help our veterans. That's the bottom line," Rep. Mark Takano, D-Calif., said Monday morning on C-SPAN.
As of Friday, 1,708 employees at VA medical centers tested positive for the virus, and 17 had died. Of the 17 who died, 5 worked directly with patients, the VA said.
On Monday morning, the VA reported 339 of its patients had died of the coronavirus, and 5,476 patients tested positive.
The Occupational Safety and Health Administration initiated an investigation into the VA and employees' exposure to the virus after receiving complaints from the American Federation of Government Employees, a federal union representing hundreds of thousands of VA workers. The union claimed the VA created unsafe working environments by not providing enough masks to front-line workers.
Nurses at the VA hospitals in Brooklyn and Atlanta have gathered between shifts to protest their lack of PPE.
Five Senate Democrats sent a letter to VA Secretary Robert Wilkie on Monday, asking for specifics about the department's stockpile of masks and any guidance they're sending to workers about rationing the supply.
"We have … heard from a number of our constituents who are employees at VA facilities, who think they are not being provided adequate PPE in their jobs and fear for their personal health and safety," the senators wrote. "Employees report being asked to use one N95 mask for up to a week, which manufacturers recommend be changed each shift at a minimum."
U.S. Sens. Mark Warner, D-Va. ; Tim Kaine, D-Va. ; Michael Bennet, D-Colo. ; Sherrod Brown, D-Ohio; and Jack Reed, D-R.I., signed the letter.
Their letter followed one from the House Committee on Veterans' Affairs last week. Lawmakers, including Takano, wrote to the White House Coronavirus Task Force, saying the VA had refused to share documents with Congress that give an official count of its PPE supply.
Takano is still fighting for that information, he said Monday.
The VA "tells me they have a two-week supply or an 18-day supply, but they won't give me actual numbers," Takano said on C-SPAN. "Don't describe in terms of how many days of supply you have. Just tell me how much you have and what is the burn rate. These are things you should know."
Despite outcry from front-line employees and lawmakers, the VA has publicly insisted its hospitals had an adequate supply of protective equipment and was following guidelines from the Centers for Disease Control and Prevention regarding the use of masks. During the pandemic, the CDC has allowed for workers to wear single-use masks for multiple days.
In an interview with the Wall Street Journal on Friday, Wilkie acknowledged for the first time that the department doesn't have an optimal supply of masks.
Richard Stone, executive in charge of the VA health care system, also acknowledged a supply shortage. In an email to employees last week, Stone said the pandemic made it difficult to estimate its incoming supply of masks.
The department began rationing masks at the start of the pandemic and gave one mask each week to medical staff not working directly with coronavirus patients, he said. In the email, Stone wrote that the VA now had "full visibility of our supply chain" and would shift to giving those employees one mask each day.
"So, all employees in a community living center, spinal cord injury unit or inpatient mental health unit will receive one mask a day to support their duties," Stone wrote. "Your safety is the most important thing to us – we need to protect you."
Leaders with the American Federation of Government Employees said they were encouraged by the decision but remained skeptical.
"Let's not forget that the VA has been claiming throughout this pandemic that our members on the front lines have the PPE they need," said union president Everette Kelley. "Beginning to change course, admit the issues and address the problem with a policy change is a good start from the agency, but our members on the ground need to actually get the PPE in their hands."
Wentling.nikki@stripes.com Twitter: @nikkiwentling
---
---
---